Looking for a reliable, fast PCB service? Whether you are professional electrical engineer or weekend maker, Elektor has you covered. For more than a decade, we've
partnered
with Eurocircuits to offer
Elektor PCB Service
, which makes PCB design user-friendly and affordable for designers who need PCBs in medium or small quantities.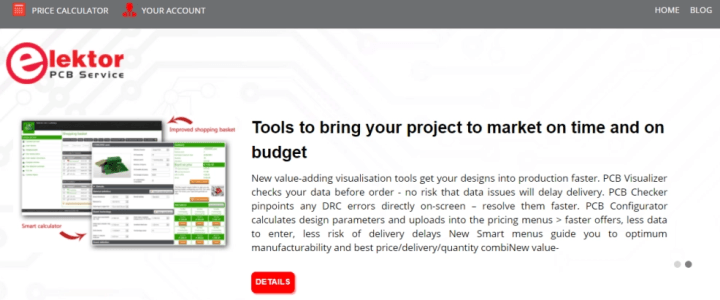 Why Use Elektor PCB Service?
Elektor PCB Service makes PCB design simple. You have a variety of products and services from which to choose. Let's review your options. You benefit from short delivery times (all pooling services are 5 working days standard and PCB proto is 3 working days standard), and there is the possibility of having the PCBs dusted.
PCB proto: With the PCB proto service, you receive a professioanlly made circuit board. You use the Price calculator to calculate costs.
DEFINED IMPEDANCE pool: This service was introduced to help IoT designers bring their products to market quickly (delivery from 2 days) and affordably. It is based on 4, 6 and 8 layer builds and uses one material with a guaranteed dielectric constant. Learn more
STANDARD pool: Do you intend to mass producte PCBs? This service is for you. You have extensive manufacturing options, and you can quickly and easily price out your order. The online PCB Visualizer and PCB Check tools enable you to review your design before placing an order, which saves you time and money.
BINDI pool: The BINDI pool service is a great option for PCBs up to four layouers with standard tech specs and a if a delivery time of up to four weeks is acceptable. This affordable alternative to the STANDARD pool is intended for production quantities of up to 12 m².
SEMI-Flex pool: The SEMI-Flex solution is an option when polymide PCB is too expensive for your needs. The semi-flexible circuit board can be bent around five times, making it ideal for products where various circit boards are mounted on angles to each other.
RF pool: Planning an RF application? The RF pool service is helpful whether you are looking to mass product RF circuit boards or you need a small number of boards.
Stencil: You use a stencil to apply the correct amount of solder paste to a circuit board (for SMD). With this service, you receive stainless steel stencils that meet your specifications.
IMS pool: Working on high-intensity LED, automotive or power electronics projects? You might require Insulated Metal Substrate (IMS) boards. Note that 1.5-mm think aluminium is used as the base material. On top is a 100-µm thick electrically insulated layer onto which the copper traces are attached. The solder mask and silk screen (text layer) follow. You can use this technology when a copper surface is not sufficient to carry away the heat generated by (SMD) components.
Get Started
Ready to make place order? Head over to
ElektorPCBService.com
to begin the process. Log in with your Elektor account information if you are an Elektor member. And be sure to tell us about your future projects. You can share your experiences via an
Elektor Labs account
. Good luck!
---
Editor's note:
About a week after the original publication of this article, we announced a new service called ElektorPCB4Makers, which was developed specifically for Eurpean-based designers looking for a speedy, low-cost, easy-to-use solution for just a few PCB prototypes. Simply head over to
ElektorPCB4Makers.com
, drop in your files, and calculate the price! You can visualize and order your PCB instantly. You can get: 2 PCB prototypes in 3 working days; 5 PCB prototypes in 5 working days; 10 PCB prototypes in 10 working days (+1 to 2 days for shipping within Europe)!