A
research team
led by Prof. Takao Someya at the University of Tokyo has developed a wearable 1 mm-thick display material that conforms easily to body movements. This makes it ideal to display certain biometric information.
An example would be display of ECG data in real time which could also be relayed to smart devices or medical equipment via built-in radio links.
The novel electronic system combines semiconductors with lightweight sensors imbedded with breathable nanomesh electrodes, a wireless communication system and display features. Using these functions in contact with the skin it would be simple to realize an electrocardiogram application to display ECG waveforms in real-time and store the information to the Cloud via a smart device.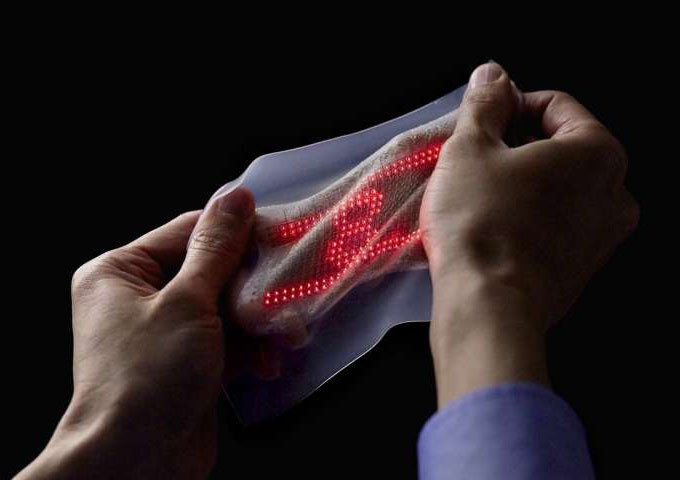 The display was developed at the School of Engineering of the University of Tokyo together with the company
Dai Nippon Printing
and consists of a stretchable network of 16 x 24 micro-LEDs on a thin rubber substrate.
The display can withstand an elongation of up to 45% of its original length and this latest design
is far more resistant to the stresses of stretching than previous wearable displays. It is built using a new type of structure that minimizes stresses at the physical interface between the hard component edges and the stretchy base mesh, where failures usually occur. The mesh sensor material is also skin-friendly and has been tested in continuous use for a week without causing irritation.
The printing technique uses silver ink printed conductors and also mounts the chips on the rubber substrate.