Using the MAR-x series of very wideband monolithic integrated circuits (MMICs):
BUILDING YOUR OWN VLF TO MICROWAVE BROADBAND AMPLIFIER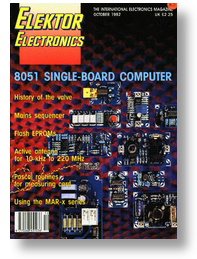 Very wideband amplifiers have a bandpass (frequency response) of several hundred megahertz, or more, typically ranging from sub-VLF to the low end of the microwave spectrum. An example might be a range of 100 kHz to 1,000 MHz (i.e., 1 GHz), although somewhat narrower ranges are more common. These circuits have a variety of practical uses: receiver preamplifiers, signal generator output amplifiers, buffer amplifiers in RF instrument circuits, cable television line amplifiers, and many others in communications and instrumentation. Unfortunately, as valuable as they are, they were not found in many electronics hobbyist situations until recently. One of the reasons that very wideband amplifiers are rarer than narrower band amplifier circuits is that they are difficult to design and build. A daunting technical task indeed.
Downloading of this magazine article is reserved for registered users only.
Login
|
Register now!