AVR TV Tennis
Play MahPong, the Single-Chip Edition!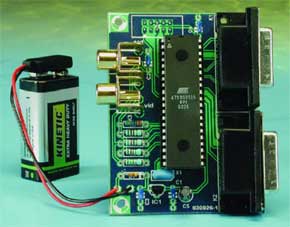 The circuit described here employs just a single microcontroller to put the classic MahPong video game (a.k.a. TV Tennis) on the TV screen. Guaranteed 1970's nostalgia!In this day and age of gigahertz PCs with massiveamounts of user memory, only extremely extensive games using all the latest 3-D video effects and ditto sounds appear to satisfy the younger generation. If such a game runs too slow, well that simply means your PC is sluggish (again) and needs to be replaced a.s.a.p. only to discover adverts telling you that the machine you've just unpacked from the box is… outdated! Forever gone are days of the first home computers for which highly optimised software was written that pushed computing power to levels never dreamed of when these early machines were first sold.
Downloading of this magazine article is reserved for registered users only.
Login
|
Register now!
CAM/CAD data for the PCB referred to in this article is available as a Gerber file. Elektor GREEN and GOLD members can exclusively download these files for free as part of their membership. Gerber files allow a PCB to be produced on an appropriate device available locally, or through an online PCB manufacturing service.

Elektor recommends its business partner Eurocircuits as the company of choice for its own prototypes and volume production in selected cases.
Resistors:
R1 = 1k?
R2 = 576?, 1%
R3 = 1k?2
R4 = 820?
R5 = 150?
Capacitors:
C1-C4 = 100nF
C5 = 10µF 16V radial
Semiconductors:
D1 = 1N4148
IC1 = 78L05
IC2 = AT90S8515, programmed, order code 030026-41
Miscellaneous:
X1 = 8MHz ceramic resonator
Bt1 = 9V battery (6F22) with clip-on leads
K1,K2 = 9-way sub-D plug (male),
PCB mount, angled pins
K3,K4 = cinch socket
K5 = 10-way boxheader
S1 = on/off switch, 1 contact
Enclosure, e.g., Hammond 1591BT
PCB, order code 030026-1 (main board)
PCB, order code 030026-2 (pushbutton board)
Disk, AVR source code, order code 030026-11 or Free Download.