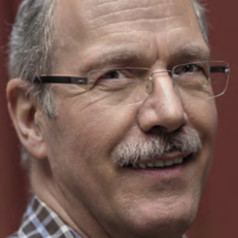 In use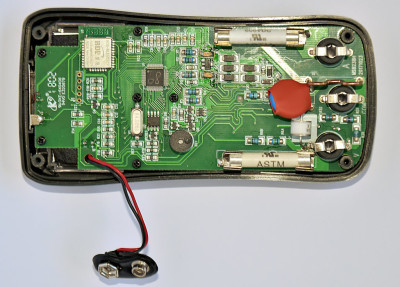 The first thing I noticed when unpacking, were the dimensions of the MS8238H. It is quite compact and easily fits in the hand. The thing feels quite sturdy and is provided with a green plastic holster. When it comes to safety, the MS8238H conforms to CAT III 600V. That means you can use it without problems for any jobs around the home, including measuring mains voltages. We would not recommend this instrument for industrial use, but then it was not intended for that.
In practice the MS8238H works very nicely. The automatic range switching operates reliably, although the meter sometimes takes its time to find the optimum range. Only once did I have to use the Ran button. The purpose of the two separate battery settings on the rotary switch escapes me somewhat, these just measure the voltage across the battery and for that you could just as well use a VDC range.
Unfortunately I don't think that the configuration of the input sockets is very practical. There are only three input sockets: COM, 10A and a combined V/mA/µA/Ohm/Temp. The disadvantage of this is that the same sockets are used for measuring both voltage as well as mA/µA.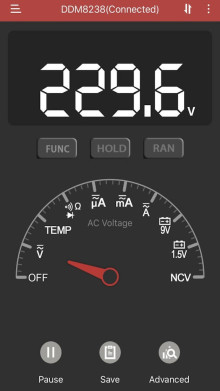 As a consequence you have to be very careful when connecting the probes. If you would like to measure the voltage between two points and the meter happens to be in the mA position, then this can have nasty results for the circuit (or, alternatively, for the meter). A separate socket for the mA/µA ranges would have been better.
The Bluetooth functionality is a handy bonus. The accompanying app (available in the Google Play store and the Apple App store) shows a copy of the display, the rotary switch and the pushbuttons. The measured data can be stored. On my smartphone this continued to work well across a distance of some 6 m. I have, however, not found a tidy way of closing the app, this only succeeded by deleting it in the app settings.
Conclusion
The MS8238H is a mid-range multimeter that has quite a bit to offer for around 50 euros, such as a temperature range with the sensor provided and Bluetooth functionality for the wireless transmission of measured values. This works very well in practice. The built-in contactless voltage detector is very useful for locating mains wiring in a wall. This meter is certainly very good value for the money, as long as you take care when connecting the meter for current or voltage measurements!
related items