Firmware updating
The firmware of the device can be updated via the USB port or via a connection to the Internet (Ethernet or Wifi). Direct and quick, this method greatly simplifies the updating operations. The trial that I did was not fruitful. I'll have another go one of these days.
Wifi is an option, it is not included in the base product.
Maintenance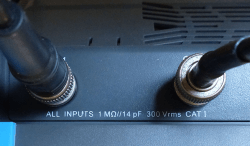 More and more, portable equipment needs to be cooled by forced convection, as does this one. Two small fans extract the hot hair via the underside of the case. It's advised not to put it flat on a table of on your knees, for risk of activating the thermal protection or, more insidiously, premature ageing. When you say fan, you say noise. But these ones are discreet enough. But when you say fan, that means regular checking for fouling on the blades.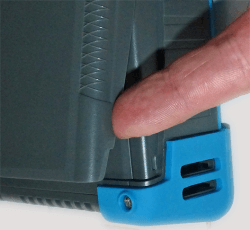 As regards the accuracy of the measurements, the manufacturer gives the usual recommendations for yearly recalibration. This procedure, usually applied in the professional world, is rarely carried out for an equipment in this price range. Especially when you know that a recalibration can cost as much as a new equipment…
This "option" will obviously be necessary if you have to certify the validity of measurements made with this oscilloscope.
Conclusion
For just 460 euros and with three years of warranty, this oscilloscope is quite seductive. It offers numerous measurement options and is very responsive. One regret is that the input connectors are placed on top of the instrument and not on the side, but this is quickly solved by using right angled BNCs.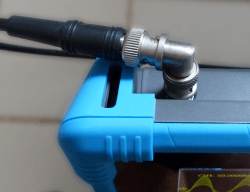 "All-touch" access for all functions of the instrument makes its use very easy. At the beginning, for some functions, it takes a bit of fumbling about before finding exactly where to put your fingers.

Although there are some details which I did not grasp on this familiarization, like updating, backing up on a USB stick, an unforeseen restart…. it seems to me that these are just teething problems.

In summary, a surprising and trendy gadget. It does lots of stuff…but not a telephone…at least not in this version.
related items