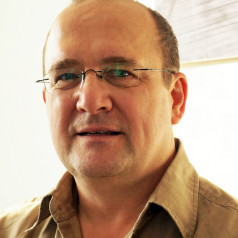 A closer look
The following describes the individual parts of the measuring accessories set.
Let's start with the test leads.
In general, all cables and clips use 4 mm banana plugs and sockets.
The cables can therefore easily tolerate 10 A and removable plastic plug caps make sure you will not accidentally come in contact with live metal parts when experimenting at more risky voltage levels.
PeakTech 7010:

The two spring-grip test probes are quite handy when it comes to probing a pin, a piece of wire, or leads of wired components.
They are 160 mm long and, according to the manufacturer, suitable for voltages up to 1,000 V.
I would be a little nervous handling these at that sort of voltage level; the insulation around the flexible stem does not seem to be very thick. Personally I would not use these with voltages over 100 V. They are rated at 5 A but their current handling capability relies a lot on the quality of the contact with the circuit. At high current levels a poor contact will produce heat which may melt the plastic insulation around the spring-grip. I've thrown away several clips (from other manufacturers) in the past which suffered a melt-down when the current level in the circuit increased momentarily.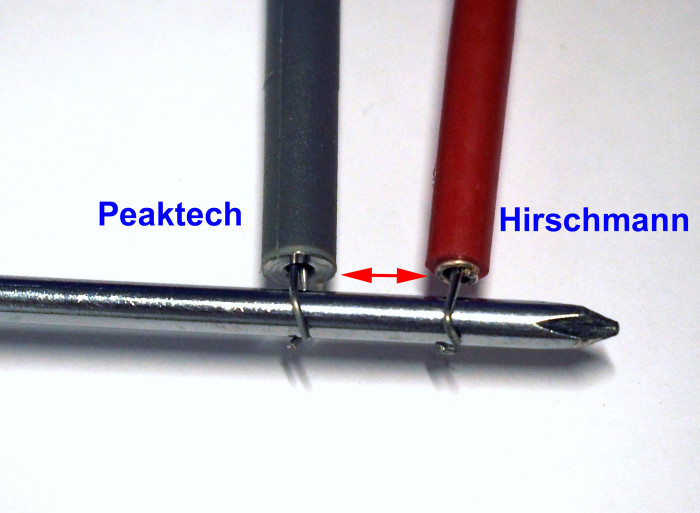 Comparing these with similar spring-grip probes from Hirschmann for example I noticed that the PeakTech probes are more flexible with a noticeably softer stem, which I find pleasant to use.
In addition, the PeakTech probes have a metal bush at the front end where the spring gripper exits the probe stem. That is a plus point for PeakTech.
PeakTech 7015: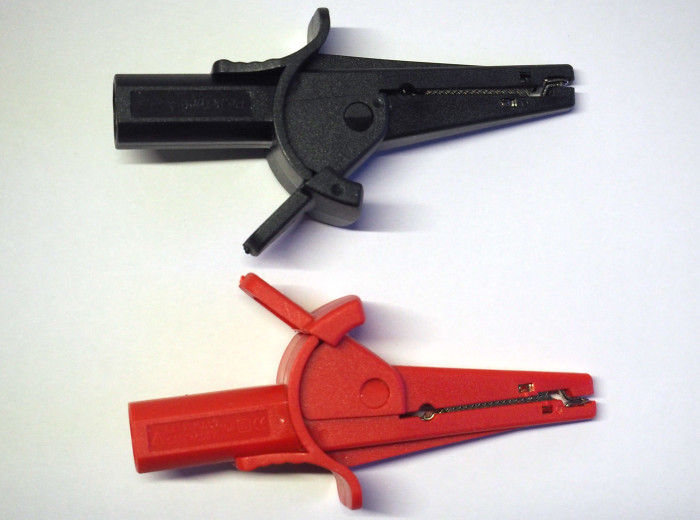 The two crocodile clips are large, powerful versions, rated at 10 A.
Each clip is 100 mm long (jaw length = 45 mm) with a jaw opening of at least 25 mm.
The clamps have a strong spring and feel quite stable. The design of the tip

makes it possible to clamp onto a thin 1.5 mm sheet or hook around a cable without crushing or damaging it.
PeakTech 7020: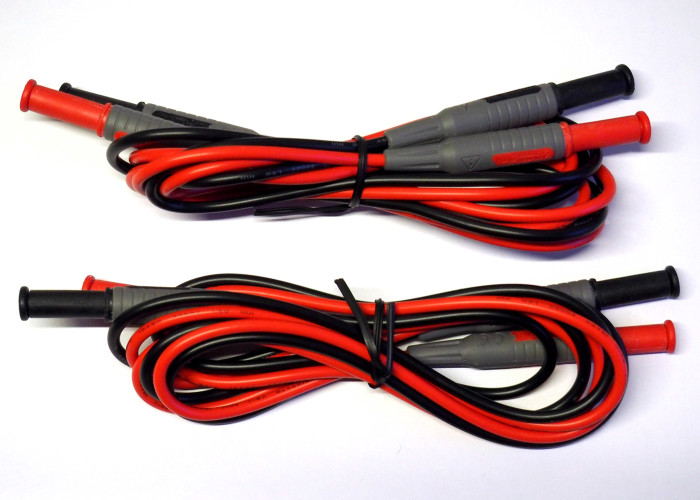 As you know, you can never have too many test leads. In this kit you get four 1.2 m long test leads terminated in a 4 mm plug at one end and a socket at the other in red and black and with a removable cap covering the plug.
Most bench power supplies use this type of socket so the cables a really useful addition to the test bench. According to the spec, they are rated at 1 kV and up to 10 A.
I tested them briefly at 16 A and found no noticeable warming.
PeakTech 7025: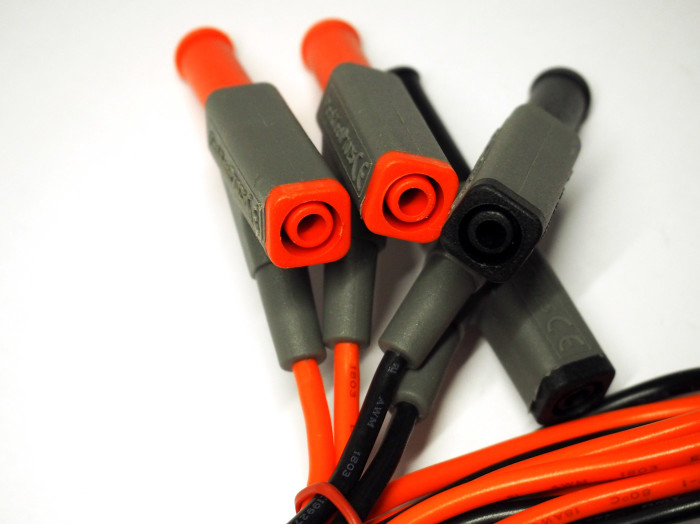 These two test leads are a bit shorter at 95 cm, but have a useful feature: they not only have a plug at one end but also a 4 mm socket which makes them stackable.
These are universally applicable and you can also use them as extension cables.
Interestingly, in addition to the 1 kV rating the spec indicates that these can handle 16 A.
The cable looks to be the same as the previous test leads so I can't really understand why the have a different spec, maybe the connectors have a higher rating.
PeakTech TKS-8: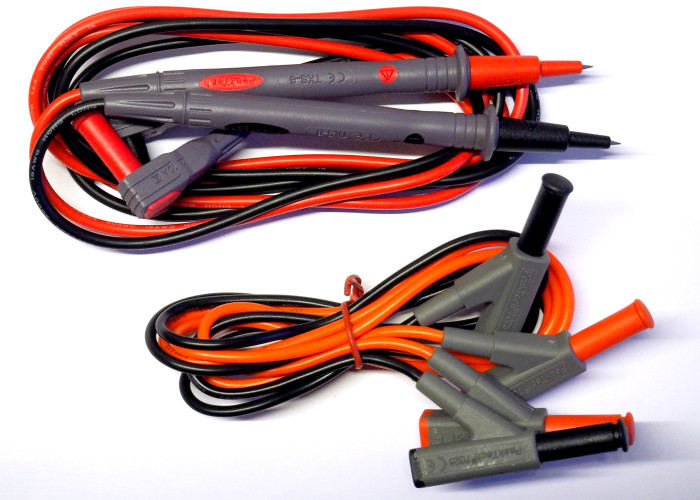 These are standard test probes with flying leads terminated in 4 mm banana plugs, normally supplied with many of the multimeters sold by PeakTech. Like the 7020, these are about 1.2 m long, but differ from the latter in having right-angled plugs so that the test leads do not stick out from the face of the multimeter; this can sometimes be an advantage by making front panel controls more accessible. The current carrying capacity of the leads is not specified. The probe tips are fitted with a plastic shroud so that only 4 mm of the probe tip is exposed. This is useful when probing tight spaces, helping to avoid unintentional circuit shorts. The shroud can be removed to expose the full 18 mm long probe tip.
related items