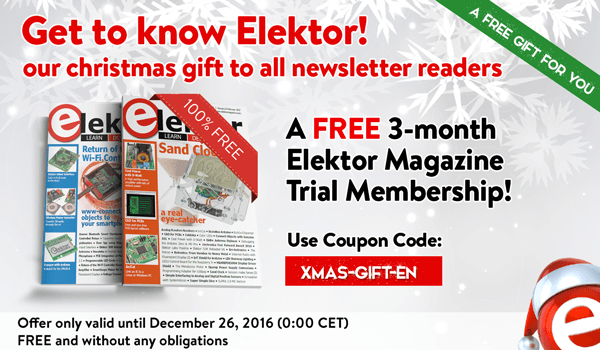 Every edition of Elektor magazine is loaded with up-to-date news and views, real-world lab tests and high quality DIY construction projects. But Elektor is much more than a magazine. It's the world's largest (multilingual) community of people with a passion for electronics. Get to know the Elektor community today – completely FREE!
Unwrap your Elektor Christmas gift: a FREE 3-month trial membership containing:
2x Elektor Magazine (Digital): Edition 1/2018 and 2/2018 as a PDF
1x Elektor Magazine (Print): Edition 2/2018 on your doormat in February
3 Months full access to the Elektor 1990-present day Archive
3 Months full access to all editions of Elektor Business Magazine
3 Months full access to over 750 Elektor-Labs projects
A minimum of 10% discount on all products in the Elektor Store
And much more...
Enter your coupon code (as provided in our email) below and join us for three months of challenging projects, interesting uses of technology, and the fun of doing it yourself!
Please note:
This offer is only valid until Monday December 26, 2017 0:00 CET and to new customers only (not to people who already have an Elektor Membership). The trial membership ends automatically (without any obligations on your part) by the end of March 2018. The Elektor Annual DVD 2017 is not included in this trial membership.

Already a member?
Check out your email inbox for your personal Christmas gift!