Every edition of ElektorLabs magazine (read a sample) is loaded with in-depth electronics design projects, up-to-date news, and real-world lab tests. We cover a wide variety of need-to-know electronics topics, including microcontroller kits, motor control, AI, analog design, displays, sensor technologies, test equipment, and more.

And Elektor offers much more than a magazine. It's the world's largest (multilingual) community of engineers, pro makers, and students with a passion for learning, designing, and selling electronics. It's time to get involved!

Use code embedded19 to activate your FREE 4-month membership.
Your membership includes: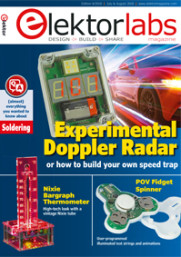 Claim your FREE Membership today!
Enter coupon code embedded19 below and join the Elektor Community!
Please note:
This offer is only valid until Sunday, March 31, 2019 (0:00 CET) and to new customers only (not to people who already have an Elektor Membership).
Prefer to read ElektorLabs Magazine in Dutch, German or French?

ElektorLabs Magazine liever in het Nederlands? Klik hier en vul uw kortingscode aan de rechterzijde in.

ElektorLabs Magazin lieber auf Deutsch? Klicken Sie hier und geben Sie danach Ihren Gutscheincode auf der rechten Seite ein.

Vous préférez lire le magazine Elektor en français ? Cliquez ici et saisissez votre code de réduction à droite.