1 Year of Elektor and an IoT book entirely FREE!
Elektor Magazine keeps you informed about all technological developments and explains how they work and what you can do with them.
Every edition of Elektor is loaded with up-to-date news and views, real-world lab tests and high quality DIY construction projects. You can rely on Elektor for solutions and insights to all your electronics challenges. Raspberry Pi, Arduino, IoT, Embedded Systems, Robotics, ESP and more.

Special offer for productronica visitors
Thanks to our partnership with productronica, you can read Elektor Magazine for one year at no costs. Register for your free GREEN Membership now and get our IoT bestseller Internet of Things as a free gift!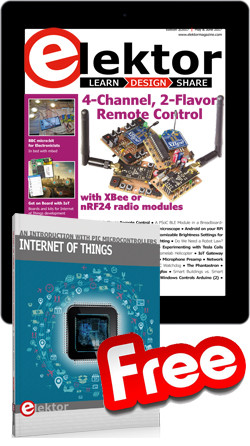 What you get:
* PLEASE NOTE:
- Offer valid until December 31, 2017 and only for people who don't have already an Elektor Membership.
- After registration you will receive a confirmation email with further instructions, including your login details for all online services.
- This free membership ends automatically after one year.
- You will automatically receive the Internet of Things book at the address you provided.
Claim your FREE GREEN Membership and book!
Enter your coupon code below and join the Elektor Community!