Every issue of Elektor magazine is loaded with up-to-date news and views, real-world lab tests and high quality DIY construction projects. But Elektor is even much more than a magazine! It's a community of active e-engineers - from novices to professionals - eager to learn, make, design and share surprising electronics.



Exclusive introductory offer for ForumLED visitors*
Take out a FREE Trial Membership and receive not only two new editions of Elektor magazine but also four months of access to all our online services! This Trial Membership ends automatically, without any obligations on your part.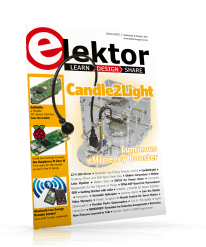 What you get:
2 new editions of Elektor Magazine (Print and Digital)

4 months unrestricted access to the Elektor 1990 - present day archive

4 months full access to over 750 Elektor Labs projects

4 months at least 10% Member Discount at Elektor.com

And much more
* Offer valid until December 31, 2017 and only for people who don't have already an Elektor Membership.
Claim your FREE Trial Membership now!
Enter your coupon code below and join the Elektor Community!