Interested in designing, sharing, and sell electronics?
Join Elektor's global community of engineers and makers who are passionate about electronics engineering and DIY projects. Insert the code
makers19
below for a
FREE
Elektor GREEN
Membership*
.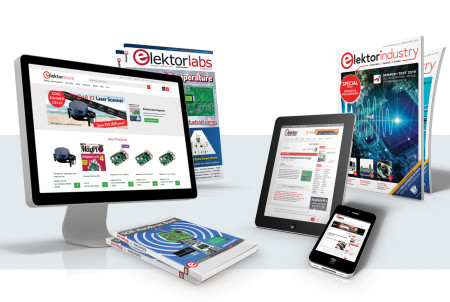 Green Membership Benefits:
✓ 6 Digital Editions of
Elektor M
agazine
(PDF): Each issue is packed with DIY electronics projects, in-depth tutorials, engaging interviews and thorough product reviews.
✓
Online Elektor Labs Account
: Post projects, communicate with designers, and collaborate with Elektor's in-house engineering team.
✓ Unrestricted access to the
Elektor Archive
(1980-present). Thousands of articles and projects are just a few clicks away.
✓ A 10% Member Discount on most products (e.g., electronic components, kits, books, and tools) at
Elektor.com
.
✓ And more!
You will be redirected to the registration process where you can complete your order and immediately afterwards start enjoying the full benefits of an Elektor Membership. Get Elektorized!
Thanks to:
*This special offer is available to new Elektor members only. Offer expires Tuesday, December 31, 2019 (12 pm CET).