50% Discount on one year Elektor GOLD Membership!

Elektor is the official content partner of the Seventh NXP Cup. Every edition of Elektor magazine is packed with up-to-date news and views, real-world lab tests and high-quality DIY construction projects.
You can rely on Elektor to provide all the solutions and insights into your electronics challenges. Raspberry Pi, Arduino, IoT, Embedded Systems, Robotics, 3D printing and much more.
Elektor is also much more than a magazine! It's a community of active e-engineers - from novices to professionals - eager to learn, design and sell innovative electronics solutions.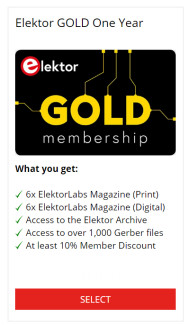 Exclusive offer for Fraunhofer IIS engineers who visited the NXP Cup Finals
50% Discount

on a GOLD membership for one year!
Take out a

GOLD Membership

and receive not just six new printed edition of Elektor Labs magazine, but also twelve months of access to all our online services!
This Membership ends automatically, without any obligations on your part.
Claim your GOLD Membership!
Enter the coupon code NXPCUP19 below and join the Elektor Community!
You will be redirected to the registration process where you can complete your order and immediately afterwards start enjoying the full benefits of an Elektor Membership!
Prefer to read ElektorLabs Magazine in Dutch, German or French?

ElektorLabs Magazine liever in het Nederlands?
Klik hier
en vul uw kortingscode aan de rechterzijde in.
ElektorLabs Magazin lieber auf Deutsch?
Klicken Sie hier
und geben Sie danach Ihren Gutscheincode auf der rechten Seite ein.

Vous préférez lire le magazine Elektor en français ?
Cliquez ici
et saisissez votre code de réduction à droite.
* Offer valid until May 31, 2019.