80C535 hardware/assembler course (1):
INTRODUCTION AND FIRSTPROGRAMMING EXAMPLES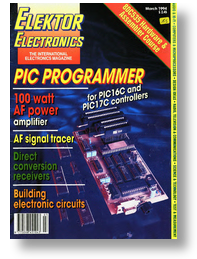 Welcome to the first instalment of a four-part course on programming the 80C535 microcontroller. The present 'short' course is a sequel to the eight-part 8051/8032 assembler course featured about two years aga in this magazine. Hardware and software peculiar to the 80C535 processor will be discussed in an educationalldidactic way, based on examples: an assembler and a communication program are available as 'courseware' on a diskette. The hardware you need to follow this course is the 80C535 single-board computer featured in last month's magazine.
Downloading of this magazine article is reserved for registered users only.
Login
|
Register now!