Here is a kind
Elektor Labs
User Manual.
First-time Posters, Read This!
Due to spamming attacks, new projects posted by people who have never posted a project before at Elektor Labs must be approved by the Elektor Labs team. This is a one-time thing, but it can take a bit of time (especially in weekends). For the time of being, comments from first-time users do not require approval.
Log On First!
Some links will work better when you are connected.
Open to All
Elektor Labs is open to everyone. This means that every visitor of Elektor.Labs can not only read the project descriptions, but he/she can also download files, participate in projects by posting comments and even post new projects. The only requirement is the creation of a (free) Elektor ID. The free ID is valid for Elektor Labs but does not allow access to the Elektor archive and other services that are available to Elektor Green and Gold members.
It is All in Your Profile

The Elektor ID provides a single entry point where a unique (but valid) set of username and password will get you in. From your Elektor ID profile page you have access to all the services that apply to your ID. A click or tap on My Labs Project(s) will display a list of the projects that you manage and/or follow. From here you can open a project for viewing or editing, which neatly brings us to the next paragraph:
Project Editing
Updating a project is done differently by every user, making it sometimes difficult for a follower to see if something was modified and how. To make it easier for project members to stay up to date, adding updates to a project is done by posting Project Updates. The main project page, or Project Description as it called, can only be edited in draft mode; once the project is published, it can no longer be modified.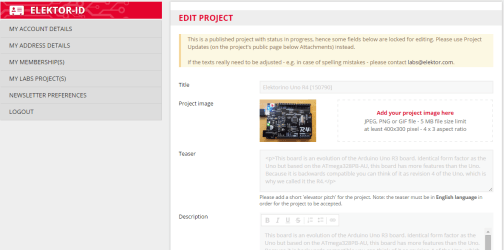 Updates & Comments
Only project managers can add Project Updates. They are displayed in chronological order right below the project's description. Every logged-on visitor can leave a Project Comment. Comments from followers and viewers are displayed below the project's updates.
Creating a New Project…
… is easy. It starts by clicking the
button (at the top of the Elektor Labs homepage) and then entering a title (choose it well!), a teaser and a description. The teaser is what people see on the project overview pages, so keep it clear and concise (at least 15 characters and no more than 150 characters). Uploading a project picture is highly recommended. If you don't have one yet, don't worry, you can add it later.
It is also possible to add files (photos, software, CAD files, etc.) for downloading to your project by clicking the Attachments button. Attachments can be given a type so that they will be displayed in certain areas.
Drafts
Projects in draft mode are not visible to the rest of the world and can be changed indefinitely. Use the Save button to save your work. They can also be deleted. Draft mode is useful if you want to present a completed project in one post. Preview and modify the project description until you are happy with it, then publish it. But beware, there is no way back; your project is now visible to the world.
Publish Your Work!
Projects must be published to become visible for other visitors. Use the Publish button at the top of the proect page to do this.

Note: Due to spamming attacks, new projects posted by people who have never posted a project before at Elektor Labs must be approved by the Elektor Labs team. This is a one-time thing, but it can take a bit of time.
Searching and Filtering
Having lots of projects and information is nice, but when you cannot search through it in an efficient manner, it all remains pretty useless. This is why we have added several search- and filter tools. A good keyword search complemented by tags and multiple sorting options enable you to quickly find what you are looking for.
Proposal, In Progress and Finished?
These are project states that are not accessible to you. Only the Elektor Labs staff can change these. When you post a new project it will show up as a Proposal. When it is selected by the editorial team for publication in the Elektor Magazine, the state will change to In Progress. Once a project has been published, its state becomes Finished.