HEXFET amplifier upgrade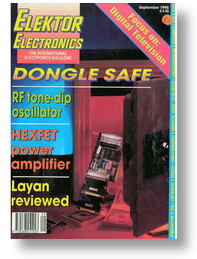 The medium Power HEXFET amplifier published in this magazine in December 1993 has one small drawback: It delivers 'only' 60 W into 8 Ω (or 120 W tnto 4 Ω). Otherwise, it is a first class amplifier that provides excellent music reproduction, which is evidenced not so much by measurement as by audition. To some listeners, it has a quality not unlike that of a valve amplifier. Because of its popularity and the many request for a version with higher output power, it has been upgraded to provide around 90 W into 8 Ω (about 160 W into 4 Ω). By a stroke of good forham, a pair of 1- bulated Gatc Bspdar m- &tom - see our June 1- issneJ pmved ideal replacemknb for the HEXFETE used in the cwgmal desiga. Apart from the fbr output, the technleal ap&&&ion remaiMvirtuaUythesamt(scebax).
Downloading of this magazine article is reserved for registered users only.
Login
|
Register now!