Over-air telemetry for model rockets
… 3, 2, 1, Takeoff!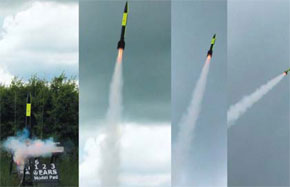 Model construction as a pastime flourishes all over the world, attracting people with an interest in replicating vehicles in miniature. Including rockets — fully functional and complete. And we really like to see all sorts of flight data (telemetry) too. But how do we get hold of this data, when the rocket is soaring off at an altitude of 500 m or more? This circuit shows you how to do this. Telemetry is taking off, literally!
Downloading of this magazine article is reserved for Elektor Members only.
Already a member? click
here
to log in.
CAM/CAD data for the PCB referred to in this article is available as a Gerber file. Elektor Members can exclusively download these files for free as part of their Membership. Gerber files allow a PCB to be produced on an appropriate device available locally, or through an online PCB manufacturing service. Elektor recommends its business partner Eurocircuits as the company of choice for its own prototypes and volume production in selected cases.
TRANSMITTER
Resistors
R1,R2,R3,R6,R11,R12,R13,R16,R17 = 10k
R4,R5,R8 = 3k3
R9 = 2k2
R7,R10 = 12k
R14 = 1k preset
R15 = 220?
Capacitors
C1,C2,C5,C13,C18 = 22µF 16V radial
C3,C4,C6,C7-C12,C16,C17,C19 = 100nF
C14,C15 = 18pF
Semiconductors
D1,D2 = 11DQ03
IC1 = MAX761
IC2,IC4 = MAX883
IC3 = PICAXE-18X
IC5 = FX614
T1 = BC557
T2,T3 = BC547
Miscellaneous
K1,K2 = 2-way PCB terminal block (e.g. Phoenix Contact # 1725656)
K3 = 14-way boxheader
K4 = RCA connector
K5 = SMA connector
K6 = 9-way sub-D connector, female, PCB mount
L1 = 22 µH
MOD1 = AWM630-TX (Low Power Radio Solutions)
X1 = 3.579MHz (3.58MHz) quartz crystal
PCB, ref. 050238-1

RECEIVER
Resistors
R1,R2,R5 = 10k
R3,R4 = 100k
Capacitors
C1 = 22µF 16V radial
C2,C3,C6,C7,C8,C11-C14,C16 = 100nF
C4,C5,C9,C15 = 10µF 16V radial
C10 = 470µF 16V radial
Semiconductors
D1 = 11DQ03
D2,D3 = 1N4148
IC1 = MAX883
IC2 = MAX232 (DIP case)
IC3 = FX614
Miscellaneous
K1 = 2-way PCB terminal block (e.g. Phoenix Contact 1725656)
K2,K9,K10 = RCA jack, PCB mount
K3 = SMA connector
K4 = 9-way sub-D connector, female, PCB mount
K5,K6,K8 = 2-way pinheader
K7 = 3-way pinheader
MOD1 = AWM634-RX (Low Power Radio Solutions)
X1 = 3.579MHz (3.58MHz) quartz crystal
PCB, ref. 050238-2