Statoil's crucial role in the EU's Southern Gas Corridor
'To us it is just a money game'
Norwegian state oil company Statoil, the second largest gas supplier to Europe, is doing all it can to cash in on the Southern Gas Corridor, Europe's strategy to secure energy supplies from the Caspian region and the Middle East. Statoil is not only a co-owner of the crucial Shah Deniz-II gas field in Azerbaijan, in a separate venture it is also trying to bring Shah Deniz gas into Italy through the Trans Adriatic Pipeline (TAP). By doing so, it is competing directly with the EU's flagship strategic project for the Southern Gas Corridor, the Nabucco pipeline. But Statoil does not seem to be primarily concerned with the EU's strategic considerations. Rune Bjoernson, Statoil's Senior Vice President of Natural Gas, says, 'To us this is a money game. It is about getting the best value from the Shah Deniz value chain.'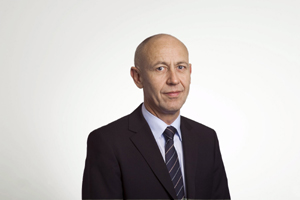 Rune Bjoernson, Statoil's Senior Vice President of Natural Gas (Photo: Statoil)
The coming months will be decisive in the great European gas pipeline battle. Azerbaijan and its partners in Shah Deniz are poised to make a decision to whom they will sell gas from the giant Shah Deniz-II gas field, a multi-billion euro project expected to become operational in 2017 at the earliest. No buyers or transportation routes have been selected yet. Azerbaijan's reserves are indispensable for the EU if the European strategy to diversify supplies away from Russia is ever going to get anywhere. But Azerbaijan has several options. It is looking north to Russia. It is also looking west to Europe. And for the evacuation of its gas resources to the west, it has a choice of two – in fact, three – routes: Nabucco, TAP and ITGI (Italian-Turkey-Greek Interconnector). It is also working on an option to send some gas across the Black Sea to Bulgaria and Rumania in the form of LNG and CNG (compressed natural gas).
In Brussels, European policymakers, backed by the German government, have set their cards on Nabucco, to bring gas from Azerbaijan and other Caspian countries straight into the heart of Europe, to the Baumgarten hub in Austria. Nabucco – a joint-venture of German RWE, Austrian OMV, Turkish BOTAS, Bulgarian BEH, Hungarian MOL and Romanian Transgaz.- will include links to the EU's South Eastern member states that are now heavily dependent on Russian gas. But the pipeline desperately needs gas from Azerbaijan to get started. If Azerbaijan's gas will instead go to TAP or ITGI, Nabucco will most likely bite the dust and the EU's preferred strategy will be in shambles.
A building block
TAP, the Trans Adriatic Pipeline, will connect to the Greek network from Thessaloniki to Albania and will cross the Adriatic Sea to Italy from there. This route is commercially sound and the pipeline's key features are perfectly compatible with Europe's energy supply security ambitions, so the TAP share holders argue. If Nabucco would be a "backbone" of European gas supply, TAP would be a "cornerstone", they say. 'TAP fulfils much of the EU's strategy to diversify its supply source', is Statoil's view.
Out of its headquarters in Baar (Switzerland), TAP spreads the message that 'you build a Southern Gas Corridor piece by piece'. TAP should be viewed as a 'building block of a bigger construction'. The fact that TAP is not a dedicated pipeline like Nabucco but also serves to integrate existing networks, is an advantage, they say in Baar. It makes the supply of the project more flexible. Indeed, the use of other networks is 'the beauty of the system'. Concerns over the security of the pipeline at the Turkish-Greek border are 'overstated'.
The origins of TAP go back to another company from a non-EU country, Swiss gas and electricity trader EGL. EGL needs gas to fuel its power plants in Italy. To that end it built up natural gas businesses in Romania, Bulgaria, Serbia, Kosovo, Albania and Greece as early as 2004. The Swiss developed a plan to have its Italian operations supplied with Iranian gas. They wanted to build a pipeline that would pick up Iranian gas at the Greek-Turkish border and transport this gas across the Adriatic to Italy. This plan, however, got nowhere for political reasons (the US-led boycott of Iran). Then Statoil jumped on the stalled Swiss bandwagon and changed the game.
The Norwegians were looking for a 'cost-efficient' evacuation route for gas from Shah Deniz II in which they have a share of 25.5%. The other shareholders in Shah Deniz II are BP with an equal share of 25.5%, Socar, Total, Lukoil, NICO (Iran) and TPAO (Turkey). Statoil joined TAP to create a cost-efficient route that would compete for Shah Deniz-II volumes. Statoil views TAP as the shortest and cheapest way of transport to Italy, a market where prices for gas are high. TAP also offers to send gas flows away from the Italian market, back to Albania and from there into South-East Europe. It is not difficult to see that by doing so, TAP might add value to EGL's existing supply portfolio in this part of Europe as well.
Reversing the TAP gas flow from Italy back into South-East Europe would have another advantage, namely to satisfy the EU's strategic ambition to reduce that region's dependence on Russian gas supplies. What is more, TAP would not only be able to supply South-East Europe with gas from Azerbaijan but also with gas from North Africa that is imported into Italy. But for Statoil such considerations are not its main motivation. In the Norwegian view, TAP's main raison d'être is
'Our main objective is to monetize our share in the gas from Shah Deniz II. We are looking for an evacuation route that guarantees us the highest possible net-back'
commercial, not strategic. 'TAP to us is a money game', explains Rune Bjoernson, Statoil's Senior Vice President of Natural Gas. 'It is a means to an end, more a tactical than a strategic issue. Our main objective is to monetize our share in the gas from Shah Deniz II. We were and still are looking for an evacuation route that guarantees us the highest possible net-back. We assessed all available alternatives and ended up investing in TAP to ensure an alternative transport-route that could compete for Shah Deniz volumes. This seemed to be the shortest, most cost-effective and technically the least challenging solution. We are not in TAP for strategic reasons. We are in it to develop a cost-efficient and workable value chain.'
Crucial moment
Statoil joined TAP in 2008. With this move, it became the only Shah Deniz shareholder with a direct interest in one of the competing evacuation routes. In other words, Statoil is the only company that is a seller and a potential shipper of Azeri gas at the same time. The Norwegians are aware of the political sensibility of the game they have started to play. TAP is after all a direct challenge to Nabucco. It has an initial capacity of 10 billion cubic metres (bcm) per year, as against Nabucco's 31 bcm, but will be built to double capacity to 20 bcm by adding one extra compressor station at a later stage, at marginal incremental cost, once more gas will become available from Azerbaijan, Turkmenistan or Iraq. This further limits Nabucco's chances.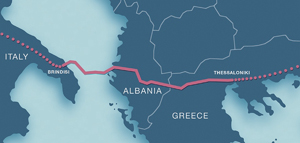 TAP: transporting gas across 520 kilometres via Greece and Albania across the Adriatic Sea to Italy
So TAP shareholders Statoil and EGL obviously have some explaining to do in Brussels. They were understandably elated when German energy giant Eon joined TAP as a shareholder in May 2010. The entrance of the Germans has brought the TAP pipeline more into the EU fold, although the Germans hold only a minority interest of 15%, leaving Statoil and EGL with 42.5% each. Indeed, the Norwegian role in TAP has only increased since the shareholders appointed Kjetil Tungland from Statoil as Managing Director of TAP in July 2010.
Tungland's appointment came at a crucial moment, just before the bidding for Shah Deniz-II gas got started. The negotiations between Socar, the Azeri state oil company that is in charge of the sales process on behalf of the Shah Deniz shareholders, and groups of buyers are now going on at full steam. Socar's decision who they will sell an initial 10 bcm to – Nabucco, TAP or ITGI, or indeed none of the above - is expected to come at the end of March 2011. TAP has recently increased its presence in Azerbaijan. EGL followed Statoil's example and set up an office in the capital Baku in June 2010 – a clear indication that TAP is preparing for the final battle and feels there is a chance to win.
The TAP-shareholders may feel strengthened by remarks of the United States special envoy for Eurasian gas Richard Morningstar. He recently stated that that the US supports Europe's Southern
'We expect the EU to be transparent and not try to pick a winner. That is what we communicate to the EU'
Corridor but not necessarily the Nabucco project. Tap shareholders also felt strengthened by recent remarks from Azerbaijan's top negotiator Elshad Nassirov. In an exclusive interview with EER in November, he made it clear that Azerbaijan's main interest is the highest price and the lowest possible costs of transport. The TAP-backers claim that they offer the cheapest solution.
Nordic stronghold
Although TAP is recognized by the EU as a "project of common interest", Commissioner of Energy Günther Oettinger and the rest of the European Commission have so far openly favoured Nabucco. Hence, Tungland and other TAP-representatives arranged a meeting with Oettinger early December 2010. They wanted to make sure their pipeline will get an equal treatment.
So they flew in on a cold Monday morning in December from Norway, Germany and Switzerland to come together at Norway House, the Nordic business and diplomatic stronghold in Brussels, opposite the European Commission's offices at Schumann Plaza. Here, EER spoke to Statoil's Rune Bjoernson about TAP's lobbying efforts. Bjoernson, a man with clear blue, piercing eyes, has a pleasant and friendly demeanour. But he is also the captain of a Nordic warship. That shows when he raps his knuckles on the table to emphasize his words. 'What we are looking for is a level playing field for TAP in Europe', he demands.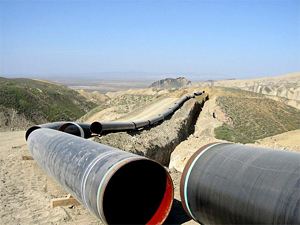 Onshore pipes for the TAP project (Photo: Statoil)
Do you feel there is a level playing field, EER wants to know.
'Well, what I can say is that TAP is not in need of subsidies to materialize. We worked very hard to make sure this is a commercially viable project.'
But is there a level playing field?
'We were very pleased to see EON join our project as an EU based company.'
Do you feel disadvantaged by commissioner Oettinger's support for Nabucco?
'We had a dialogue with the EU. From what they have told us, there is no reason to believe we are disadvantaged, as long as none of the competing projects are being subsidized.'
So you feel there is a level playing field?
'We expect the EU to be transparent and not try to pick a winner. That is what we communicate to the EU, even today.'
And is the EU receptive to your message?
'We have not heard otherwise.'
Framework and timing
Clearly, Statoil has a tough salesman in Bjoernson. The Norwegians may be set to teach the EU a lesson in pragmatism. The owners of Shah Deniz-II, including Statoil, would not shy away from selling Shah Deniz-II gas to the Russians, Bjoernson confirms. 'From time to time, we have been considering
'Through the ownership in TAP we have made sure that there are several outlets competing for the Shah Deniz volumes'
that. We are looking for the highest netback and that does not exclude Russia. But what we have learned is that Socar would like this gas to go to Europe, provided attractive terms and conditions are in place and provided Socar can access different markets, can have competitive transportation tariffs and that these tariffs are unconditional.'
And as far as Bjoernson is concerned, TAP would serve the EU's interests just as well as Nabucco. 'We must assure a framework and timing that makes taking this gas to Europe commercially attractive. We believe that is the case with TAP. We have been working very hard to develop Shah Deniz-II gas and to materialize a possible transportation route to Europe that is on a par with what Europe wants (i.e. in terms of energy supply security and reduced dependence on Russia, EER).'
The shareholders and supporters of Nabucco, however, look at things differently. They feel that TAP is undermining a truly European project that is best for the EU's future energy security and independence. But Bjoernson emphasizes that, although Statoil is one of the owners of Shah Deniz, it is not favouring one pipeline option/seller group over the other. 'Our main objective is to achieve the highest netback for the stage II volumes. Through the ownership in TAP we have made sure that there are several outlets competing for the Shah Deniz volumes. The alternative that gives the highest value for the gas, is what the owners will go for.'
So would Statoil as co-owner of Shah Deniz-II support selling 10 bcm to Nabucco? Bjoernson: 'If Nabucco comes up with an unconditional tariff and fulfils what we as license partners in the Shah Deniz-II field aspire and fulfils what the Azeri's actually want to achieve, then we would look at Nabucco in a very serious way. And that is the message we have given Nabucco.'