Assertive LNG buyers try to push suppliers on the defensive
Tokyo Gas VP Shigeru Muraki: "We want portfolio management and optimization like the Europeans have."
Asian gas buyers are aggressively seeking lower costs while gas suppliers find themselves increasingly on the defensive, potentially positioning European consumers at a more comfortable spot around the gas negotiating table. Listen in on European Energy Review's exclusive interview with Shigeru Muraki, an LNG veteran and current vice-president of Tokyo Gas, one of the biggest LNG importers of Japan.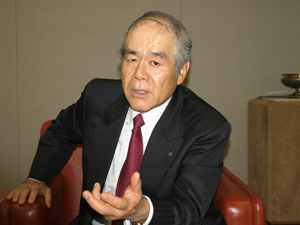 Shigeru Muraki (Tokyo Gas): "Russian gas will have to be competitive with North-American LNG."
(c) R. ten Hoedt
Europe is closely watching the chess pieces on the Asian gas markets. Or at least it should. LNG buyers in Asia will do whatever they can to benefit from the increasing liquidity in the Asian markets from 2017 on, driven by US shale and Canadian LNG exports, Australian projects that will come online, Mozambique and other new African producers that will enter the stage and Russia's huge gas reserves in the Far East the country is almost desperately trying to get to market. One way or the other, growing pressure from Asian gas buyers to get rid of the traditional Asian premium on LNG and rigid long-term contracts may very well support Europe's drive for competitive piped and liquid natural gas prices.
Example? Rumours in Tokyo have it that Gazprom is finally close to a deal for the delivery of piped East Siberian gas to China. The Chinese have increased their leverage in the negotiations concerning Russian gas imports, thanks to a successful diversification of incoming supply. Beijing is now cold-bloodedly waiting for a lower price. If the Chinese manage to rake Russian gas in for considerably less than $10/mBtu at the border, Gazprom can expect to get calls from various European capitals and trading centres.
The pressure towards lower prices, more transparency and flexibility in Asia is really being built up, not in the least by Japan, still the biggest LNG buyer worldwide. The government is gearing up efforts to establish an LNG spot market, despite doubts in the market about its short term effectiveness. In the meantime Prime-minister Abe, busy strengthening his back against growing Chinese assertiveness, is also bundling buyers on a national and international level in order to make a tougher stance in the market place. During a conference in New Delhi last week, Japan and India agreed to work out details of coordinated efforts to shoot Middle Eastern gas prices down. At the same time Japan's powerful Ministry of Economics, Trade and Industry (METI) made a call for an end to destination restrictions on FOB-based LNG contracts. In other words, a call for contracts allowing Japanese and other buyers to sell their procured deliveries wherever they see fit. So the game begins.
Want to know more about these new dynamics on the Asian gas markets? Ask Shigeru 'Sam' Muraki, an LNG procurement veteran and current vice-president of Tokyo Gas, one of the biggest LNG importers of Japan.
If the Chinese manage to rake Russian gas in for considerably less than $10/mBtu at the border, Gazprom can expect to get calls from various European capitals and trading centres
The nuclear disaster of Fukushima in 2011 weakened the established utilities led by Tepco and will accelerate the gradual dismantling of their monopolistic grip on the domestic power market. Tokyo Gas mercilessly seized the opportunity in a calculated way to embark on an aggressive campaign to gain market share and expand as a power generator. While Tepco almost collapses under the financial burden of the Fukushima disaster and the loss of political leverage, Tokyo Gas aims at increased gas sales of fifty percent by 2020. "Our target is to become the major gas and power company in Japan."
I talked to Muraki-san in the high-rise Tokyo Gas Tower in the Japanese capital.
What will drive the Asian gas markets in the next few years?
"Diversification is key. We will have LNG from North-America, from Mozambique and from Australia coming into this market. We are also working towards diversification of contractual conditions, long-term contracts and short-term spot contracts, Henry-hub based pricing and other ways of settlement. These new dynamics in the Asian gas market will be realised in the next few years, in particular caused by the impact of US shale LNG. US shale is the biggest trigger to reduce the price of LNG in Asia."
What do you think to achieve under these changing market conditions.
"Negotiating existing contracts is one of our key targets. That will take place in 2017-2018 at the same time when US shale LNG will come onto the market. We also try to establish an East-Asian gas price. That is why we keep track of the negotiations between China and Russia about new gas supplies. In the long term, Russia will be one of the key suppliers to the East-Asian market. It has plenty of gas and is the only country that can supply gas (to Japan and Korea) by pipe. But Russian gas will have to be competitive with US shale and other North-American LNG that will touch down in this region for around $11. Russia can meet this price when it develops its gas reserves in the Far East such as Chayanda on a large scale of around 60-70 bcm. Small amounts will not do. If the Russians can provide gas at the Japanese border at the current European border price for gas of around $10, then Russian gas by pipeline can compete with US shale LNG."
Trading house Marubeni and other Japanese companies are looking into the prospect of LNG from Gazprom or Rosneft. What are the chances?
"We do not think LNG from Russia will be competitive at a basic gas price level of $10 plus additional costs of $4-5 for liquefaction. I think bringing gas to Vladivostok at let's say $6/mBtu and constructing a big LNG plant of more than 10 million ton/y - in order to provide LNG at a competitive price in the Asian markets - will be very difficult for the Russians."
So your bet is on piped gas in the first place?
"We are studying the possibility of a pipeline from Sakhalin or elsewhere in Russia. But we are not negotiating yet. We can wait, there is no urgency for us. Russia wants to start the supply of East-Siberian gas as soon as possible. But we do not need Russian gas before 2020. LNG demand in Japan will come down in the next few years by between 10-20 million tons/y (from currently appr. 90 million). Nuclear power plants in Japan will be restarted. We expect to tap 4 million tons of US shale LNG in 2017. If there is enough supply at competitive prices, the LNG demand may increase instead of decline. There are several possibilities. The Russians are proposing a seabed pipeline from Vladivostok to South Korea as well. We are already talking with South-Korean parties about the possibility to link Japan to this pipeline. It would increase the security of supply for both South-Korea and Japan. And if we can team up with Korean parties, it will make us stronger in our negotiations with the Russians."
Voices in the O&G industry are warning that lower prices may endanger new gas projects.
"Projects can meet lower prices. New projects in Australia, no. But the expansion of existing projects in Australia can meet up to a thirty percent reduction of the current price. Mozambique can. Qatar has a double standard. Their supply to Europe is thirty percent cheaper than to Asia. $11-12 is a rational and reasonable international price."
Japanese trading houses in particular have benefitted greatly of rigid contracts and the Asian premium of LNG with margins of thirty percent. Will that change?
"Each company has its strong position in the LNG value chain. The trading houses like Mitsubishi use their upstream assets. But they do not have a market, they do not have receiving terminals and they have a very limited shipping capacity. In the case of Tokyo Gas, we have a market, we have an LNG receiving capacity and we have LNG shipping."
Is it true Tokyo Gas also wants to become an international gas trader?
"Yes, we will try to be.
We have an office in Paris and we are discussing gas supplies with some European energy enterprises
We will renegotiate existing contracts and sign new contracts with less or no restrictions on destination. There can be various kinds of contracts. We do not deny long-term contracts as long as the destination of the gas is flexible. Or short-term contracts with only certain destination restrictions. We want portfolio management and optimization like the Europeans have. Everything will be moving. We like the new dynamics. We have an office in Paris and we are discussing gas supplies with some European energy enterprises."
You feel very strong and secure. Is Asia becoming a buyers' market?
"In October I had the chance to talk to (the Canadian) minister Joe Oliver of Natural Resources during the World Energy Congress in Daegu (South Korea). I told him that if Canadian gas will be priced at Henry Hub plus a reasonable return, Canadian LNG can take a share of the Asian market. But if the Canadians price their gas to the current oil-linked LNG formula in Asia, we are not interested in Canadian gas. That is my message to the Canadians."
For the first time in history Tokyo Gas wants to bring Russian gas by pipe to Japan. At the beginning of this century, ExxonMobil offered Japan piped gas from Sakhalin. What went wrong, I asked Muraki-san.
"It was a missed opportunity for Japan. At that time, I was in charge of gas procurement at Tokyo Gas. We negotiated with Sakhalin 1 and 2 but the problem was Tepco (Japan's biggest utility) did not want a pipeline to Japan. Tepco feared it would make it easier for domestic competitors to enter the domestic market. By sticking to LNG imports, the company forced potential competitors to build not only power plants but also LNG receiving terminals. That was too much for them. The other issue was that ExxonMobil wanted to control the pipeline from Siberia all the way to Tokyo. We did not go along with that. We want to build a pipeline ourselves from the border further into Japan."