Desertec is slowly becoming really big
At the end of April, fifteen industrial companies signed up as associate partners of Desertec, the €400 billion initiative which is to power Europe's homes with green electricity generated in deserts in Africa and the Middle East. They join the 17 shareholders, including Eon, RWE, Enel and Siemens, that had already provided backing. Desertec is rapidly evolving from a visionary, idealistic concentrated solar power project into a hard-headed, broad-based industrial movement for renewable energy in Europe and North Africa.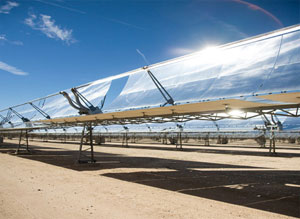 Concentrated solar power in the desert could significantly contribute to our energy supply
Gerhard Knies, 73, is not your typical pensioner. He gets up at 7 a.m. to answer e-mails, draft papers or schedule interviews. In the afternoon, he talks to business leaders or addresses high-level conferences. His day often ends after 9 p.m., but he has no intention of taking it easy in the future. 'We have no time to lose,' he says, speaking into his cell phone while trying to board a train from Berlin to Hamburg. 'It's about saving the world.'
Knies is the "inventor" of Desertec, a concept he thought up in the 1990s. It aims to supply a substantial part of the electricity in North Africa and the Middle East and 15% of Europe's electricity consumption with a network of renewable energy sources. Under the plan, large concentrated solar power (CSP) plants would be built in North Africa and linked to Europe via high-voltage direct current cables laid under the Mediterranean Sea.
The idea of harvesting the energy in the sunny African deserts to reduce Europe's dependence on oil and gas imports has been around for some time. Its proponents say a welcome side effect of the concept is that it helps the host countries to technology, clean power and economic growth. In the case of solar power from Africa, however, investors have always been deterred by the risks and high up-front investments required.
But thanks to Desertec, the mood has changed radically in recent years. The ambitious Desertec vision has won the backing of governments in Europe and North Africa. At the same time, a group of 17 big business players, among them insurer Munich Re, technology giant Siemens, Deutsche Bank, Abengoa Solar from Spain, and German utilities Eon and RWE, have formed a joint-venture, the Desertec Industrial Initiative (Dii), that aims to turn Knies' dream into reality. At the end of April, they were joined by a further 15 companies that are now linked to the initiative as associate partners. These include 3M Deutschland, Commerzbank, the US PV-producer First Solar, IBM Deutschland, Italgen, OMV and Morgan Stanley Bank AG. Together, the companies want to raise around €400 billion to turn the deserts into Europe's power banks.
But the broad industrial support Desertec (or Dii) does more than just raise the likelihood of the plan being realised. It is also changing the nature of the plan. Originally, the concept was conceived as focusing almost exclusively on power from large-scale concentrated solar power (CSP) plants in the Saharan desert. Using mirrors or lenses, CSP plants focus the sun's energy on a receptor tower to turn water or another fluid into steam, and so drive electrical turbines. Photovoltaic (PV) power, which uses solar cells and panels, did not play a significant role in the concept. Nor did other forms of renewable energy. But this changed as soon as the industrial initiative was formed, confirms Alexander Mohanty, a spokesman for Dii, which is based in Munich.
'Because of the group of companies that founded the initiative last year, the impression might have come across that the Dii had tied itself down to solar thermal power, but that was and is not the case,' he says. 'Desertec is open to all proven renewable technologies – solar, wind and biomass. Whatever technology makes the most sense economically will prevail in our mix.'
Henning Wicht, an analyst with market research firm iSuppli, agrees with that outlook. He predicts that Desertec's technology mix, besides including numerous large-scale solar thermal plants, will also bank on PV installations – large and small ones. 'Why? For one, because the companies involved will want to spread the technical risk,' he says. The second reason, he adds, boils down to money. When the project was first developed, solar thermal power – a technology boosted as early as the 1970s after the first oil crisis – was much cheaper than electricity from PV panels. In mid-2010, this is not necessarily the case anymore, Wicht says. 'The math is close, but the costs per installed kilowatt-hour right now speak in favor of PV.'
The long-term cost outlook also favours PV, says Eicke Weber, the head of the Fraunhofer Institute for Solar Energy Systems and one of Germany's leading solar energy experts. 'Solar thermal plants bank on many established technologies, while the semiconductor-based PV technologies have a steep learning curve and will become cheaper. So it's justified that Desertec has updated its concept and now says: We need both technologies.'
This strategy change is reflected by the widening range of companies participating in Desertec, says Mohanty. For example, US thin-film giant First Solar is one of the new associate partners of Dii. 'We have no fixation on branches, technologies or countries when it comes to associated partners,' says Mohanty. First Solar could be the first of many PV companies to join, he adds.
Another significant new entrant is the German subsidiary of US technology giant 3M. The company joined Dii only weeks after 3M announced the creation of a new renewable energy division. This unit researches all kinds of solar technologies – from mirror-based concentrating solar power to thin-film and crystalline silicon PV.
Interestingly, Knies reveals that Dii is currently also evaluating whether to invite in as an associate partner company Concentrix Solar. This is confirmed by Mohanty, who says Dii and Concentrix are in the final stages of negotiations. Concentrix offers solutions that offer a mix of CSP and PV: unlike CSP plants, the plants built by Concentrix don't use a central receiver tower with a turbine, but instead use lenses to concentrate the sun's rays on highly efficient PV cells.
That doesn't mean PV or any other renewable energy form will completely replace CSP thermal power plants. Solar thermal power plants have advantages: They are able to store heat and produce power for several hours after the sun has set. That way, they are able to provide balancing of energy from renewable sources, eliminating the need for gas and coal-fired backup plants. CSP plants are also well suited to desalinate the sea water that is used to cool them – a very important feature in the freshwater-scarce regions of North Africa and the Middle East.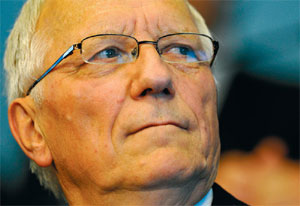 Dr. Gerhard Knies
Yet experts expect that PV will become much more than just CSP's sidekick within Desertec. 'Once PV companies develop good power storage technologies, the role of PV in Desertec will grow significantly,' says Weber.
Of course, despite the large industrial and political support, for the moment Desertec remains a paper tiger. Dii was founded in late 2009. At the time, Desertec officials said the scheme could send power to Europe as early as 2020 – a very ambitious, maybe even unrealistic timetable, critics said. Right now, Desertec shareholders and associate partners are manning working groups that will draft a comprehensive feasibility study to be unveiled by the end of 2012. Then, Dii will announce what kind of financial conditions and public support is needed, how and via what route the power will be transported to Europe, and what kind of energy mix makes sense.
In the meantime, Dii hopes to launch its first demonstration projects. 'Although Desertec is a long-term concept, we want to show visible results as early as possible,' says Mohanty. A few concrete infrastructure plans are already under way, although they are only loosely linked to Desertec. Siemens is building a large-scale solar thermal power plant near Seville in Spain, a test project for a larger role-out within Desertec. Starting in January 2011, the 50 MW plant in Lebrija will provide up to 50,000 households with power. In addition, the World Bank has said it is willing to fund solar thermal plants in North Africa with several billion euros. The Moroccan government has said it plans to install 2 GW (Gigawatt) of solar power plants across the country between 2015 and 2019. Calls for tenders have already been issued.
'Interest for Desertec is growing,' says Weber of the Fraunhofer Institute. 'I wouldn't be surprised if the original time frames are sped up.'
Meanwhile, Knies is already one step ahead. He is trying to market the concept to other regions of the world. If it were up to him, the European-African-Middle Eastern project would only be the first step in the route to a 'global Desertec,' he says. 'In six hours, the sun sends as much energy to earth as the entire humanity consumes in a year. How could we not use the energy from the deserts?'
The pros and cons of Desertec
While many say Desertec perfectly combines energy security, climate protection and development assistance, others denounce it as an expensive pipe dream dominated by hidden agendas.
Claude Turmes, a European Parliament member for the Green Party and one of Europe's most active energy politicians, has warned that the energy utilities involved don't have the environment in mind when pushing the project. Grids in North Africa can't yet support large-scale power plants but that would change once they are strenghtened and expanded to accommodate Desertec, he pointed out at an energy conference in Berlin in March. And that would also make it possible for the energy companies to start building coal-fired or nuclear power plants in the region. 'Every cable that is being laid through the Mediterranean is the ultimate door-opener for investments into a coal-fired or nuclear power station', said Turmes.
Others say Desertec would create a new dependency on a politically unstable region, with the undersea cables not only being too expensive, but vulnerable to terrorist attacks. But Dii says it will not construct plants in politically unstable areas – for example in the occupied territory of Western Sahara.
Eicke Weber, the head of the Fraunhofer Institute for Solar Energy Systems and one of Germany's leading solar energy experts, defends Desertec. 'If we can build pipelines stretching more than 1,000 kilometers why not direct current cables?' he asks.
One of the project's most outspoken critics is Herrmann Scheer, the president of Eurosolar and co-initiator of the famous German Renewable Energy Law (EEG). He claims Desertec will divert attention and money from supporting renewables in Europe and slow down the decentralisation of energy generation, thus benefiting utilities rather than consumers.

David Wortmann, Vice-Ppresident Policy and Public Affairs for First Solar in Berlin, denies that Desertec would stop decentralisation. 'Rather, it is about showing that both ways are doable and necessary,' he says.
Weber adds that the involvement of the likes of Siemens and Eon is a great chance for climate protection. 'We should be glad that we can use the leverage and the means of big business for something good.'
Note: for a recent interview with Dii's CEO Paul van Son, see: 'It is essential to get political support'