Energiewende can't be stopped, so get on board
Germany's Energiewende has led to price dumping and unfair competition for industry in neighbouring countries, say Dutch critics. Understandable anger, a rearguard action or both?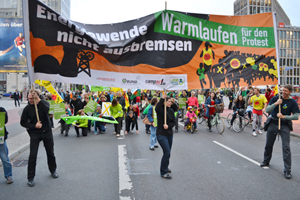 (c) Uwe Hiksch
Okay, so it meant the loss of 800 jobs in an already economically weak region. But under normal circumstances the shuttering of the Aldel aluminium smelting plant in the northern Dutch province of Groningen would have merited no more than a report in the regional press and a scant mention in the national media. Were it not for the fact that the company laid the blame for its bankruptcy firmly at the door of the energy transition in nearby Germany. Highly subsidized wind and solar energy had led to price dumping and excessively cheap energy on the German side of the border. 'Unfair competition', opined management and closed down its operation.
Aldel's bankruptcy unleashed a nationwide debate in the Netherlands on the adverse effects of Germany's transition to renewable energy. Captains of industry and CEOs of the energy establishment were unanimous in their condemnation and demanded compensation from the government. Even the country's trade unions took to the streets to protest against the damage being wreaked on Dutch industry.
But the backlash against Germany's Energiewende isn't new. After an initial period of slightly amused scepticism, the lobby of established interests in the energy sector and energy-intensive industry has gathered steam, swelling to full strength last year. And the lobby was successful, a letter to parliament from the Dutch minister for energy Henk Kamp on December 30 shows: 'Firstly, the cabinet has set aside 78 million euro to compensate indirect ETS costs for the energy intensive industry. This compensation ruling will take effect from January 1. In addition the bill to amend network tariffs for energy intensive industries will come into effect on January 1, 2014, as will a law enabling certain industrial heavy users to be refunded for system services tariffs paid in the past.'
By then irritation over Germany's energy policy within Kamp's own right-wing Liberal VVD party was already riding high. The party's energy spokesman René Leegte had earlier voiced his displeasure in an opinion piece in a national paper,
After an initial period of slightly amused scepticism, the lobby of established interests in the energy sector and energy-intensive industry has gathered steam, swelling to full strength last year
comparing the Energiewende to a pyramid scheme from which only German industry stood to reap the profits. 'The low energy prices that primarily benefit industry are achieved by means of sky-high subsidies that cost households 700 euro a year in spending power', he says in the article. 'German industry reaps the benefits in the form of low energy bills, while consumers and small businesses pay the price. The new coalition agreement sets out that by 2030, 55 to 60 percent of energy should be sustainably generated. The only good news there is that there's no longer a blank cheque and they've put the brakes on. Sixty percent has been set as a maximum.'
But it's not only the German consumer who's paying the price, says the VVD spokesman. Dutch industry is also faced with a hefty bill. 'With its plans to introduce tolls for foreign road users, Germany is passing on part of its high energy bill to its neighbours. While Dutch manufacturers often use considerably less energy than their German rivals, it's our companies that are being pressured. (...) As such it's a good thing that the European Commission is taking a closer look at the German energy legislation.'
As a Liberal MP, Leegte has welcomed the measures introduced by his minister for energy, but he adds 'it is still a sore point that we need to put together emergency measures to make up for current policy mistakes.' He calls on European leaders to forge a common European policy on energy during the planned energy summit set for June of this year. 'In the meanwhile we have to muddle through with all kinds of emergency measures to prop up companies and safeguard employment in the short term.'
But how justified is the Dutch sense of anger? There's no disputing that the Energiewende is currently distorting the market, many say. 'If there are high winds in Germany on a Sunday, then price formation for the end-user can be negative', says director Frans Rooijers of international consultancy CE Delft. 'In other words, the consumer gets paid for his energy use.' What makes things worse, he says, is that German policy has failed to incorporate time-related incentives. Due to the high subsidies and guaranteed take-up of renewables – sustainable energy takes precedence in the grid – there's no incentive to store energy or to bring production in line with demand. 'As a producer, why should you seek to store the excess energy you've produced if you've already secured your money?' Rooijers asks rhetorically. Not only does that mean energy intensive industries are denied a level playing field, it also impacts the energy sector in neighbouring countries. Renewables are pushing other energy sources out of the frame, reducing running times at gas-fired power plants to such an extent they're barely profitable. 'Paradoxically these low prices are also jeopardising the development of renewables in the Netherlands in the short term,' Rooijers notes.
While the frustration is understandable, the Dutch shouldn't sit and sulk, Rooijers says. As such the new energy agreement recently forged by all the parties concerned is a significant step towards redressing the balance, he believes. 'Dutch policy is fundamentally different to that of Germany', he says. 'The Hague isn't backed by the same huge industrial power base, so the transition to sustainable energy in this country quite simply needs to be cheaper than that of our neighbour.'
While the frustration is understandable, the Dutch shouldn't sit and sulk
Inevitably that leads to friction, but the transition also offers the Dutch new opportunities: 'Within Europe we should be striving for a level playing field so that we can subsequently benefit from lower prices', says Rooijers. 'And we should be capitalizing on our strengths as a knowledge economy – particularly in gas – and our leading position in offshore, profiling ourselves abroad as leading in these areas.' And that's exactly what the Netherlands – particularly the North – has done, says Johannes Boshuizen, project leader Cross Border Energy Transition in Groningen province. Initiatives include the Energy Valley foundation, in which the Netherlands has been working closely together with its North Sea neighbours for years. 'As a key energy country we're a highly valued partner within that alliance', emphasises Boshuizen, as if to say the Netherlands has nothing to be ashamed of on that score.
But Boshuizen concedes that some companies and industries failed to see how fast and irreversible the switch to sustainable energy would be. But that's not so strange, he says: even in Germany the full impact of the Wende was long underestimated. Together with Rooijers (and Leegte), Boshuizen is a proponent of a single European market governed by a pan-European policy. Such a market will certainly foster opportunities for innovative companies, he believes, citing examples such as the greening of existing production through the introduction of energy-saving technologies and the development of a bio-based/green economy. 'These are typically things that we're already working on together closely in our cross-border region', he says.
As a Dutch 'negotiator' in this partnership Boshuizen is familiar with Dutch discontent about the Energiewende. But he wonders to what extent the Dutch irritation is getting through in Germany. 'Nobody in my network has really picked me up on it', he says. 'But no matter what, the Energiewende can't be stopped, so the Netherlands would do well to get on board.'