Smart energy: a revolution from above
Europe is to be smothered by smart meters - but does the consumer want them?
The massive introduction of smart meters and smart grids in Europe in the coming years could lead to a thorough shake-up of the traditional division of roles in the energy value chain. Incumbent producers, suppliers and grid operators are already engaged in a battle over who will control what parts of the new value chain, while new entrants, such as service providers, technology companies and retailers, are busy looking for opportunities to corner parts of the new market. At the same time it is still highly uncertain how the smart energy market will be organised across the EU. Most market watchers agree that policymakers are currently in the driving seat, but they also agree that the transition will not succeed unless consumers can become much more engaged. What no one knows for sure, however, is whether consumers are interested at all in becoming smart energy users. EER's editor Karel Beckman reports from the high-level Metering Europe conference and exhibition which took place last week in Amsterdam.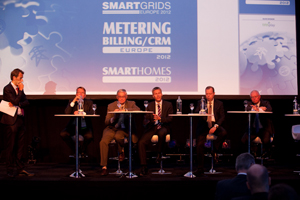 Discussion at the Metering Europe conference in Amsterdam on 9 October 2012
It was a brief, but fascinating contest between two rather formidable opponents. Philip Lewis, founder and CEO of the prestigious VaasaETT Global Energy Think-Tank and Director of the Smart Energy Demand Coalition, widely considered a world authority on utility consumer psychology, told the audience at the smart energy conference in Amsterdam that consumers will enthusiastically participate in smart meter programs if they can make use of smart pricing systems and receive feedback through inhome displays.

But Grégoire Wallenborn, physicist and philosopher, project leader of the Centre for Studies on Sustainable Development at the Free University of Brussels and prominent researcher into sustainable consumption patterns, begged to disagree. He said that scientifically validated studies show that consumers reduce their energy consumption by no more than between zero and 4% even if they can make use of inhome displays – and that only in the first year after a new system is installed.

The polite disagreement that showed up between these two recognised consumer behaviour experts demonstrates the great uncertainty still hovering over the smart energy market. In theory everybody agrees that smart energy systems (grids and meters) are needed to integrate intermittent renewable energies into the energy system, improve energy efficiency, reduce energy consumption and better adjust demand to supply patterns. But there is no consensus on how to achieve this noble ideal in practice. The most critical (but not the only) question is no doubt how to get consumers involved.
Optimistic
Lewis of VaasaETT, who has conducted research and consultancy in over 50 countries for over 300 utilities, essentially had an optimistic message. At the conference in Amsterdam, he presented the results of a study carried out by VaasaETT for the European Smart Metering Industry Group (ESMIG), in which about 100 pilot projects involving 450,000 consumers were analysed. This so-called 'Empower Demand' study concludes that smart energy systems can reduce energy consumption by up to 10% and even up to 40% at peak hours.

But only under certain conditions. The report warns that technology is only an "enabler" and that the only projects that are successful are those that succeed in meeting "consumer needs through demand side programs".

So what are those "needs" and how can they be met? Lewis conceded that this is a far from simple question. He said that consumers do not want more price volatility, they want predictable prices. To get them enthusiastic about 'smart (flexible) pricing' and demand response programmes, they have to be educated and they have to be provided with appropriate feedback (adapted to individual needs). In essence, he said, "consumers must become partners in the energy market on equal terms with the industry".

Lewis also made it clear that energy suppliers still have a lot of work to do to reach this situation. He asked the audience how many people in the room have a smart meter with an inhome display. Only a few raised their hands. "How can we get people to get excited if we do not participate ourselves?" he wondered. "Get an inhome display, give it to your family, you will see how enthusiastic they will become!"

Wallenborn of the Free University of Brussels, although perhaps more pessimistic about the potential of smart energy than Lewis, no doubt agreed with that sentiment. At the conference, Wallenborn
"How can we get people to get excited if we do not participate ourselves?"
presented the result of a study he had made of a great many smart energy pilot projects. He found that most projects were hardly scientifically valid. They mostly overestimate the potential energy savings from smart energy systems, concluded Wallenborn, for instance because they concentrate on highly committed energy users who are not representative of the entire population.
In a
report
he co-wrote for the European Consumers' Organisation (BEUC), Wallenborn recommended that "consumers and (smart) meters have to evolve in cooperation". Smart meters, says the BEUC report, should be gradually developed (in modular fashion), so that they can be gradually adapted to the individual and evolving needs of different consumers. This seems not very different from Lewis' message.
Policy-driven
What the discussion between Lewis and Wallenborn showed, then, is that consumer engagement is still not getting the priority it deserves from the industry. Indeed, most market participants seem to agree that at this moment the smart energy transition is still very much a "revolution from above". At the plenary opening session of the conference, attended by at least 600 industry representatives, the audience was asked to vote on the question whether they thought the smart energy transition in Europe is primarily "market-driven" or "policy-driven". 71% answered policy-driven.

This seems a rather worrisome outcome, in view of the fact that Europe is about to get smothered by smart meters. The EU has decreed (in the so-called Third Energy Package, adopted in 2009) that by 2020 80% of European consumers should have a smart meter. Countries can opt out of this requirement if they can show from a cost-benefit analysis that the costs outweigh the benefits, but most EU member states seem eager to meet this target. Some even want to go further. The UK government, for example, wants a smart meter in every home in the UK by 2019.

It is this combined push from EU and national policymakers (which applies both to smart meters and to smart grids) that is currently providing the main impetus for the smart energy transition. The reasons to introduce smart technologies into the grids and the meters have already been alluded to:
the need to adapt the system to the increasing amount of intermittent renewable energy sources, both centralised (e.g. offshore wind parks) and decentralised (e.g. solar panels)
the need to reduce energy consumption and increase energy efficiency
the need to integrate new applications such as electric cars
the growing sophistication of information and communication tools (software company SAP has launched a new technology with which ten million meters can be read in one second)
the desire to promote competition in the energy market which should benefit small and large consumers
But there is no general agreement on how to implement of the smart energy program. There are many fundamental issues on which policymakers do not see eye to eye: how should data be secured, who should manage the data, how should consumers' privacy be protected, how should standardisation be achieved?

Probably the most important issue yet to be resolved, after the consumer engagement question, is what roles and responsibilities should be assigned to the various actors in the value chain, i.e. what the preferred 'business model' should be. When it comes to smart meters, most EU member states have opted for what is called the DSO-led model. This means that the distribution system operators (DSOs), which are regulated companies, are primarily responsible for the rollout of the smart meters. They are the owners of the meters in this model, which is supported by Eurelectric, the European association of the electricity industry.
Open source
But is it a good model? As regulated companies responsible for operating the grids, DSO's do not seem the ideal candidates to develop relationships with consumers. That is the job after all of the
As regulated companies responsible for operating the grids, DSO's do not seem the ideal candidates to develop relationships with consumers
unregulated, competitive part of the market - the suppliers and retailers. Wallenborn in his BEUC report is very clear on this: he is opposed to the DSO-led model. DSO's are a natural monopoly, he writes. "If they can get all the data for free, they will extend their monopoly to data management, whose value can only rise. New possibilities for energy service companies and experimentations should be fostered instead."
But Wallenborn does not advocate that data should be controlled by suppliers or retailers either. He proposes an 'open source' model: "The interest of consumers is clearly to go towards an 'open source' management of the smart meters and grids. That would allow the most technically skilled to develop and share original ideas." According to Wallenborn, consumers should have "unrestricted access to their data". Moreover, "the retrieval of data must be free, and past data always available even when switching (i.e. changing of supplier)." Consumers should also have "an unlimited right to use and exchange their raw consumption data", but they can, if they wish, "give their data under license to a third party (e.g. an energy service company)."
Interestingly (though perhaps not too surprisingly), the UK has opted for a model that is unique in the EU: it has made retailers (suppliers) responsible for the rollout of smart meters. UK retailers must even supply all their customers with an in-home display (in addition to the meter itself). They can collect data from the customers, but customers can also opt out of the programme if they wish. A central communications body (the Data Communications Company or DCC) will be set up to oversee the handling of the data.
At the European level, the influential
Smart Grids Task Force
, a consultative body set up by the European Commission, in which all stakeholders (consumers, suppliers, grid operators, service providers, technology companies) are represented, is also discussing alternatives to the DSO-led model. In particular it is looking at one model in which a third party would collect and distribute the data and one in which a third party collects and distributes the data and provides new services. DSO's would in both cases do only the minimum.
Fierce fight
However, in the end the business model is decided at the national level and it is by no means certain at this point how this will play out across Europe. Certainly the fight for the new market will be fierce, and
In the end the business model is decided at the national level and it is by no means certain at this point how this will play out across Europe
suppliers and grid operators will not only have to battle each other, they will also come under pressure from new entrants. At the plenary session of the conference, the audience was asked who they thought would profit most from the smart energy transition. Incumbent suppliers got only 9% of the vote, network operators just 12%, energy service providers 24% and new entrants (such as retailers and technology companies) 55%. This seems a vote of no-confidence for the existing players.
Still, there is no need yet for the incumbents to despair. Ogi Kavazovic, Vice-President of Strategy and Marketing of US technology company Opower, noted at the conference that both Microsoft and Google had in the past few years launched tools to get consumers to save energy, and both had failed. In other words, the competition is still wide open.
In this battle, Opower has thrown in its lot with the utilities: it has developed a set of tools for utilities that helps them get their customers use energy more efficiently. For instance, Opower enables utilities to send their customers a 'ranking the neighbours' report that informs them how much energy they use compared to their neighbours or to similar homes in the area, a concept which seems to work well. But Kavazovic warned that it is far from simple to get consumers on board the smart energy train. "Energy data is boring", he said, "and energy is still relatively inexpensive".
Utilities should realise, Kavazovic said, that "customers want insights, not data". And they want something new, preferably killer apps, such as intelligent home control that enables people (among other things) to control the thermostat with their smart phones.
Kavazovic's message meshed perfectly with the insights from Lewis and Wallenborn: smart energy systems will only work if they satisfy the needs of consumers. The market has not nearly reached that stage yet.
Special EER Report on Smart Energy
If you want to know more about the policy drivers of the smart energy transition, the snags, the market opportunities and smart solutions such as those offered by Opower and others, we would like to refer you to a Special Report European Energy Review has just produced: the Secrets of Successful Smart Energy Approaches.
EER's reporters have fanned out across Europe and indeed the world to conduct interviews with a wide range of experts and stakeholders, and they have come up with reports on:
how smart energy policies are currently working out
how smart energy policies may be expected to influence the energy field as they create opportunities and throw up obstacles for market players
how businesses and other stakeholders are positioning themselves in this complex new field, exploring new methods of producing and distributing energy, measuring energy use, finding ways to save energy
how consumers can be made to participate in the smart energy transition
The 64-page Report contains 5 feature articles (including a first-hand report on the latest smart energy developments in Japan), 6 interviews with top experts and reports on three of the most advanced pilot projects across Europe. It costs €295 - in other words, about 1 to 2 hours of consulting fees if you hire a consultant to inform you about smart energy.
You can order our Report by sending an email to europeanenergyreview@elektor.com.
Here are the results from the Amsterdam jury!
You may be interested in the results of the votes from the audience during the Opening Session of the Smart Metering Europe conference held on 9 October in Amsterdam. Some 600 industry representatives were asked to vote on a number of key questions facing the sector. The questions and answers - and the results - are given below.
1. Market or Policy?

Do you think the smart energy transition is primarily market-driven or policy-driven?

a) Market-driven 28.5%
b) Policy-driven 71.5%

2. Winners (and losers)

Who will profit most from the smart energy transition?

a) Incumbent energy suppliers 9.1%
b) Network operators 12,3%
c) Energy service providers 23.5%
d) New entrants such as retailers and technology companies 55.2%

3. Smart meter model

Who should be in charge of the smart meters and the data generated by them?

a) Network operators 23.5%
b) Energy suppliers 4.3%
c) Network operators should facilitate the process, but suppliers/utilities should be in the lead when it comes to utilizing the data 57.6%
d) Every EU country should have its own model that best fits its own market 14.7%

4. Integration of renewable energy

"Using smart energy (grids and meters) as a tool to balance demand and supply, as opposed to calling on thermal generation, is a leap of faith to some degree."
Stephen Woodhouse, Director Pöyry Consulting

Do you:
a) Agree 52.7%
b) Disagree 47.3%

5. Priority number one

The biggest hurdle for the successful implementation of smart energy systems is:

a) Consumer acceptance 20.2%
b) Regulatory uncertainty (regulatory framework) 25.6%
c) Cost (how to make the necessary investments profitable) 49.5%
d) Privacy, data protection 4.6%

6. Vision of the future

The smart energy transition:

a) Will radically transform our way of life 14%
b) Will gradually change our way of life 61.1%
c) Will barely change our way of life 20.9%
d) Will be an abject failure 4.1%