A challenge for Brussels
How to find a cure for the Emission Trading Scheme without killing it
Reports of the death of the EU Emissons Trading Scheme (ETS) have been greatly exaggerated. That was one of the key messages from European policymakers at an "Energy Policy Breakfast" organised by European Energy Review and public affairs agency Interel in collaboration with Italian energy company Enel on the 21st of June in Brussels. Representatives from the European Commission and the European Parliament acknowledged that the ETS has shortcomings which need to be addressed, but they are intent on it remaining the backbone of the EU's climate policy for decades to come. They are now debating how they can intervene into the ETS without destroying its credibility as a market-based scheme. Remedies are expected to be proposed in July.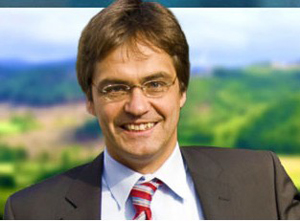 MEP Peter Liese: "Market watchers tell me that if the market was not expecting an intervention, the CO2 price would probably already be zero." (c) EuroFora
At the breakfast meeting organised by European Energy Review and Interel, a Member of the European Parliament (MEP), two senior representatives from the European Commission (from the departments of Climate Action and of Energy), and two spokesmen from business engaged in a spirited debate about the future of the EU Emission Trading Scheme (ETS). NGO's like WWF and E3G and business associations like the Prince of Wales' EU Corporate Leaders Group on Climate Change and the International Emissions Trading Association (IETA) joined in during the question and answer session.
Partly on the basis of this breakfast meeting, we have written a short guide about the current debate on "how to fix the ETS" which is currently reaching boiling point in Brussels. We hope you find it useful.
12 Questions and Answers on "How to fix the ETS"
1. What is so important about the ETS to begin with?
The ETS is the EU's flagship climate policy instrument. It sets caps on CO2 emissions for the entire energy sector and large parts of the energy-intensive industry, and thus indirectly affects the entire European economy. The companies that fall under the ETS get (or have to buy) a fixed number of tradeable emission allowances. If they emit less than what they are allowed to, they can sell their allowances; if they emit more, they have to buy allowances. As a result a price for CO2 emissions emerges, which, in theory, provides an incentive to market players to reduce CO2 emissions in the most cost-effective way.
2. What is the problem with the ETS?
The CO2 price in the system has been very low for a long time. When they revised the system in 2008, policymakers were expecting a price of at least some €30 per tonne. In practice, prices have languished (way) below €10 for close to nine months now. The result is that, as Johannes Teyssen, CEO of German energy giant Eon put it at the annual conference of the European electricity association Eurelectric in Malta in early June: "Nobody is investing in CO2 abatement" - at least not on the basis of the ETS.
3. Why is the price so low?
The economic crisis is the prime culprit: lower production means lower emissions, which has led to an oversupply of carbon allowances in the system. Allowances were handed out to companies based on economic growth projections that are today obsolete. The ETS contains no provisions to adjust the supply of allowances to unexpected fluctuations in the general economic situation.

A second reason is the widespread use of international carbon credits. Companies can buy these (cheaper) credits from developing countries to avoid investing in (more expensive) emission reductions at home. But in this case too limits were set with much higher economic growth in mind. The European Commission estimates that there are about 1 billion "surplus allowances" currently in the EU ETS and that over half of those come from international credits. Total annual allowances are about 2 billion at this moment, but starting in 2013 the number of total allowances is reduced every year by 1.74%. This annual reduction will continue into the indefinite future.
4. What are the consequences of this situation?
First of all, as we have indicated, the ETS currently does not provide an incentive to companies to invest in decarbonisation. European leaders have committed to an 80-95% greenhouse gas emission reduction by mid-century, which translates into a nearly zero emission power sector. But, as Teyssen of Eon starkly put it at a conference in Brussels earlier this year, "I wouldn't know a single person who would invest a dime on the basis of the EU Emission Trading System."

Giovanni Bertolino, head of carbon regulation at Enel, pointed out at the breakfast debate that investments "will not happen without greater clarity on long term targets and intermediate milestones". Utilities' investments, he said, "are very long term and current regulation and market prices are clearly not aligned with EU decarbonisation aspirations, creating huge uncertainty and delaying investment decisions."

A low carbon price also affects the budgets governments have at their disposal to invest in decarbonisation. Starting in 2013, energy companies will have to buy nearly all their allowances, whereas industrial installations will initially get most of their allowances for free. (Sectors on the so-
A low carbon price obviously means lower revenues from auctioning
called carbon leakage list will get 100% free allocation at the level of the benchmarks adopted end 2010; most sectors are on that list, the few sectors that are not will get 80% of the benchmark level in 2013, declining to 30% in 2020.) The allowances that are not provided for free will be sold through auctioning. The proceeds of this auctioning process will go to national governments. Many of them, including Germany, have pledged to use the revenues to pay for low-carbon projects. (Whether they will do so or not, is a different question of course.) A low carbon price obviously means lower revenues from auctioning.
5. So what should be done?
Most stakeholders now agree that the EU needs to reform the ETS to get it back on track. The Directorate-General (DG) of Climate Action of the European Commission, led by Commissioner Connie Hedegaard, has long been in favour of an intervention. DG Energy, led by Commissioner Günther Oettinger, has taken a more cautious approach, but does not resist an intervention. Eric Mamer, Oettinger's new deputy head of cabinet, said at the EER/Intereldebate that, although the ETS is a "market", it is a market "with policy objectives". As such, he said, it is always going to be subject to "some level of intervention".

The German MEP Peter Liese of the European People's Party, one of the leading members of parliament on energy dossiers, said that "when I started with this issue last year in September, I was against any intervention". However, he said that he has by now become convinced that "we have a problem", and that something needs to be done about it. "In fact", he added, "market watchers tell me that if the market was not expecting an intervention, the CO2 price would probably already be zero."

Energy producers like Enel and Shell also support what they call an "enhancement" of the scheme. For Shell a higher carbon price would be good for its burgeoning gas business. The value of gas depends directly on the value of carbon, Jean-François Cirelli, president of industry association Eurogas, said in an interview with EER not so long ago. Technology companies like Alstom would also like to see the ETS being boosted: they see opportunities in low-carbon energy technologies, including carbon capture and storage (CCS), whose business case depends entirely on the price of carbon.

The energy-intensity industry, however, rejects short-term measures that will drive up the CO2 - and electricity - price. "This would worsen the economic crisis and would create huge uncertainty with regard to future interventions", said Robert Jan Jeekel, Director for Energy and Climate Change of Eurometaux, which represents European producers of non-ferrous metals (copper, aluminum, zinc and nickel). "A temporary price intervention may well not work, puts industry at higher costs, would lead to even more company closures, and is not sufficient to structurally improve the ETS."

According to Jeekel, the system is working as expected in the crisis. He acknowledged that improvements should be made to the system, but "the ETS Review is the proper legislative process to do this, because all relevant aspects can then be incorporated". One major change that the energy-intensive industry would like to see made is in the allocation method, which is based on historical data. "This is the major cause for the over-allocation to industry and windfall profits for the power sector until 2013", said Jeekel.

BusinessEurope, representing EU businesses across the board, on balance also opposes a "quick fix" for the ETS. In a letter to Commission president José Manuel Barroso on Wednesday, it said this would "interfere with a more constructive discussion on how to achieve a systematic solution".

Within the Commission itself, DG Enterprise reportedly remains skeptical. It questions the cost and legality of a short-term intervention and wants any proposal for it subject to a full impact assessment (which has reportedly not been prepared to date).
6. What will happen now?
Commissioner Connie Hedegaard, who is responsible for the ETS, has promised to come forward with proposals before the summer break. They are expected in the first week of July.

Hedegaard will come with three things: a review of the ETS, analyzing the problem of the low carbon price; a proposal for what has come to be known as a "quick fix"; and ideas for deeper, structural reforms to the scheme.
7. What does this quick fix consist of?
This is expected to be a legislative proposal to delay the sale of carbon allowances from 2013-2015 to 2016-2018, which would most likely prop up the price in the short-term. It is also called the "backloading" proposal.

The Commission expects this to be approved quickly by member states - by the end of the year - through a technical rather than full legislative procedure. Some question whether that is possible. Jeekel of Eurometaux, citing a legal opinion from German law firm Luther prepared for the Alliance of Energy Intensive Industries, questioned the legal right of the Commission to interfere in the market if prices are deemed too low. But the Commission and many other stakeholders insist the measure is allowed under the legislation.
8. What will the impact of such a measure be?
That depends above all on how many allowances the Commission will "backload".The numbers rumoured to be in Hedegaard's proposal range from anywhere between 400 million to 1200 million allowances. Originally due to hit the market in 2013-15, they would instead be sold to companies in 2016-18.

It is also possible, however, that the allowances would be permanently cancelled (a "permanent set-aside") before they are due to return to the market in 2016. This could only be done through a full legislative procedure.

Many stakeholders argue that 1200 million is not enough. The European Parliament has called for 1400 million. Several big companies, including Enel, Eon, Shell, Alstom and GE also reportedly support this
Today heavily polluting lignite is making a comeback in the German power mix, partly as a result of the low carbon price
figure. British NGO Sandbag, which specializes in the ETS, says at least 2000 million, or one full year's worth of allowances, needs to be flushed out of the system. It cites a report from Deutsche Bank calculating that 1200 million need to be removed just to promote fuel switching from coal to gas in the electricity sector. Today heavily polluting lignite is making a comeback in the German power mix, partly as a result of the low carbon price.
It is difficult to predict how the market will react to any intervention. Some analysts suggest that only an intervention of at least 800 million allowances could push the carbon price back up to the €10 mark next year. A poll by Reuters Point Carbon in mid-June showed analysts believe withholding an amount close to 1200 allowances could double the price to €14 by the end of 2013 and more than treble it to €24 per tonne by 2015.
The Commission insists it is not about trying to fix a particular price, but about restoring the supply and demand balance and hence the allowance scarcity envisaged by the system when it was last reviewed in 2008. If the Commission estimates a one billion surplus today, it also reportedly fears this could grow to 1.4-2 billion by 2020. At the end of the day, many expect a deal around 900-1000 allowances. At a recent debate in Brussels, Jos Delbeke, director-general for climate change at the Commission, suggested he would not support the most stringent calls for delays: "You need a bit of surplus in the system for some liquidity".
9. What about the longer-term changes being considered by the Commission?
In addition to the "quick fix", the Commission is set to put out for public consultation possible longer term changes to the ETS. One of these, as already mentioned, is the permanent cancellation of the delayed allowances. Rumour has it that this could happen through a new piece of legislation that would not entail opening up the entire ETS directive for review.

MEP Peter Liese said permanent cancellation of the set aside allowances is probably the European Parliament's preferred option. Much of the power sector and companies such as Shell also support permanent cancellation.

A second possibility - and none of these options are mutually exclusive - is to increase the rate at which the ETS emissions cap declines - currently set at 1.74% per year. Unchanged, this would deliver a 70% emission reduction in 2050, i.e. less than the 80-95% European leaders have committed to. Yvon Slingenberg, responsible for the implementation of the ETS at DG Climate Action, said at the EER/Interel breakfast that, although the ETS has already been much improved in recent years, "we may need to do more" if the scheme is to deliver the long-term targets.

A third option expected to be tabled in the consultation is an extension of the ETS to other sectors to increase demand for credits. Transport is an obvious candidate. Jeekel of Eurometaux said that policymakers should also look to other sectors of the economy ("non-ETS sectors") to contribute a greater share to climate policy. According to Jeekel, "many energy-intensive sectors face severe international competition, cannot pass on their European carbon costs, and should not unilaterally carry the carbon price burden for all other parts of EU society".

A fourth option that has been debated is to raise the EU's 2020 emission reduction target from 20% to 30%, which would also help increase the demand for CO2 allowances. But there seems to be little political support for this measure. It would equate to removing some 1.4 billion allowances from the system but would also affect non-ETS sectors.
10. Do others have more ideas how the ETS could be improved?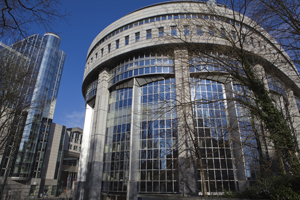 The home of the European Parliament in Brussels
(c) Thinkstock
Most certainly! The UK government plans to introduce a "floor price" for CO2 allowances. Bertolino of Enel pleaded for more "flexibility" in the supply of allowances. At this moment, the supply is set to decrease linearly (at 1.74% a year) without regard for the economic circumstances. He suggested that the supply should be adjusted "according to clear and predictable rules", for example linked to GDP growth. The International Emission Trading Association (IETA) has also called for some formula that would peg allowance allocation to wider economic indicators. Bertolino called on the Commission to look to Australia and California for lessons on this front.
The Commission does not seem to be considering such an adjustment yet, although Slingenberg did say that supply-side flexibility is an issue.
The energy-intensive sector wants a full review of the ETS. After long insisting that the market is functioning as it should, the sector is now starting to argue that yes, the ETS needs to be "fixed", but with a very different view of what that means. "The main reason for over-allocation [a surplus of allowances] is the allocation system we chose," said Jeekel. He called for a fresh look at the idea of"production-based" allowance allocation, which would take into account actual production when distributing carbon allowances rather than historical production as is the case now. Slingenberg responded that this then no longer guarantees absolute emission reductions, but Jeekel said production-based allocation can be done under specified emission ceilings. The idea was already extensively debated during the making of the original climate and energy package in 2008, but was rejected at the time.
11. How will the ETS affect other climate policies, such as targets for renewables and the new energy efficiency directive?
The energy industry has often complained about the overlap of the ETS with renewables and energy efficiency targets for 2020. Eurelectric and companies like Shell have pointed out that successes in these other policies push down the carbon price. They want policy to be centered on the ETS with other policies subordinated to it.

Whether this will happen is very uncertain, but the Commission does appear to realize that "policy coherence" should get more priority than it has in the past.Slingenberg said that her Department has been closely looking now at how its proposals will affect - or be affected by - other climate measures.

Mamer of DG Energy noted that the interaction between the ETS and other policies is an "extremely complicated" matter. He added that the Commission probably needs to put more effort into detailed impact assessments of its policies and their interlinkages. Jeekel agreed He said that current impact assessments are grossly inadequate, because they only look at impacts on a macro-economic level, are unable to assess marginal electricity price impacts, and pay no attention to what is really happening at the scale of individual installations.
12. So what will happen if nothing is done to reform the ETS?
MEP Liese warned in no uncertain terms that national governments will take their own climate measures if the EU does not succeed in reforming the ETS. This, he said, would undermine or even destroy the European-wide carbon market. The UK has already adopted national measures, and Liese said that Germany would certainly follow if Brussels does not come up with an adequate ETS policy.

Liese also noted that the EU would "lose credibility" on the international scene if it allows the ETS, its flagship climate policy instrument, to become a failure. Europe has always claimed to be an international leader in climate policy, noted Liese. "I don't think this is the case anymore now. There are other parts of the world that are carrying out ambitious programmes. They have convincing arguments that their policies are just as ambitious as Europe's. Do we really want this to happen?"
Additional reading
Major articles published by EER on the EU Emission Trading Scheme:
You can also go to Search Files (on top of this page), select Themes, and then select Emission Trading.