Interview: Anders Eldrup, CEO Dong Energy
How to make the world safe for offshore wind
The relatively small Danish energy company Dong is world leader in offshore wind. With a large pipeline of projects, and institutional investors lining up to participate in them, the state-owned company is bound to remain so for some time to come. CEO Anders Eldrup explains the strategy behind Dong's offshore wind activities: 'We are working towards an industrialisation of the sector. With one goal: to bring costs down.' But with how much, he does not want to say. Karel Beckman reports from Copenhagen.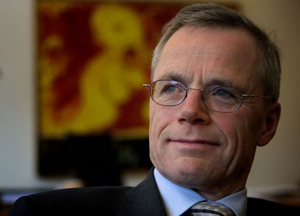 Anders Eldrup (photo: Finn Frandsen/Polfoto)
Visitors to the London Olympics next year, taking a cruise on the Thames Estuary, may see a pretty impressive sight. To wit, what will then be the biggest offshore wind park in the world: the London Array.

OK, in case you don't know yet, some facts and figures. In the first phase there will be 175 turbines spaced between 650 and 1,000 metres apart over an area of 240 km2. They will each be 147 metres in height – half the Eiffel Tower (although just 87 metres will be towering above sea level). Total power capacity: 750 MW, equivalent to an average coal-fired power station, enough to power 450,000 homes. Initial investment: €2.2 billion. Total investment: could be well above €3 billion, if phase 2 – another 370 MW – gets built. That would make it the world's first 1GW wind farm.

Did we say impressive? Well, maybe. But the London Array with its 175 Towers of Power is just one of dozens of similar wind parks that are expected to be built in the coming decade in European waters. The European Wind Energy Association (EWEA) predicts that offshore wind power capacity will grow from 3,000 MW in 2010 to 40,000 MW in 2020. That is 40 London Arrays – about 4320 Eiffel Towers.

This phenomenal growth is mainly due to huge investments in offshore wind power planned by the EU's three largest economies – the UK, Germany and France. In EWEA's "baseline scenario", the UK government will expand its offshore wind power capacity from 1340 MW in 2010 to 13,000 MW in 2020, Germany will grow from 92 MW to 8,000 MW, France from 0 MW to 4,000 MW.

This wind power revolution in North West Europe's seas will only happen, of course, if all national government plans are carried out – which is still something of an "if". Thus, for example, EWEA's figures include a strong growth of offshore wind power in the Netherlands (from 247 MW in 2010 to 4,500 MW in 2020), but the current right-wing Dutch government has stopped funding offshore wind projects, making achievement of the Dutch target next to impossible.

So far, though, the Netherlands appears to be only country that has had second thoughts. Germany and France show no signs of wavering. In the UK, which has by far the most ambitious plans (the UK government actually talks of 25,000 MW in 2020 in its own plans rather than the EWEA's more modest 13,000 MW), some doubts are emerging, especially within the Conservative Party. Critics point to the high costs of the government subsidies for offshore wind, which will run into many billions of pounds. In response, the UK government has installed a panel that has been given the task to find ways of cutting the costs of offshore wind over the next decade. Still, there are as yet no indications that the UK will not stick to its plans.
World leader
If there is one company that is ready to take advantage of the offshore wind revolution in Europe – or more precisely: that has been its main trail-blazer – it is the Danish state-owned energy company Dong. Indeed, Dong – relatively small as it is with revenues of DK 54.6 billion (€7.3 billion) in 2010 – is world
'There are always discussions going on, that's normal in a democracy'
leader in offshore wind. At the end of 2010, it had 691 MW of offshore wind power capacity either in operation or under construction. It had a 23% market share in the UK and 45% in Denmark, the two largest offshore wind markets. Dong is 50% owner of the London Array. (The other owners are Eon and Abu Dhabi investment company Masdar. The European Investment Bank and the Danish Export Credit Fund have put up £250 million in financing.) But for Dong this is just a start. It expects to have 2,000 MW of offshore wind capacity by the end of 2014. The target for 2020: at least 3,000 MW.

Dong was also a pioneeer in offshore wind: it built the world's first offshore demonstration farm in 1991 – 11 turbines with a total capacity of 5 MW near Vindeby in Denmark. Yet, until recently, Dong was a company with two faces – it still is, in fact – a green one and a black one. The Danish company still relies on coal-fired power for 75% of its production. It produced 20.2 TWh of electricity in 2010, of which 16.2 TWh came from its 1800 MW of coal-fired power plants, 3 TWh of wind power from its 1035 MW of onshore and offshore wind farms and 1 TWh of hydropower from its 215 MW hydropower facilities in Norway.

But Dong's reliance on coal is about to change radically. The Danish company has set itself a long-term target of reaching 85% of its electricity production from renewables and 15% from fossil fuels. A few years ago the distribution was still the other way around. Dong then had 10 coal-fired power stations. Four of those have been shut down in the last three years, and two more are scheduled to be closed in the next two years.

All of this is part of a deliberate strategy, decided on in 2008, to transform the company into one of the "greenest" energy companies in the world, specialising in particular in offshore wind energy. The initiator of this transformation is Anders Eldrup, a former high-ranking civil servant at the Danish Ministry of Finance, who has been CEO of Dong Energy since 2001.
Climate activism
Eldrup decided to change the company around at a crucial moment: Dong was on the verge of building a (highly efficient) coal-fired power plant in Germany. It was also on the point of being privatized and ready to take part in the wave of acquisitions then sweeping over the European energy market. But – after the company had been unable to make acquisitions and the privatisation plan was dropped – Eldrup decided to make a radical break: to turn his back on coal and put his cards on wind power.

Strong public opposition in Germany to the coal plant project played a role in his decision. As did the fact that Copenhagen was then preparing for the "make-or-break" UN Climate Conference that was to take place in December 2009. Eldrup was one of the members of the Copenhagen Climate Council,
'Since we have been active the longest, we can show a track record of operational data'
founded in 2007 by a group of 30 "global leaders" of business and science (including US Energy Minister Steve Chu, electric car guru Shai Agassi, famous entrepeneur Richard Branson, and scientist James Lovelock). The Copenhagen Climate Council's aim was to 'deliver a clear message' to the UN Summit in Copenhagen, to the effect that 'reducing climate change while allowing for continued economic growth' was the way to go.
Although the climate conference ended in disappointment, Eldrup continued his climate activism. He became one of the founders of Green Growth Leaders, set up in September 2010 in Copenhagen by the Scandinavian think tank Monday Morning, the City of Copenhagen, DONG Energy and the Danish Realdania Foundation. This group too consists of some 30 to 35 influential persons, drawn from government, science, civil society and business and it carries forward the work of the Copenhagen Climate Council.
In October, the Green Growth Leaders gathered in Copenhagen during the Copenhagen Green Week. EER talked to Eldrup there about his offshore wind strategy. For the prospects for offshore wind may be awesome, so are the challenges facing the sector. According to the EWEA just for the ten-year period 2011-2020 €66 billion should be invested in offshore wind in Europe. Other sources (including Eldrup himself) mention higher numbers – over €100 billion. Can investors be found to put up this kind of money? And will the governments of the major countries continue to support offshore wind to enable this kind of investment?
An even more important question probably is: how can costs be brought down. The EWEA estimates that capital costs for offshore wind are €3000/kW, which is 2.5 times as expensive as for onshore wind. On this last crucial question, however, Eldrup refused to respond in detail. 'Costs will go down', he said, 'but I won't put numbers on this nor a timeline.'
How important is it for you to be the world leader in offshore wind?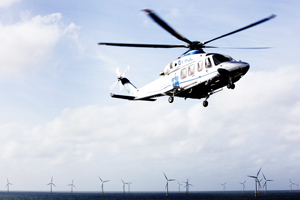 View at Horns Rev 2 (photo: Dong Energy A/S)
Well, we are world leader today and will continue to be so for some time, if I look at the projects in the pipeline. That is nice, but it is not the most interesting thing. The interesting thing is that we are bringing the business model further. We are working towards an industrialization of the sector. We are the first to have made a framework agreement with a turbine supplier (Siemens), from whom we ordered 500 turbines, so that they can standardize the production process and bring costs down. We have done the same with a supplier of foundations and a supplier of cables. So we don't work project by project, but we are building up a portfolio of orders that will allow our suppliers to produce on an industrialized basis, as in a car factory. We also bought our own shipping company and we are having a special maintenance vessel made for us in China. And we rent our own harbour in Belfast, which can handle the ever bigger turbines we are using. The Belfast harbour is very good for this purpose. We do all this with one goal: to become more efficient, to bring costs down. In this way we also develop some unique expertise of course.
So how high are the costs of offshore wind power now and how much do you expect to bring them down?
I won't go into specifics on that. In onshore wind we have seen great cost reductions. Offshore wind is only seven, eight years old. That means there still is a lot of potential. Obviously logistics – the supply chain – are crucial. With all the projects that are now starting to be developed, now is the time to make offshore wind more competitive.
But couldn't you put any numbers on this?
No, I don't want to do that. Not yet.
Good sites are increasingly difficult to find. That will drive up costs.
Yes, the first sites were close to shore. Round 2 and round 3 in the UK are further from the coastline, in deeper water. That leads to new challenges. You need new types of foundations, longer cables. That
'There is more than one reason to invest in offshore wind. It's not just climate. It is also security of supply'
may increase costs. But the round 3 wind farms will be much bigger, so there will be economies of scale. Turbines are getting bigger, they are now between 3 and 4 MW, they will be 6 to 8 MW, so the production from each turbine will grow significantly.
In the UK a discussion has started about the costs of offshore wind. There seems to be something of a backlash, especially among Conservatives. Does that worry you?
The UK government published a White Book in June, which said they will stick to the targets, on one condition: that prices will come down. The government has set up a panel, in which we are represented, to look into this. That is the official situation. For the rest, there are always discussions going on, that's normal in a democracy.
Aren't you very dependent on the UK market?
The UK market is very important for us, but Germany is coming up too, and France. Offshore wind used to be something only those peculiar Danes were doing. Now the UK, Germany and France, the three biggest countries in Western Europe, all have ambitious plans. France will be offering six sites this autumn. The expectation is that investments in offshore wind will increase with €100 to €120 billion up to 2020. We are delighted with that. It is exciting to be the market leader in such a dynamic market.
Only Holland, the country of windmills, is missing in this picture.
We have three options in Holland, but the Dutch government has said it will not support offshore wind for now, so everything is standing still. Are we lobbying them? No, we have enough work at the moment.
Isn't it risky for your company to put nearly all its eggs in the offshore wind basket?
There are risks in everything. The biggest risk is the regulatory risk. But as far as existing projects is concerned, we expect governments to keep to their agreements. In most countries there are agreements on fixed feed-in tariffs, that's a reliable system. As to technical risks, we have a long track record now. We see that things are working pretty well.
Still, if governments changed their mind about offshore wind, you would not be able to continue like this.
No, then we would have to change. But we are flexible and we spread the risk by being involved in different countries with different regimes at the same time.

The investments needed are very large. How are you going to find the needed money?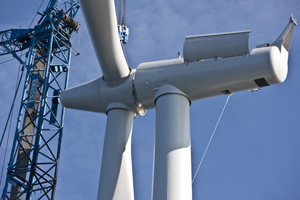 Construction of a wind turbine (photo: Dong Energy A/S)
The energy companies cannot finance all these projects with their own money. And governments and banks do not have much money at the moment. So there is only one group to turn to: institutional investors. We are working with them more and more. In September last year we divested 30% of the Nysted offshore wind farm to PensionDanmark. In December 2010 we sold a 24.8% interest of the Walney offshore wind farm to the Dutch Ampère Equity Fund and pension fund PGGM. And in September of this year the Japanese trading house Marubeni paid $324 million for a 49.9% share in our Gunfleet Sands wind park in the UK. We hope that these transactions will be followed by other, similar ones.
How did you manage to persuade them to come on board?
The first project was relatively easy, because it is an existing one. It has been operational for five or six years. We could show all the operational data. The second project was a bit more challenging, as it was still under construction. It will become fully operational in November and will then be the biggest offshore wind farm in the world. But there was a lot of interest from institutional investors to participate. We had no problem finding one. You have to take away some of the risks for these investors. But long-term, stable, predictable cash flows from infrastructural projects are attractive to them. And since we have been active the longest in offshore wind, we have the advantage that we can show a track record of operational data.
What do these data show?
That our equipment performed well. We had quite some problems with the first offshore parks in the first few years. But now availability is above target. We have also improved our surveillance a lot. In the past, we sometimes had to do maintenance just when the wind was blowing. Now we have learned to anticipate.
So you do see those €100 billion materializing?
Yes. It won't all come from us of course. But in 2020 it may well have been invested. Don't forget there is more than one reason to invest in offshore wind. It's not just climate, it is also security of supply. In the UK a lot of nuclear and coal-fired capacity will be shut down in the coming years. There are no alternatives for this yet. No decision has been made on any new nuclear projects. In France the Socialists have come out against nuclear power. And we all know about Germany.
If all countries go for wind power, the balancing problems will grow worse. At this moment, Denmark exports a lot of its surplus wind power at certain moments. That will not be possible anymore if all the neighbouring countries expand their wind power capacity.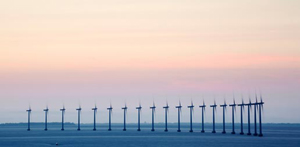 London Array Offshore Windfarm (photo: RPS Group)
The wind does not always blow at the same time everywhere. But certainly balancing is a challenge. The new Danish government has also announced new ambitious wind power targets by the way. It wants 50% of electricity to be produced from wind in 2020. So we have to find a solution for this. In fact, we will need many different solutions. In Denmark we have developed an IT platform for large power users, called PowerHub, that helps us balance out energy consumption. For households there are two options: heat pumps and electric cars. In electric cars, we cooperate with Better Place. Our first electric cars will be introduced within a month. With intelligent grids they can be used to increase flexibility in the system. And we will need more interconnections. There will be a new cable built from Denmark to the Netherlands and we hope there will be a cable from Denmark to the UK.
Do you think the Danish target of 50% wind power feasible given the current balancing challenges?
The government wants it. So we have to come up with solutions. We can also use excess wind power for district heating.
How do you see the role of gas-fired power in this?
Gas-fired power will play an increasing role, not just for balancing, but also because there will be capacity gaps, for instance in Germany. Whether gas-fired power will increase in our own portfolio is another matter. We have just started operating gas-fired power stations in the UK and Norway and are building one with Eneco in the Netherlands. As to new build, right now the numbers don't look good. The spread between gas prices and power prices is not favourable. So we are sitting on the fence like many others. In Germany there is now a discussion of setting up a capacity market, which would provide incentives for back-up capacity. That could be an interesting development.
Who is Anders Eldrup?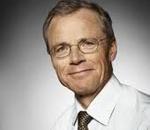 Anders Eldrup (born 1948) has been the Chief Executive Officer of Dong Energy Energy AS since 2001 and serves as President and Member of the Executive Board. Prior to joining Dong Energy, he served for ten years as Permanent Secretary of the Danish Ministry of Finance. His career at the Ministry included positions as personal secretary to the Minister of Finance, department head, and division chief. He also serves as Chairman of the Copenhagen Cleantech Cluster and Deputy Chairman of Fonden Lindoe Offshore Renewables Center, the Center for Formidling af Naturvidenskab og Moderne Teknologi and Rockwool Fonde.
He was one of the members of the Copenhagen Climate Council, founded in 2007 by a group of 30 "global leaders" of business and science. He is now a member of a similar platform, Green Growth Leaders, which was set up in September 2010 by Scandinavian think tank Monday Morning, the City of Copenhagen, DONG Energy and the Danish Realdania Foundation.
Eldrup was educated at the University of Aarhus where he received a master's degree in political science in 1972.