Kiruna: a case study in public acceptance
Policymakers and energy companies are increasingly faced with the question how to overcome the growing public opposition to their projects and plans. Some answers may be found in an unlikely place: Kiruna, a mining community in Swedish Lapland. The residents there did not merely consent to a large expansion of the neighbouring mine - they even agreed to move their town to accommodate this project. Although some aspects of the Kiruna case are exceptional, in many other ways it can serve as a model of how to go about winning public acceptance, as Mary Harries Magnusson discovered when she visited Lapland recently.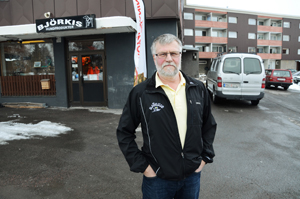 Sune Strålberg, shop owner: 'My concern is where am I going to move my business to?' (photo: Hans Sternlund, NSDKiruna)
For more than a century, Kiruna's economy has evolved in pace with the advances of its iron-ore mine. But the mine, owned by Swedish group LKAB (Luossavaara-Kiirunavaara Aktiebolag), is getting uncomfortably close to the town's doorstep. Nightly, all year around, 60 tonnes of explosives blast some 100,000 tonnes of 70 percent-pure iron ore from a giant underground slab, which has been mined progressively downwards over the years from the heights of Kiirunavaara, the Kiruna Mountain in the language of the Sámis, the regional Nordic ethnic minority. With open-cast mining against the mountain's flanks long exhausted, LKAB's miners are now following the deposit's underground plunge as it slopes eastwards towards the town.

Probably the world's largest known continuous body of the much-prized magnetite variety of iron ore, as opposed to the more commonplace hematite, the deposit is four kilometres long and averages some 80 metres in width. Test drilling suggests it may stretch down as far as two kilometres. A miners' dream, but one that could turn into an urban nightmare: subsidence and earth cracks already observed above the current mining area threaten the foundations of the town. So, since the mine cannot move, there is only one solution for the company if it wants to continue mining: the town must move. In what may be a small miracle from a public acceptance perspective - the townspeople have agreed to do just that.
Deposits and people
So what made the townspeople of Kiruna so accommodating that they are ready to have their homes demolished and their entire town dislocated? It will come as no surprise that a dominant success factor in the story of Kiruna's urban transformation is employment. Although the town is home to numerous small and medium-sized businesses and to some space-related research bodies, LKAB - 100 percent owned by the Swedish
'Magnetite deposits and people. We can't get by without one or the other'
state - is the leading employer, with the municipality not far behind. LKAB President and Chief Executive Officer Lars-Eric Aaro highlights this symbiosis in a recent issue of LKAB Magazine. 'Magnetite deposits and people. We can't get by without one or the other', he declares. 'We need both to live up to our pledge: Performance in Ironmaking'.
Still, it would be a mistake to think that all it took to convince the people of Kiruna to move their town was jobs. Far from it. Conversations with the residents, representatives from the company and the local authorities, make it clear that there were at least four other major factors involved:
Transparency: the community was informed at a very early stage of the situation and great attention has been paid to communications throughout the process.
Benefit-sharing: the company and city are investing heavily in public projects and innovations that are of benefit to the entire community. '
Positive impact on climate and environment: LKAB is not only working actively to reduce CO2 emissions and pollution, it also produces an environmentally advanced type of iron ore product.
Trust: the company and authorities have managed to create a sense of common endeavour in which the whole community is involved.
Comprehensive plan
Alarm bells about subsidence already started ringing in 2004, as the mine burrowed deeper into the ore deposit and closer to Kiruna. While cracks do not usually appear until 10 to 15 years after initial signs of subsidence, LKAB decided not to wait. It approached the municipal authorities immediately to warn of likely impact. It developed a comprehensive plan for changes to the town-centre, which the local authorities agreed to.
In 2008, the company made the final decision to finance work on the next mining level, 320 metres deeper, at 1365 metres below the summit of the Kiirunavaara Mountain. In September of this year, a location was finally selected on the town's eastern outskirts where the town centre will be moved to.

All this time good communication on Kiruna's urban transformation has been a top priority. The company
'The recognition factor is a strong one'
delivers well-targeted, regularly updated, reliable information in the form of simple, consistent messages. This involves a broad spectrum of media: a large volume of web work, as well as all the use of polls, surveys, press conferences, public information meetings and consultations.
The important credo 'LKAB does not mine ore under areas in which people live or are active' is stated clearly in LKAB literature and resonates throughout the
Urban Transformation pages on the group's website
, where cheerfully presented information anticipates every possible question or doubt, as well as offering opportunities to dialogue with LKAB top management and experts. Each month, copies of the company's 20,000-print-run corporate newspaper Framtid (Future) drop into the letter-boxes of Kiruna householders.
State-of-the-art
Sharing benefits with the local population is also widely recognized by experts as an important mechanism to gain public acceptance for large infrastructure projects. Needless to say, LKAB shoulders most of the costs associated with the transformation. In recent years, the company has spent SEK 700 million (some €77 million) on Kiruna town's transition costs. The legal framework in Sweden helps in this respect: under Sweden's Minerallagen law, the company is liable for the cost of repairing any damage and disruption to surroundings caused by its mining operations.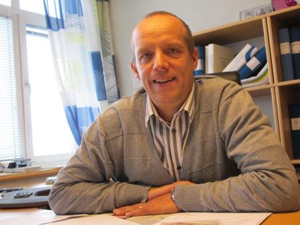 Jan Fjordell, head of the energy department of Tekniska Verken: 'We have a great challenge ahead but primarily we have fantastic opportunities' (photo: Bengt Magnusson, ERA Magazine)
But that's only for starters. The actual result of the operation is that the townspeople of Kiruna will be able to enjoy more efficient, climate-friendly, state-of-the-art public infrastructure. Kiruna now has seven kilometres of brand-new, high-tech sewage system. New district-heating pipelines have been laid within the town's 120-kilometre network. Power company Vattenfall has totally re-built Kiruna's electricity supply network, providing new high-tension lines, substations and transformers. Re-routing of nearby highways is scheduled; a rail bypass, with LKAB financing, is due for completion by 2012, 110 years since Kiruna's iron ore first made its way by rail to the Norwegian port of Narvik.
Says Jan Fjordell, head of the energy department at Tekniska Verken, the utility company owned by the municipality of Kiruna, which provides district heating to one-third of the town's villas and most of its larger buildings: 'We in Kiruna have a great challenge ahead, with many hurdles, but primarily we have fantastic opportunities to make something good, to use the latest technology, to make societal and cultural advances.'
In addition to infrastructure, investments are made in other urban features. Joining forces with the municipality, LKAB has recently inaugurated a green buffer zone, called Kiruna's Mine City Park, giving a new role to a plot of land where some 300 LKAB-owned apartments are due for demolition.
A particularly sensitive issue concerns the preservation of monuments and the general 'feel' of the town. An angry reader's letter in the local newspaper claimed recently that planned demolition of the widely acclaimed modern brick town hall could be avoided by its transportation elsewhere at a cost of only SEK 250 million. A decision on this has been duly referred upwards and is now in the hands of the County Administrative Board of Norrbotten.
Kiruna's highly popular church is destined for a less uncertain fate. An early 20th century neo-Gothic wooden construction inspired by Lapish Sámi cone-shaped cottage architecture, it is to be dismantled and physically transported to a new home. The same is planned for the wooden house of Hjalmar Lundbohm, widely
If the mine were polluting heavily and making non-environmental pellets, the move of the town would not be accepted because the company itself would not be accepted.
regarded as the father of the mine and the vision behind year-1900 plans to make Kiruna Sweden's first climate-adapted community. As Mariann Nordmark of the town hall points out, it is a big challenge to create a place that can still be recognized as Kiruna. 'The recognition factor is a strong one', she says.
'Naturally, the Municipality of Kiruna and LKAB have different points of departure in discussions surrounding the urban transformation', says Stefan Hämäläinen, Kiruna's Municipal Chief Executive, 'but a mutual understanding and respect allows us to reach consensus. This is because the municipality and LKAB share a common goal: that Kiruna should remain an attractive community in which to live and work.' Significantly, these words appear as a boxed statement in LKAB's 2010 annual report.
Greed and insouciance
By its nature, capital-intensive mining is an industry where social and economic issues are prone to collide head-on. Mining plays a major role in the economy of Sweden, particularly in the north. But the greed and insouciance often associated with mining seem strikingly absent from the corporate responsibility displayed by LKAB in its collaborative approach to Kiruna's future configuration.

With regard to environmental impacts, there are two separate issues involved. First, there is the company's general environmental performance. This has a wider than local impact: accounting in 2010 for some 1.5 percent of Sweden's total electricity use, LKAB is one of the nation's largest energy consumers. It is targeting a 5 percent energy saving in 2012 compared to 2006 (per tonne of pellet output).

Beyond saving energy and reducing emissions of CO2, the company has further burnished its sustainability credentials by halving release of particulates, sulphur dioxide and fluorides over the past 30 years, even though output has more than tripled.

A second issue is the climate and environmental impact of Kiruna's iron ore products. With the emerging and developing economies pushing world demand for steel upwards, LKAB is clearly counting on the long-term appeal of Kiirunavaara's magnetite ore, which saves energy and reduces CO2 emissions, both in its processing into 'Green Pellets' and in subsequent crude-iron making at customers' plants. Producing these pellets, says LKAB, results in one-third of the CO2 emissions created when using hematite-based pellets, and in one-seventh of the emissions produced by sintering at a steel-mill.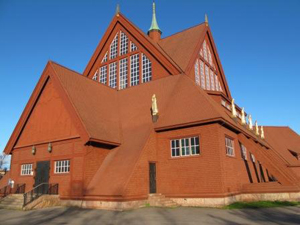 The neo-Gothic wooden church is to be dismantled and physically transported to a new home (photo: Bengt Magnusson, ERA Magazine)
How does this affect the local mood in relation to moving the town? Anders Holstenson of the LKAB mine's information centre is convinced that the climate-friendly performance of the mine is one reason why the people of Kiruna support the moving of their town. If the mine were polluting heavily and making non-environmental pellets, he observes, the move of the town would not be accepted because the company itself would not be accepted.
This impression is confirmed by public surveys that show that the public is more climate change-aware than is often thought. In a 2009 German survey on important issues to resolve, environmental pollution, climate protection and climate change followed hard on the heels of unemployment and the global economic crisis.
In addition to the company's environmental awareness, the upgrading to new, cleaner urban technology infrastructure also has a positive impact on the local environment of Kiruna. In environmentally conscious Sweden this is not a trivial matter.
Feel-good factor
Above all, perhaps, the local population's acceptance, seemingly without trauma, of the huge changes they have to go through, owes much to trust between the townspeople, the municipality, the mining group and other civil society groups that are involved in the transformation process, such as the National Heritage Board and the Sámi Parliament. The participants seem to have been able to create a sense of common endeavour, incorporating societal and cultural aspects as well as economic interest. They seem to have been able to understand the population's mindset and concerns, fostering a spirit of solidarity by ensuring respect for the feel-good factor, for people's way of life and for their attachment to familiar features like the town's monuments.

LKAB reports survey findings of 96 percent acceptance of Kiruna's urban transformation programme among residents. And goodwill seems to prevail in spite of some criticisms. 'My father was a miner', says 60 year-old Sune Strålberg, owner of a dog-sledging supplies shop in the Mine City Park area. 'I myself worked for 20 years down in the mine, so I really have nothing against the mining company per se, on the contrary.' But, explaining that his will be the first business to move to new quarters in April 2014, he adds 'My concern is where am I going to move my business to? I cannot seem to get an answer to that question.'
More public acceptance
For more information on how to deal with public acceptance issues, see also this recent article by Sonja van Renssen, Public Acceptance: the Energy Sector's Biggest Headache.
The Reshare project, supported by the European Commission, has collected a number of best-practice cases of public acceptance. These pertain in particular to renewable energy projects.