Letter to the Editor
Sir,
In his article "Gazprom in crisis: a chance for reform", Anders Åslund makes a number of allegations to which I would like to respond.
No one can deny that 2009 was as testing year for Gazprom as for all other energy majors: starting with a transit crisis that cost us $100 million per day for over two weeks, it went on to see global demand for natural gas decline due to an unprecedented financial and economic crisis. Yearly sales volumes decreased in all markets: -8.8% for the EU, -13% for former Soviet Union states, -6% in Russia. But this is the only aspect of Mr. Åslund's view with which I can agree - or which has a solid evidence base.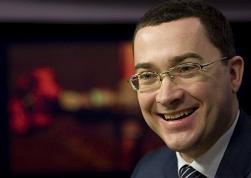 Sergei Kupriyanov
The yearly figures hide the obvious recovery trend shown by 2009 Q4 results and confirmed in the first months of 2010, which saw sales climbing 22 per cent as demand continues to recover. We hope to increase our production back up to 520-530 bcm this year. To this can be added a reduction in net debt and an increase in free cash flow which are giving Gazprom greater financial flexibility and stability.
Demand may have been down in 2009, but Gazprom's profits are firmly up. Our 2009 results show a company far from "underperforming" – Gazprom was recently listed by Forbes as the most profitable corporation in the world. Profits, at $27.14bn, are up 4.9% on 2008. In this respect, Gazprom is far outperforming expectations. The release of these results on 29 April immediately prompted Gazprom shares to rise by 3.4% in London.
In these circumstances, the charge of 'miserable management' sounds pretty unconvincing. The international investment funds who own more than a quarter of our shares have shown their continuing confidence in Gazprom, and the company's market capitalisation is stable. Successful bond issues show the trust placed in us by financial institutions expecting a positive and profitable outcome from our projects.
These positive results are largely due to Gazprom's response to the crisis, in which we showed flexibility towards our customers without abandoning the pillars of our business model, which is essential to secure the sector's necessary heavy infrastructure investments: long-term contracts with prices indexed to oil products. This approach is evidently shared by our European partners such as GDF-SUEZ or E.ON. In renegotiating our contracts they have not called into question the long-term principle, the take-or-pay clause, or the link to oil prices, which provide security in gas deliveries to Europe
At Gazprom we have nothing against shale gas – when the technologies are developed and the cost is competitive, it could be an interesting possibility to complement conventional gas in responding to growing global demand for blue fuel. However, so far its exploitation on an industrial scale in Europe remains at best a long-term perspective and carries environmental risks in densely populated areas. So why should Europe switch to more expensive and ecologically dubious unconventional gas production when there are abundant conventional gas fields in Russia? Even the USA, regarded today as the flagship in shale gas production, only covers 13-14% of its gas consumption that way, complementing, but not substituting, conventional gas.
Gazprom has over one fifth of world's gas reserves, and produces a one-sixth of the entire world's gas production. These reserves will be extremely useful to respond to a growing European demand for gas as the economic recovery continues and domestic European production declines. Consensus estimates show that until 2030 Europe will face an annual demand growth of 0.8-0.9% from the level of 2008, while domestic production will halve to 150 bcm. The International Energy Agency (IEA) predicts that EU demand will increase from 541 bcm today to 744 bcm by 2030. Growing demand and falling domestic supply necessarily lead to an increased need for natural gas imports, which in turn require additional infrastructure.
As a stock market listed company supported by world's major financial institutions, Gazprom is not interested in "commercially non-viable" projects. Our mission is to respond to existing demand and to develop our core markets. We are working hard to reward our shareholders and investors and maintain and build upon our commercial successes. Both Nord Stream and South Stream are necessary to meet this growing gas demand. Europe needs all the additional import capacity it can get and Gazprom is keen to provide its main market with the natural gas it needs. In particular, we are well aware that the EU's ambitious climate change targets entail the need for cleaner energy sources. As the cleanest and most sustainable fossil fuel, natural gas is set to play a major role in abating EU CO2 emissions, particularly in power generation. Increasing the share of natural gas in the EU energy mix by 1% would reduce ÑÎ2 emissions by more than 3%.
Beyond Europe, we are looking to expand into new markets. At the beginning of 2009, we entered the market in Asia with our LNG, produced at Sakhalin-2. An agreement was signed with CNPC in December 2009 on the basic terms of supplying gas from Russia to China.
However, Europe is and will remain Gazprom's main export market. We are working to strengthen our relations in a spirit of cooperation. Gazprom has always respected its partners' legal frameworks and fully intends to continue to do so. Articles like Mr. Åslund's offer a biased criticism and ignore or deny the reality of the EU-Russia energy situation. The EU receives 25% of its gas imports from us but more importantly represents 75% of our gas exports. These numbers alone should suffice to underline our mutual interdependence, which we want to keep as mutually beneficial as possible.

Sergei Kupriyanov
Official Spokesman, OAO Gazprom
Editor's note: The article of Anders Åslund "Gazprom in crisis: a chance for reform" can be found here.