Lithuania trades in Ignalina for BaltPool
The forced closure of the large nuclear power plant at Ignalina at the start of this year has led to a 30% rise in electricity prices in Lithuania. But, says Vice-Minister of Energy Romas Svedas, the country has used the loss of its nuclear capacity as an opportunity to start with the reform of the electricity market. 'At the same time that Ignalina was taken down, the new trading exchange BaltPool took off.' In March, 60% of the electricity that is used in Lithuania was already traded on BaltPool.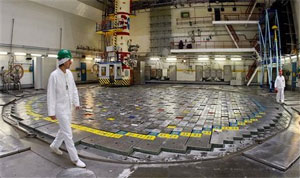 Inside the reactor of the old nuclear power plant Ignalina. The first unit at Ignalina was closed in 2004, the second was closed in December 2009

With the start of the power exchange BaltPool and the adoption of legislative reforms required by the EU's "Third Energy Package", Lithuania has taken the first major steps on the way to a competitive and regionally integrated energy market. But it will take about 5 to 10 years to complete the process of liberalisation and integration.
That is the assessment of Romas Svedas, the Vice-Minister of Energy of Lithuania. In an interview with European Energy Review, Svedas notes that the development of the Lithuanian market will take place 'step by step'. 'As long as we have limited interconnections with our neighbouring countries, we can't expect miracles to happen.'
Lithuania's existing electricity and gas infrastructure was designed to function within the former Soviet Union. As a result of this heritage, Lithuania is still heavily dependent on Russia for its oil and gas supplies. 'Our current energy mix is about 80% oil and gas and 10-12% renewables. All of the oil and gas comes from Russia', says Svedas. With the country's accession to the European Union, it is trying to reduce this dependency. Several new gas and electricity interconnections are being planned that will connect Lithuania with Poland and the Nordic countries in the coming years (see box).
BaltPool
At the same time, Lithuania is opening up its domestic market to competition. The launch of the electricity trading exchange BaltPool on the 1st of January has been a big success, says Svedas. 'Some 40% of the power consumed in Lithuania is already traded on the exchange.' (According to the website of BaltPool, in March the number was 60%, editor.) Technically, BaltPool is based on the platform of NordPool, the big Nordic energy exchange. The plan is to integrate BaltPool into NordPool in 2013.
There are some 20 suppliers registered on BaltPool so far, but the number of suppliers is still limited. The Lithuanian energy market is still heavily dominated by the State. The transmission system operator LitGrid and BaltPool, both owned by the State, have recently been separated from the national electricity company Lietuvos Energija. The major electricity producer is state-owned Lietuvos Elektrine, which owns an 1800 MW thermal power plant run on gas and oil, now the biggest in the country. Lietuvos Dujos, the country's main natural gas company, is jointly owned by Eon (38.9%), Gazprom (37.1%) and the Lithuanian state (17.7%). As the State's representative, Svedas is Chairman of the Board of Ignalina Power Plant, a member of the Board of Directors of Lietuvos Dujos as well as Chairman of the Management Board of Klaipedos Nafta, which operates the country's main oil terminal.
Lithuania was badly hit by the forced closure of the Ignalina nuclear power plant on the 1st of January – imposed on the country by Brussels as a precondition for its membership of the EU. Electricity prices have risen 30% as a result of the closure, says Svedas. 'But we used the event as an opportunity for reform, to liberalise the market. BaltPool in a way replaced Ignalina.'
Visaginas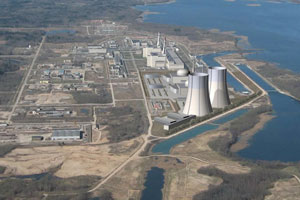 Artist's impression of the new nuclear power plant at Visaginas.
This does not mean, however, that Lithuania has given up on nuclear power. The building of a new nuclear power plant (NPP) at Visaginas near the old site of Ignalina is one of the major goals of Lithuanian energy policy. The government has set up a project organisation, Visagino Atomine Elektrine (
www.vae.lt
), which is trying to attract investors. Not an easy task, as there are a lot of other plans for new nuclear build in the region. Poland has announced it wants to build its own NPP's, Belarus has announced it wants to build an NPP just 50 kilometres from the Lithuanian capital of Vilnius, RAO of Russia has already laid the groundwork for a 2300 MW, $6 billion NPP to be built with Enel of Italy in the enclave of Kaliningrad, just 12 kilometres from the Lithuanian border, and the Finnish government has just decided to grant applications for the building of two NPP's in addition to the nuclear plant currently being built at Olkiluoto by Areva.
But Svedas refuses to consider Lithuania's project as part of a regional race. He remains convinced that Visaginas will be realised, regardless of other countries' efforts. 'We have a location, we have a plan, and, once our interconnections are ready, we have a market. It is all ready. Our project is firmly based on market forecasts – on the market that we see in 2020. It is supported by our government, by the population and by Estonia, Latvia and Poland, who have an interest in seeing Visaginas built. When Ignalina stopped producing, it hurt our neighbouring countries too. It was a regional event. We now have a regional electricity deficit, which Visaginas will help to resolve.'
Baltic Interconnection Plan
The major new interconnections Lithuania is planning under the Baltic Energy Market Interconnection Plan are the following:
- LitPol-link – a double circuit power line connecting Lithuania to Poland with a capacity of 2 x 500 MW. According to Romas Svedas, the 1st line of 500 MW will be ready in 2015, the 2nd one in 2020. Estimated cost is €216 million.
- NordBalt – a submarine cable with a capacity of 700-1000 MW connecting Sweden with Lithuania. Estimated cost of delivery and target date not known.
- Amber PolLit-link – a gas pipeline connecting Poland with Lithuania with a capacity of 3 billion m3 per year and an estimated cost of €292 million. This should be ready in 2014.
In addition, Lietuvos Elektrine, the state owned electricity company, will build a combined cycle gas turbine power plant of 444 MW to be operational in 2012 at a cost of €360 million. The EBRD (European Bank for Reconstruction and Development) announced in February that it would offer a €71 million loan for this project to Lietuvos Elektrine, which already owns the 1800 MW thermal Lithuanian Power Plant 50 km west of Vilnius.
See also Reiner Gatermann, "Energy Fever in the Baltics", EER 5 February 2010,
For more information on the BEMIP click here. On the Baltic Development Forum's meeting in Vilnius on 1-2 June, see http://www.bdforum.org/
The pre-qualification tender for Visaginas announced in December attracted five potential 'strategic investors', says Svedas. The project has now entered the non-binding period, but Svedas does not want to say how many interested parties are left.
LNG terminals
With regard to natural gas, Lithuania is also working hard to reduce its dependency on Russia and create its own gas market. The country is planning to build a pipeline to Poland. In addition, one or more LNG terminals could be built in Estonia or Latvia. 'LNG is crucial for us to develop alternative supplies', says Svedas, who does not want to say where the new LNG terminal(s) could best be built. 'That is an economic issue. It is for the market to decide. As far as I am concerned it may be built anywhere in the Baltic region, as long as it is built.' The goal, says Svedas, is to make it possible to develop a spot market for gas in the region. 'Our concern is to create a dynamic electricity and gas market.'
Renewable energy is also a 'big priority' for Lithuania, says Svedas. He admits that Lithuanian renewables legislation is 'lagging behind'. 'There is a lot of interest from business, but we need to get our legislation ready, in accordance with EU requirements. We are working on that. Our financial resources are limited, though.'
He sees the most potential for biomass (for production of heat and electricity), In addition, the country wants to develop wind power and smart grids, and invest in energy efficiency measures. But Svedas does not see the stimulation of renewable energy as contradictory to the country's nuclear power ambitions. On the contrary: 'The two are complementary. Wind needs backup power. And our power mix should be as diverse as possible.'
Transparency
Svedas is quite positive about the level of cooperation among the Baltic states in the energy area. A report prepared by the Danish consultancy Ea Energianalyse, which is to be published at the annual conference of the Baltic Development Forum in Vilnius on 1-2 June, contains a warning against nationalistic and politically motivated energy policies in the Baltic region. The report notes that investment plans for new power generation have been strongly politicised in several countries. (See: Baltic Sea region needs cooperation, not nationalism) But Svedas says that as far as the Baltic States are concerned cooperation is 'very good'. He also praises the support given by the European
'Visaginas is supported by our government, by the population and by the governments of Estonia, Latvia and Poland, who have an interest in seeing Visaginas built'
Commission for the integration of the Baltic energy market through the Baltic Energy Market Interconnection Plan (BEMIP). Svedas is a member of the high-level group (HLG) within the BEMIP. The HLG last year presented a list of concrete projects that are necessary to achieve the integration of the Baltic energy market into the wider EU market, many of which are now moving forward thanks, Svedas says, to the backing of Brussels.
And what about Russia? How does Moscow react to Lithuania's pursuit of reduced energy dependence? 'We have our policy', says Svedas, 'based on the BEMIP. We have our plans and we are implementing them. It is our strategic goal to reduce our dependency on Russia. No one can question this. It is our sovereign right.' He adds that he has talked personally to representatives of Russia and Belarus and Ukraine 'to inform them of every step we are taking. We are absolutely transparent about this. That's important to us. We want to change the stereotype of an intransparent Eastern European country.'
Who is Romas Svedas?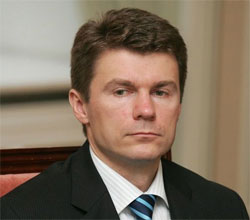 Romas Svedas (born 1970) has been Lithuania's Vice-Minister of Energy since February 2009. Before that he was Director of the Economic Security Policy Department at the Ministry of Foreign Affairs (2007-2009) and Minister Plenipotentiary at the Permanent Representation of Lithuania to the EU in Brussels (2003-2007). He graduated from the Law Faculty of Vilnius University and studied and worked in Sweden, Switzerland and the United States. Currently he also serves as Chairman of the Board of Ignalina Power Plant, member of the Board of Directors of gas company Lietuvos Dujos and Chairman of the Management Board of oil terminal operator Klaipedos Nafta.