Access to the grid is still the bottle-neck
Renewables in Japan at a cross roads
"Many new stake holders will make Japan's conservative energy business unsustainable". Japan will almost certainly reduce its dependence on nuclear power. But will it alternatively shift to renewable energy? At first glance, this may seem likely. After Fukushima, Japan's green energy sector has expanded. Investors have rushed to build solar parks, bio gas installations and wind farms. This new clean energy capacity roughly equals the output of two nuclear plants. But according to promoters of renewables, Japan has not only acted too late and too slow in allowing the development of alternatives for nuclear and fossil-fuel fired power plants. In their view, Japan's delayed surge of green energy may even stall as a result of counteraction and reluctance.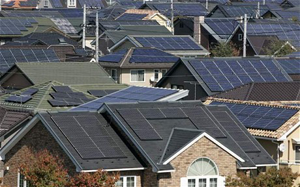 Post-Fukushima: Japanese focus on renewable energy
(c) telegraph.co.uk
"The electricity industry is still trying to marginalise renewables" says Iida Tetsunari, the executive director of the Institute for Sustainable Energy Policies ISEP in Tokyo. "If government does not push industry to grant clean energy priority access to the grid, the potential of renewable growth will rapidly diminish." According to policy expert Tomas Kåberger, a Swede who plays a prominent role in the on-going tussle in the energy sector in Japan, there are institutional obstacles creating home-made costs for renewables and obscuring the outlook for clean resources. "The Japanese government and parliament have not managed to deregulate the market in such a way that renewables get a fair chance to compete" he says (see below for a complete interview with Kåberger).
After Fukushima
Iida Tetsunari: "Till the Fukushima nuclear accident in March 2011, the ministry of economics METI strongly opposed the introduction of feed-in tariffs. The vertically integrated utilities promoted nuclear and tried to protect their regional monopolies."
After Fukushima, things have definitely changed . With all nuclear plants except two on hold and a very generous Feed-in Tariff system in place since July 2012, at least solar power is taking off in a big way across Japan. In Higashi-Matsushima north of Fukushima, in an area that was flooded by the tsunami following the Great East Japan Earthquake in March 2011, workers are currently installing panels on 4,7 ha of land. The park is to become a mega solar-power plant, operated by trading house Mitsui that expects to have all panels up and buzzing this fall, selling 2,1 GWh of electricity annually to regional power monopoly Tohuku Power Company.
New sites for the construction of big solar farms and other power-related facilities is up 66-fold on the year, totalling 2,039 hectares in 2012, according to the Ministry of Economics and Trade METI.
"The electricity industry is still trying to marginalise renewables."
More than 20% of the mega solar-farms that have popped up since the beginning of last year are located in the northernmost island of Hokkaido with abundant vacant plots of land. The sunny southern island of Kyushu has also been a popular location. In May, energy engineering company JGC officially opened its mega solar-power station on the island. According to the company, the facility's 26,5 MW output capacity is the biggest power output of any solar power plant currently operating in Japan.
Only a handful of foreign companies have moved into this growing market, such as PVDP from Germany and Spain's industrial group Gestamp. However, a huge majority of the companies are still Japanese. Telecom giant Softbank has promoted a plan to build large solar facilities capable of producing a total of more than 200 MW. Softbank's involvement in renewables was the decision of wealthy company CEO Masayoshi Son after the March 2011 disaster in Fukushima. Son, one of the most prominent enfants terribles in entrepreneurial Japan, wants to make an to end to nuclear power generation and to crack down on the regional monopolies of the 10 main vertically integrated utilities. He is the second richest man of his country and is putting his money where his mouth is.
Willing investors
The solar sector has been the main beneficiary of the FiT with an initial JPY43/kWh, much higher than the retail commercial power price of JPY14,59/kWh on average. Between the FiT introduction in July and November 2012, applications for new renewables capacity reached 3.6GW, of which solar represents 3.3GW. Government recently reduced the solar FiT to JPY37,8/kWh for new projects starting April 1 or later. President Jun Arai of oil company Showa Shell Sekiyu KK, a Shell joint venture in Japan that also manufactures solar cell modules on a large scale, told the Wall Street Journal recently, he did not expect the interest of solar-project investors to slow down as a result of the lower tariff, because "there are huge backlogs". Stressing continuous interest, Goldman Sachs announced in May it will enter the Japanese market with a renewable investment fund. The Ministry of Economy METI plans to make low-interest loans available to companies that borrow rooftop space from homeowners to install solar panels.
So investors have rushed to build renewables capacity in Japan last year. The country saw overall investment rising to 12,4 billion dollars in 2012, an increase of 75%, bucking the trend of falling investments in clean energy among developed countries. Nevertheless, Japan's 10 major utilities output of fossil-fuel plants rose 10,2% last year
So investors have rushed to build renewables capacity in Japan last year
and accounted for 88,3% of their total production that covers roughly 90% of national output. Geothermal and other renewables excluding large hydro increased 12,5%, to reach only a meagre 1,6% of the utilities output. Of the overall electricity production in Japan, renewables accounted for just 3,8 %. This is not the dramatic change, promoters of renewables have been counting on. "After one booming year, we are at a cross roads" says Tetsunari. "Renewables are very profitable in economic terms but after one year they are facing barriers in the grid. The grid is still in monopolistic hands of the utilities. They use all kinds of excuses to deny renewable power access."
Japan's powerful ministry of economics METI should force the utilities to give way to renewables, but according to Tetsunari, the ministry is internally divided and conservative as a whole. "Most of METI and the industry is keeping a centralised supply model in the air. These bureaucrats do not want a more diversely distributed power scheme and keep up a monopolistic market. They maintain a positive stance towards nuclear and keep renewables at a distance because of security of supply issues."
Investors in wind power in particular are facing headwinds. Softbank's energy subsidiary SB Energy is planning a 111MW plant, and discussing 340MW and 1GW wind developments in northern Hokkaido. Trading house Marubeni and partners have announced plans for a 250MW project off the north of Tokyo. Nuclear plant manufacturers Toshiba and Hitachi are part of a joint venture proposing a 300MW offshore wind development. But they have more problems getting access to the grid than solar (see the interview with Tomas Kåberger) and are also confronted with complex environmental impact assessments. Green Power Investment, a Tokyo-based company plans to install 55 wind turbines near the city of Kizukuri where constant buffeting by winds has caused a forest of pine trees to stand diagonally. According to press reports, the project was to become the largest on shore wind farm in Japan but has come to a standstill after authorities ordered dozens more environmental studies.
In spite of these hurdles, Iida Tetsunari still believes renewables have the future, also in Japan. "Because of the overall global trend and because there are so many local initiatives, so many local energy companies setting up all over Japan. This will force Japanese institutions to change. METI and the power industry have always been able to negotiate under the table. But with so many new stake holders coming into the market, this conservative business model will become unsustainable."
Interview with Tomas Kåberger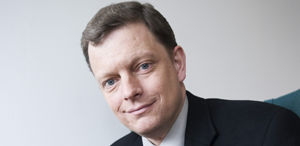 Tomas Kåberger (c) Energimyndigheten
In the summer of 2011, 6 months after the Fukushima disaster, telecom tycoon Masayoshi Son founded the Japanese Renewable Energy Foundation. The mission of the foundation is to research and develop market based policies that promote and deploy renewable energy. For the post of executive chairman of the board, Son recruited Tomas Kåberger, an academic from Sweden. At the time, Kåberger was Director General of the National Swedish Energy Agency. Back in the 1990's he had been involved in the liberalization of the electricity sector in Sweden. EER talked extensively with Kåberger, who is now a frequent flyer between Tokyo and Göteborg.
Is the surge of renewables in Japan losing momentum?
I am not sure if there has ever been a momentum because it is very difficult for new competing power producers in Japan to get on to the market.
To establish solar, wind and geothermal power generation in Japan is significantly more expensive than elsewhere
There are institutional obstacles creating home made Japanese costs for renewables. To establish solar, wind and geothermal power generation in Japan is significantly more expensive than elsewhere. So new producers need these generous feed-in-tariffs, so to say. But at the same time these tariffs are not even generous enough because vertically integrated Japanese power companies still control the electricity market and the grid. They are using the right to block the connection of new renewables as we speak. That is not very convenient for any investor.
But in the last twelve months or so Japanese companies and other investors rushed into the solar market.
Yes, you see the main activity in solar because the Japanese utilities are not blocking investments there as you see them doing in wind. Last year there were wind power applications of 5000 Mw in the northern part of the country and only 400 Mw was permitted. I guess there are a couple of reasons for that. Solar installations are usually smaller and well fitted to the electricity demand. They are not seen by the utilities as a competitor. Wind on the other hand is considered to be a threat by Japanese power companies. Wind power can substitute what is traditionally called base load power generation by the existing capital intensive coal and nuclear power stations. Along with solar, wind power has the lowest marginal costs and will out compete coal and nuclear, when there is abundant solar and wind available.
So what is the solution then to let renewables fly in Japan?
Access to the grid is still the bottom line. The transmission of electricity needs to be completely separated from the production. Legal unbundling will not work in Japan. You cannot trust utilities to take objective decisions beyond all suspicion for transmission access when it comes to treating all producers fairly in situations where there are bottlenecks in the system. You need ownership unbundling, a totally separate ownership of the transmission system. Unbundling and the creation of a spot market where producers can compete and the lowest cost electricity would have access. That will give Japan a more efficient power system and lower electricity rates.
How big is the chance that Japan will unbundle?
I think it has been difficult previously because the power companies as
The conditions to break their influence are better than ever
wealthy monopolies that have been allowed to tax the Japanese consumers. Wealthy as they were, these utilities have also been very politically influential. But after Fukushima these companies have come into a desperate economic situation. They are losing a lot of money and that should provide an opportunity for the democratic government to take control over the electricity market and to deregulate it to the benefit of the Japanese customers.
How do you see the chances that that will actually happen under the current administration.
The current government well understands the need for reinvigorating the Japanese economy and energy is one of the key sectors. I know there are many individuals in the Japanese bureaucracy who understand very well what needs to be done but I also see what I interpret as the continuing influence of the electric power companies. I hope that the government and civil service will manage to further the public interest an disregard the attempts by the utilities to protect their historical privileges. The conditions to break their influence are better than ever.
The restart of more nuclear power plants is highly likely. What will that do to renewables?
Reopening more nuclear power plants is an extremely difficult decision for the Japanese government and society. From an economic point of view, the long term costs of the Fukushima accident will be an extremely heavy burden on the already restrained Japanese government financial situation. I believe that the Japanese government would try to ensure that there was more private financial insurance or pay capacity guaranteed before they allow more nuclear power stations to be reopened. The costs of new accidents should not be put on the Japanese government budget. The Japanese power companies must arrange for other ways of covering these costs if they are allowed to reopen more reactors.