Riders of the apocalypse
As we approach the Copenhagen summit, voices are increasingly raised in France calling for reason and scientific rigour when discussing energy and climate issues. Scientific experts are worried as much by preachers of the apocalypse, predicting every possible woe to the planet, as by the sudden enthusiasm about the theory of global cooling, which could make the public indifferent to climate change. These experts think that media sensationalism is not necessarily good for sustainable development.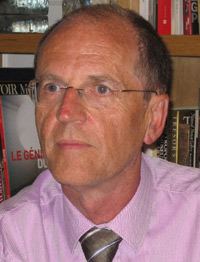 Yves de Saint Jacob is an independent energy journalist based in Paris
The warnings were sparked by a successful recent movie, launched through internet buzz methods: Nicolas Hulot's film Le syndrome du Titanic. "The Titanic Syndrome" is a highly emotional endictment against consumer society, with shocking pictures and a grave voice-over. It came out after another movie, Home, by the French photographer Yann Arhus-Bertrand, had already made waves with magnificent pictures of a threatened Earth.
Until now, Nicolas Hulot had been a rather moderate environmentalist, even suspected by some left-wing environmentalists of being hand in glove with right-wing president Nicolas Sarkozy. But it turns out his latest film is a pamphlet against capitalist globalisation as well as a fearmongering distress call. The title is clear enough: like the passengers on the Titanic's first and last voyage, we sing and dance without noticing the approaching iceberg, even though radio messages have given warning. And it's all the more alarming that the Earth doesn't have any lifeboats.
Hulot defines himself as an 'environmentalist at heart'. But let's be careful, warns Jean de Kervasdoué, economist and author of the best-selling Les Prêcheurs de l'Apocalypse (Preachers of the Apocalypse). Environmental sciences, he says, are extraordinarily complex. Yet, cinematic montages speak to the heart, not to reason. That's the problem with all these movies that seek to imitate the worldwide success of Al Gore's movie. 'Al Gore, in his movie, juxtaposed pictures of arid heat and insect proliferation. However, humidity is what the insects like, with or without temperature increase,' Kervasdoué caustically remarks.
Sensationalism and aiming for cheap success can also be the work of "climate sceptics", especially in the new internet-related media. Claude Allègre, a renowned scientist and former socialist minister of education, was criticized by his peers for the vehemence of his accusations against environmental conformism, in his book Ma Vérité sur la Planète (My Truth About the Planet). He was accused of "going overboard". His recent statement, 'Nicolas Hulot is an imbecile!', delighted the media.
Theories on global cooling are now reappearing on the front pages of the newspapers. They have been known for a long time and are scientifically well examined. But they give "climate sceptics" an opportunity to dodge the facts of global warming.
The climate discussion has now become so prone to media sensationalism that, as Pierre Mulin, a consultant in sustainable development, points out, 'some scientists have even been led to publish statements to indicate specifically what should not be concluded from their research.'
Surprisingly, the emotionalism and sensationalism is not only the work of idealists. The movie Home was financed by LVMH, the mega-producer of luxury articles. The Titanic syndrome was sponsored by Orange, the telecommunications giant, and EDF, the electricity company which is also active as nuclear contractor. As the editorialist Claude Askolovitch noted, 'Lenin already said, in the last century, that the capitalists will sell us the rope with which we will hang them.'