The grass is green-ish on the Swedish side (part II)
When it comes to energy efficiency, the grass has historically been 'greener' in Scandinavian countries than in other places in Europe: their high ambitions regarding energy efficiency in buildings have contributed to the general notion that they are leaders in this field. European Energy Review looks at one of the most climate-friendly and energy-conscious countries of all, Sweden, and asks whether the grass is indeed green enough on their side to incentivize the less ambitious states to walk their way.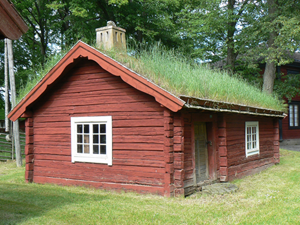 (c) Flickr Creative Commons
"Fifteen years ago Sweden was closer to the leading stage in energy efficiency than it is now," Hans Nilsson, a Swedish private energy efficiency consultant told European Energy Review. "There used to be a lot of encouragement in energy efficiency, but that has slowed down in a sense that no one is talking about it anymore." Nilsson compared Sweden to Denmark, who is "more active" and more "generous with public funds". And indeed, financial support from the government for energy-efficient measures is not as rife as in Denmark. The reason for that Nilsson says, is that Sweden prefers to let the markets regulate themselves. "The ideological base is that the market should do it by itself and should do it because it makes sense to do it," Nilsson said.
And Sweden has reasons to pursue this belief. Its program for energy efficiency in energy-intensive industries (PFE) has been a successful story. Under the scheme - which now has been replaced by energy efficiency cheques - companies that implemented energy efficiency measures got a tax reduction.

But a recent assessment of the National Energy Efficiency Action Plan (NEEAP) in Sweden – tracking the progress of the country's implementation of EU energy efficiency legislation – wrote that more significant energy efficiency improvements will not happen by themselves. "Market forces cannot independently meet the need for a reduction in energy use, particularly on the kind of scale required to reduce GHG emissions," the NEEAP read.
A 2013 comparative study of the design and construction process of energy-efficient buildings in Germany and Sweden, published by The University of California, Davis, reinforces this idea. In Germany, energy efficiency schemes have been mainly administered by the KfW Banking Group - a Government-owned development bank, and have been based on low interest loans and grant schemes for saving energy in the domestic sector and particularly the existing housing stock. "The Swedish market-driven policy has not been as successful as the German regulation policy in decreasing the energy consumption of new buildings," the study reads.
An evaluation problem
Another report called 'Experience of Policy Instruments for Energy Efficiency in Buildings in the Nordic Countries' (2009), published by the International Institute for Industrial Environmental Economics of Lund University explains: in Sweden, energy efficiency has been an important issue on the national energy policy agenda since the 1970s, but the country appears to be slowing down its energy efficiency activities in the building sector, while Denmark, Finland and Norway are all speeding up.
But the same Lund University study commends the several policy instruments for energy efficiency in place in Sweden and writes that the country has mainly focused on building codes, subsidies, support schemes, and information activities.
Indeed, in its 2006 energy efficiency bill, the Swedish Government agreed that energy use in residential buildings and commercial premises should be reduced by twenty percent by 2020
"Market forces cannot independently meet the need for a reduction in energy use, particularly on the kind of scale required to reduce GHG emissions"
and fifty percent by 2050 in relation to energy use in 1995, whilst the use of fossil fuels in the built environment should be phased out. In 2009, the Swedish Government introduced a goal of twenty percent energy efficiency (i.e. decrease in energy intensity) by 2020. The Swedish Parliament, the Riksdag, has also adopted an overall national indicative energy savings target of nine percent by 2016 compared with the average final energy consumption for the 2001-2005 period, according to the country's national action plan.
But whilst ambitions look high on paper, there has been a limited focus on the regular evaluation of impacts. The most significant change in building regulations occurred in the 1988 revision and "some studies show that energy efficiency improvements in buildings have slowed down considerably in Sweden since the 1990s," according to the same Lund University study.
Requirements for energy efficiency in buildings have been particularly complicated, the report shows. "The performance-based codes require exact and complicated calculations to show that the requirements are fulfilled. Due to this, it has become more challenging to verify that the requirements are fulfilled."
But Sweden has many "success stories" showing how local communities implementing energy efficiency measures have reduced energy costs by turning homes into passive houses. Such is the case in Brogården, an urban housing area in the small city of Alingsås, evaluated in a 2012 report called 'Renovating to Passive Housing in the Swedish Million Programme'.
However, the same report points out, more needs to be done. "In Sweden, there is a wealth of existing housing stock from the 1965–1974 intensive construction period known as the Million Programme," the report says, but continues: "Many of the apartment buildings are now in need of renovation and have the potential for transformation to more energy-efficient constructions". If they need financial help to do this, all 290 municipalities and 21 county councils in Sweden can apply to the Energy Agency for subsidies. The available financial support is a part of the Swedish government's five-year program (2010-2014) for energy efficiency, which annually sets aside ten million euro for the local sector.
Randall Bowie,
some studies show that energy efficiency improvements in buildings have slowed down considerably in Sweden since the 1990s
former EU energy efficiency laws draftsman and current energy efficiency consultant for Danish company Rockwool, told European Energy Review that the houses under the 'Million Programme' – a huge project meant to improve housing by building multiple and single family houses - "badly" need renovation. The efforts are left to the market – or to construction companies. But this model is not working, he said. "There is something that is not working. Since the economic crisis, this market has not been functioning properly," he said.
Indeed, if more property owners were investing in energy-efficient re-modelling, the total energy use in the residential sector would fall sharply. And owners do receive help from the Swedish Energy Agency, which supports projects "to demonstrate that the energy measures are worthwhile to bet on," the 2010 Odyssee–Mure monitoring report of Sweden's energy efficiency measures shows.
"Sweden has a lot of networks for energy efficiency, which is quite rare. The goal of the networks is to help municipalities, county councils, industries, estate owners, the public sector, households […] in energy efficiency issues," the report reads.
IEA: Sweden, 'strong performer'
The strong commitment from the local and municipal authorities to energy efficiency, together with the integrated approach to urban planning (transport, waste, water, energy), is also acknowledged by the International Energy Agency (IEA), which notes that many policy models the country has developed have now become international best practices.
"In many ways, Sweden's energy efficiency policy is exemplary," Sara Bryan Pasquier, Programme Manager for Energy Efficiency at the IEA told European Energy Review.
In addition to existing measures, Sweden will support a "near zero energy buildings" programme with government funds of 120 million SEK per year for 2014, 2015 and 2016. The government will also continue its annual support for energy research and even increase it from 1.3 billion SEK today to up to 1.4 SEK billion 2016 - and the support is expected to remain steadily at that level for the next ten years.
In February 2013, the IEA released its latest review of Sweden's energy policies. It named Sweden a "strong performer".
"Assessing progress made over the past five years, the IEA concludes that Sweden continues its strong performance," Pasquier said. Sweden strengthened its minimum energy performance requirements for buildings, appliances and lighting, promoted low-energy buildings and further supported R&D activities in transport and industry, she said.
Pasquier thinks that Sweden is on track to achieve and is likely to exceed its energy savings target of fifteen percent by 2016, but warns that the country "will need to do more to achieve the twenty percent reduction in energy intensity by 2020".
"Our recent review of Swedish energy policies shows that the country has made a series of positive policy steps regarding energy efficiency in the buildings sector," Pasquier said, adding: "although, as with any country there is still more to be done".
The IEA recommended to the government to evaluate the results and synergies of its different policies with a view to prioritise and scale up activities. One of the areas the country should focus on in the future, the IEA says, is technological innovation and the development of the Swedish energy industry.
And Sweden seems to already be on the path recommended by the IEA. Since 2008, the government has been maintaining and has even increased its R&D spending on energy efficiency.
"It would be an asset for Sweden to have a public mission bank that can provide financial support, via loans or grants, to SMEs and households based on expected future energy savings"
The country revised its building codes, introduced energy performance certificates for buildings, supported the demonstration of low-energy and zero-energy buildings and promoted networks for the procurement of energy-efficient technologies and regional and municipal programmes to improve energy efficiency of existing buildings. The government will also task the Swedish Energy Agency with the preparation of a national renovation strategy together with the National Board of Housing, Building and Planning by the end of 2013 for adoption in spring 2014, according to the IEA.
"These are all commendable achievements," Pasquier said, adding, however, that the country should consider further financial mechanisms for energy-efficient retrofits.
"It would be an asset for Sweden to have a public mission bank that can provide financial support, via loans or grants, to SMEs and households based on expected future energy savings. This will enable Sweden to support the emergence of an energy service market," she said.
Less intervention, more independence
Most of the energy efficiency policy measures in place in Sweden already have finance until 2014. And, at the moment, a new governmental program is to decide the financing for the years to come.
One area that would need special care is the residential sector, Marie Claesson, of Swedish Energy Agency's Energy Efficiency Department told European Energy Review. "In the residential sector we have a great need for renovation, especially in the many buildings from 1965-1975," she said. "One of the challenges is how to reduce the cost of the renovation and rental increase that comes with renovation so that the tenants are able to stay in their neighbourhood."
Despite continuous support in varying ways to energy efficiency up to now, the government "has [recently] not shown the same amount of dedication and high ambitions", Claesson said, adding that not many subsidies are available at the moment for this purpose.
But whilst local, national and international bodies notice the need for further financial support for energy efficiency programmes, the Swedish government is not convinced this is the way forward. Instead of being preoccupied with leading the way in energy efficiency in the EU – in an almost 'activist' manner like Denmark, Sweden seems to prefer a more neutral approach.
"It's obvious that we can do more and that the ambitions may be influenced by a tightened economic climate […] But there is a great dedication and commitment to reducing energy use in society," she said.
And scholars may have been right to note the decreased intense care from the government's side: the general tendency is to now leave most of the efforts to industry and help its players when and if needed. "We have had a wide range of subsidies over the years, but I think you can win if you let the market adjust and promote energy efficiency in other ways than through subsidies," Claesson said.