The uncertain future of Gazprom: the moment of truth is approaching
Gazprom is finding itself between a rock and a hard place. Adverse market circumstances are putting pressure on the company's financial results and international market position. At the same time, the government is pushing Gazprom into huge investments that the company can ill afford and demanding much better results. If the company does not deliver, it might lose its export monopoly and be broken up into a production and supply unit and an infrastructure unit, say leading experts on Russia's gas industry. EER spoke with two of them.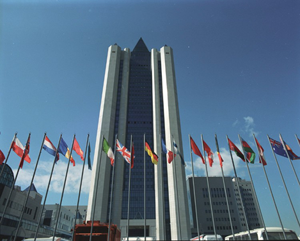 Gazprom Headquarters (c) Gazprom
Gazprom is in a bad spot. As Russia's gas export strategy is coming under fire, the foundations of the company's export monopoly are crumbling. Gazprom is losing market share in Europe as oil-indexed long-term contracts are losing ground to spot-traded gas. It has missed the lucrative LNG train to Asia. Even if it manages to catch up in the LNG game, the question is whether it will be able to compete.
To make matters worse, the company is facing increasingly high investment costs for new pipeline projects in Europe, Eastern Siberia and Russia's Far East. which, is putting the competitiveness of Russian gas at stake. Mikhail Korchemkin, Executive Director of East European Gas Analysis (EEGA), a leading expert on the financial analysis of production and pipeline projects in the natural gas sector of Russia and the former Soviet Union, believes that unless the investment programme is changed, the break up of Gazprom might come within in the next five years. Vladimir Drebentsov, an expert of the EU-Russia Gas Advisory Council, which is part of the EU-Russia Energy Dialogue and consists of representatives of leading Russian and EU gas companies, believes that if Gazprom is unable to secure the competitiveness of Russian gas, other Russian gas producers could be allowed access to export markets. 2016-2017 could be the turning point, when the next wave of significant growth of LNG reaches the market, "That will be the moment of truth for Gazprom."
Worse to come
Thanks to high oil prices, Gazprom is still making handsome profits on its oil-indexed contracts. But all signs show that things are headed for the worse. In Europe the company is facing difficulties on a number of fronts. Its European clients continue to demand that oil-indexed long term contracts (LTC) be brought closer to spot prices. Although initially reluctant to adapt to these changes, Gazprom Export agreed to introduce adjustments in its LTC's with most of its European customers.
But European appetite for its gas continues to fall. On 15 January, Gazprom chief, Alexey Miller, announced that Gazprom's total production in 2012 had fallen to 488 bcm, compared to 513 bcm in 2011, or by almost 5%. Exports to Russia's "far abroad" (excluding Former Soviet Union countries) decreased even more, by 8%, from 150 bcm in 2011 to 138 bcm in 2012.
But the worse is yet to come for Gazprom. According to a study by the Russian Skolkovo Energy Centre, published this summer, Gazprom will face increased competition and stagnant demand in Europe. After 2015, a rapid expansion of supplies from other sources, such as North America, Australia and East Africa, will increase liquidity on the European and global markets, putting continued pressure on oil indexed LTC's, including those of Gazprom. With it the share of spot indexation will further increase. According to calculations by analysts at Societé Generale, in 2011 the share of spot gas had increased to 45% and it is expected tilt to over 50% in 2014. Also, LTC's are becoming less long term. For example, the most recent European LTC Gazprom signed, was only a ten-year contract with Bulgaria.
As they say, bad things come in threes. As oil indexation is gradually losing ground and competition is increasing, Gazprom finds itself confronted with the European Commission (EC). In September of this year,
Thanks to high oil prices, Gazprom is still making handsome profits on its oil-indexed contracts. But all signs show that things are headed for the worse
the EC started an investigation into antitrust activities by Gazprom, including imposing unfair prices on its customers by linking the price of gas to oil prices. But Gazprom Export, responsible for concluding LTC's with foreign clients, is digging in its heels. Gazprom Export's General Director, Alexander Medvedev, speaking at the "Gas of Russia Forum" in Moscow on 20 November,
reiterated
that Gazprom Export will stick to the traditional oil indexed pricing model, as it provides stability and predictability to consumers, he said. But this strategy will mean that Gazprom will continue to lose market share and put the competitiveness of Russian gas on global markets at risk.
Gazprom's answer to global LNG
As is well known, the main driver behind the increase of global gas liquidity has been the unprecedented rise of shale gas in the US. Although shale gas remains mostly a US phenomenon, it profoundly contributed to the emergence of more LNG liquidity on global markets. Moreover, the US is likely to become an LNG exporter by 2016 with US companies eager to export the gas to more profitable markets. Together with other centres of new LNG production, such as those in Canada, Australia and East Africa, more liquidity is expected on global markets, putting more pressure on Gazprom's business model.
Remarkably, the world's biggest gas producer failed to recognise or to respond to this trend in time. An expert of the EU-Russia Gas Advisory Council, Vladimir Drebentsov, believes that the main reason for Russia being late in the LNG game is the legacy of its main gas producer and sole gas exporter, which is Gazprom. "Its strategy has historically focused on two things, developing giant gas fields and exporting this through huge trunk pipelines to external markets. This model has worked quite nicely, till very recently. Being an export monopoly it has not felt any competitive pressure and lived comfortably with that model."
It appears now that awareness of the looming threat has reached the highest political level in Russia. Late October, president Putin, during a session of the newly formed presidential Energy Commission, openly addressed the problems that Russia's gas export is facing. "There is tough competition among gas exporters for the long-term and short-term contracts", he said. "Another important global trend is the growth of trade in liquefied natural gas. Such major players as US and Canadian companies have already begun to move in this direction." In response to this, the president summoned Gazprom to present a new gas export strategy in order to strengthen Russia's position as one of the leaders on global export markets. "In this regard, I ask Gazprom to conduct the necessary analysis and report to the [Energy] Commission on the main principles of its gas export policy. The Commission must be briefed on the way the principal Russian gas company is planning to organise this work because a great deal in the Russian economy depends on its effectiveness."
But the president seemed to have already decided on a new strategy by himself. A week later, when meeting with Gazprom CEO Miller,
"Gazprom's extensive investment programme is too big for such low sales"
Putin gave instructions to take measures to speed up the second phase of the Eastern Gas Programme (EGP), of which Gazprom is the official executor. The EGP foresees the development of gas fields in Eastern Siberia, in particular the Chayanda and Kovykta gas fields. Clearly realising the urgency of the situation, Putin reminded Gazprom's CEO Alexey Miller of the importance of LNG and
not to forget to develop everything that is connected to it
. "I mean in this direction we should primarily develop everything connected to liquefied natural gas."
As part of the EGP's second phase, Gazprom plans to build a 3,200 km long pipeline (25-30 BCM) to connect the Chayanda field to Russia's Far Eastern city of Vladivostok, from where gas is to be exported as LNG to the Asian Pacific region. Later on, another 800 km long pipeline will connect the Kovykta field to this pipeline as well. According to Gazprom CEO Alexey Miller, costs just for the 3,200 km long pipeline are almost $25 billion. Another $ 10bln would be required for the development of the Chayanda field. However, costs for the EGP are likely to run higher, since it also foresees the development of the Kovykta field and two gas processing plants.
Financial sinkhole on the horizon
However, the huge investment programme that the state is pushing Gazprom into, is putting the company on thin ice. In 2007, when the EGP was adopted, such investments might have been justified, say analysts, but under the current circumstances they are lacking financial rationale. Already in July of this year, an investment report on Russian Oil & Gas by leading investment bank Troika Dialog, which has meanwhile been taken over by Russian Sberbank, warned that Gazprom's spending on the EGP might lead it into a new financial sinkhole. Gazprom might actually even fail to generate a profit from the project and see a substantial part of its financial cash flow tied up.
Mikhail Korchemkin, Executive Director at East European Gas Analysis, one of the best known experts on Russia's gas industry, agrees that Gazprom's current model is not sustainable. "The extensive investment programme is too big for such low sales." He believes that rising costs for pipeline investments will ultimately force Gazprom to break up or face bankruptcy.
Unless the investment programme is changed, the break-up of Gazprom into a production and transmission part could already come within the next five years, according to Korchemkin. Before that time we are unlikely to see a lifting of Gazprom's export monopoly, he thinks. "Putin will not allow the lifting of Gazprom's export monopoly. It's the backbone of Russia's gas strategy." Only after the break up of the company, will Gazprom's export monopoly be liberalised, Korchemkin believes.
Vladimir Drebentsov believes the chances of Gazprom going bankrupt are pretty low. "The company is too big to fail and the government would support it in such a case." But he agrees splitting the company is an option, "The Russian government has different options. For instance, as has been suggested for many years, to split Gazprom into two parts, gas transportation and gas extraction. This has been done in the oil industry—where a transportation public monopoly coexists with independent public and private oil producers—and has proved to work quite efficiently. "
Independents to the rescue
So what is to be done? The Troika Dialogue report argues that the state cannot possibly start any reform of Gazprom without removing the monopoly Gazprom enjoys over how much gas should be produced and consumed in Russia and Europe. It calls for considering alternative scenarios for the Russian gas industry. In other words, the liberalisation of Gazprom's export monopoly. This would allow other Russian gas producers, known as the 'independents', such as Novatek, SeverEnergia, Lukoil, Rosneft and until quite recently Itera and TNK-BP, to also start exporting Russian gas.
Russia's policymakers also seem to have become aware of the fact that if they want Russian gas to remain competitive on global markets, they will somehow need the independents. In the first place this relates to Russia's biggest independent gas producer, Novatek, which is developing the Yamal LNG project.
"They do have gas, but they cannot monetise it under the current institutional framework"
A sign that things might be moving faster in this direction, was a meeting with the CEO of Novatek, Leonid Mikhelson and president Putin in November.
Putin pointed out
that Novatek needs to work together with Gazprom Export in order to conclude preliminary supply contracts with its partners abroad. Russia's Deputy Energy Minister, Pavel Fedorov, went even further,
stating
on 20 November, that the Ministry was studying the options for independents to export LNG bypassing Gazprom Export, based on a request it had received from Novatek. Meanwhile the Energy Ministry has finished the study of the request and sent a corresponding report to president Putin, Russian Energy Minister Alexander Novak stated on 26 December. Reportedly, the report contains a positive assessment of Novatek's request.
So far, no reaction has come from the Kremlin. However, on January 10, in the presence of president Putin, Gazprom Export and Novatek signed an agreement on the creation of a joint venture that is to produce LNG on Yamal, where Novatek is already developing an LNG plant together with French Total. Although it is a good illustration of the growing role of the independents, it does not necessarily mean that things are moving towards a more liberalised export strategy, as Gazprom will maintain control over the export of LNG.
Drebentsov thinks that the government is becoming increasingly aware of the independents. "I think the Russian government works under the assumption that either Gazprom proves that it can maintain its position in export markets in the new changing environment, or its export monopoly will be revoked to keep Russian gas competitive, thanks to the independents. And Russian gas will still be competitive, thanks to the independents, which produce gas cheaper. This will allow Russia to maintain a fair share of global gas markets in any case: whether Gazprom proves it can achieve this, or whether this is jointly done by various Russian gas producers."
He believes this critical moment might already come in two to three years. "The next two to three years will be more or less comfortable for Gazprom, because global LNG capacity won't be growing much up to 2016, when we'll see significant growth of LNG coming to the market. That will be the moment of truth for Gazprom."
Drebentsov's understanding of the government position is that they have given Gazprom two years. "Either in two years you prove that you are still competitive, or we'll change the institutional setting , basically lift your monopoly. If you are not able to keep the share for Russian gas on foreign markets, we will have somebody else."
In 2011, the independents produced some 86 billion cubic metres (bcm), supplying almost a quarter of the domestic market. One might wonder whether they could provide substantial volumes for export. But Drebentsov is not worried that the independents: Novatek and Russian oil companies (like Rosneft, including in the future TNK-BP, and others), would not be up to this task. "They do have gas, but they cannot monetise it under the current institutional framework. So if changed, they would be happy to quickly increase production and generate these volumes for export... I would not be too concerned about supplying these volumes for export." According to Drebentsov, by 2020 Nord Stream and South Stream might ship gas from different Russian gas suppliers. "It will be just Russian gas."
Russian Prime Minister, Dimitry Medvedvev, seems to be of the same view. In an interview with Bloomberg TV at the World Economic Forum in Davos he said that ending Gazprom's monopoly on lucrative exports was "possible" given the emergence of other gas producers. "But we shouldn't lose money, and that's the main thing," Medvedev said.
It is becoming ever more clear that things with Russia's gas export strategy cannot continue as usual, if Russia wants to remain a leading global player. It remains to be seen therefore whether Gazprom will remain a synonym for Russian gas exports in the coming years.
Andrej Tibold is an independent analyst on Eurasian energy affairs and founder and editor-in-chief of the Berlin-based Eurasia Energy Observer. He has a Master's degree in East-European and Russia Studies and is regularly consulted by international media on Eurasian energy affairs. He speaks Dutch, English, German, Russian and Bosnian-Serbian-Croatian.