Time for a grand bargain with Poland on energy and climate
Energy relations between Poland and the EU have been extremely difficult in recent years, especially when it comes to climate policy. This situation is highly damaging to both sides. It is time for the EU to gain a better appreciation of Poland's unique challenges and to offer the country a credible long-term deal on energy and climate, argues Thomas Spencer, Research Fellow in Climate and Energy Economics at the Paris-based think tank IDDRI.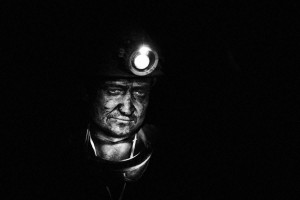 Poland's energy sector is dominated by coal, which makes up 90% of electricity generation (photo: Pep Bonet)
Poland's energy, and particularly electricity, sector has a number of unique characteristics. Firstly, it is dominated by coal, which makes up 90% of electricity generation, and 56% of total primary energy supply (TPES), compared to 24% and 17% respectively for OECD Europe. Gas makes up just 2% of electricity generation, and 13% of TPES. Two thirds of gas consumption is produced domestically, the rest is sourced solely from Russia via the Yamal and Druzhba pipelines.

Secondly, Poland's existing energy infrastructure is, by and large, old and inefficient. In the electricity sector, 37% of installed capacity is between 30-40 years old; 20% is as old as 40-50 years. Thus the Polish energy sector faces a large investment cycle.

Thirdly, Poland's per capita energy consumption is one third lower than that of the rest of OECD Europe, while per capita electricity consumption is just more than half that of OECD Europe. As lifestyles in Poland may be expected to catch up with those in the West, energy demand is projected to increase significantly.

Hence Poland is faced with the tremendous challenge of diversifying and decarbonising its energy sector, while maintaining energy security and satisfying rapidly growing demand for energy supplies and services. In response to this challenge, in 2009 the government adopted the "Energy Policy of Poland until 2030", the technical basis of which was updated in 2011. This new energy policy is first of all based on a large-scale nuclear program, which is projected to make up 17% of electricity generation by 2030, from zero today. Carbon capture and storage (CCS) is projected to be another crucial technology, with 4.2 GW to be installed by 2030, from zero today. Renewables, mainly onshore and offshore wind and biomass-based electricity, are also projected tomake up 17% of electricity generation by 2030, from 5.8% currently. Gas is expected to play a smaller role, contributing just 10% of generation in 2030, which is nevertheless significantly more than today. Thus Poland's energy policy relies, to a large extent, on the rollout of so-called "backstop" technologies, i.e. large-scale, long-term, capital-intensive and technologically complex options such as nuclear and CCS.
Interest in renewables
Poland's strategy is partly born out of necessity, as the country has little short-term flexibility onpotential "bridging options" towards a lower carbon and diversified mix.Switching from coal-fired to gas-fired power is not a very attractive option for Poland, as it is strongly dependent on Russian pipeline gas, which is relatively expensive. The monopoly gas supplier PGNiG pays about $500 per 1000 m3 for Russian gas, whose price is still linked to the oil price. This is about 20% more than natural gas in other more liquid European markets, which have increasingly shifted from oil-indexation to spot pricing, and have benefited from the global gas glut and LNG boom.

In addition, energy security concerns around Russian gas are high, despite its small share in overall energy supply (about 4.2%). The Polish government's "National Security Strategy of the Republic of Poland", states: "…[t]he dependence of [the] Polish economy on supplies of energy resources from one source is the greatest external threat to our security". Poland's strategy to defuse this situation is partly
This new energy policy is first of all based on a large-scale nuclear program, which is projected to make up 17% of electricity generation by 2030, from zero today
based on the construction of a large-scale LNG terminal at Świnoujście, with an initial capacity of 5 billion cubic meters (roughly 35% of current consumption). Poland is also vigorously pursuing shalegas, which could substantially change the geopolitics and economics of gas in Poland. However, this is still a long-term prospect, which is not expected to deliver significant results until around 2020. Thus although the long-term prospects for gas look reasonably positive in Poland, until security and price concerns are resolved, and infrastructure developed, there is little willingness to use gas as a bridging fuel.
Poland has a large potential for renewables, too, particularly wind power, and there is increasing realisationin the country that they can form an important part of Poland's energy security and regional development policy. Vice Prime Minister Pawlek recently stated: "[d]evelopments in the green sector can help to transform our economy and will prepare the country for the challenges of the new era… [i]n the future, the power industry will be, to a large extent, based on distributed generation of energy from, for example, renewable sources".
In order to support renewables, the government has recently established the Department of Renewable Energy, and is preparing a Renewable Energy Act to extend and strengthen the current incentive system, in place since 2008. The major utilities, such as Polska Grupa Energetyczna (PGE) and Energa, are also showing an interest in renewables. Since the introduction of the support scheme, the renewable energy sector has experienced a 12% annual growth rate, and 26% in the electricity sector.
However, there are a number of barriers to a rapid growth of renewables. The current grid is inadequate and insecure, and old and inflexible coal plants dominate the generation park.Without expanding and strengthening the grid, and increasing the share of flexible generation, integrating a large share of variable renewables will remain a challenge. The regulatory environment is also still uncertain, with the existing regulation prescribing incentives until only 2017, which deters larger, more technologically complex projects. The Renewable Energy Act, whose adoption has been delayed likely until the end of 2012, is expected to shift incentives towards less technologically mature technologies, such as biomass gasification and offshore wind.
30,000 emails
Poland also has a large potential for energy saving - around 30-35% according to the public sectorNational Energy Conservation Agency.However, this will take time to be exploited. In 2011, Poland introduced a "white certificates" scheme, which creates an energy savings obligation on energy retailers and a market for certified energy savings (white certificates). The scheme should begin in 2013, and is expected to result in significant savings over time. In addition, public financial mechanisms are available for energy efficiency and renewables, through e.g. the National Fund for Environmental Protection and Water Management, the European structural funds, and international institutions such as the World Bank, which signed a €750 million loan for efficiency and renewables in 2011.

Although Poland has a large coal sector, which employs some 110,000 people and is strongly opposed to climate policy (this includes the famous trade union Solidarność), nonetheless the current government and major utilities, such as PGE, Energa and Enea, recognize the need to reduce dependence on coal. The official energy strategy, quoted above,sees the generation share of non-CCScoal falling by half by 2030. The largest, state-owned utility, PGE, presented its long-term strategy in February 2012, which foresees a significant divestment from coal, with the carbon intensity of production falling 60% by 2030.

Poland is thus well aware of the challenge it faces in the energy sector. Yet it feels that it is not receiving sufficient support from EU partners. The unilateral nuclear phase-out in Germany came as a big shock,
Poland keenly feels the opposition from across the border: it has received 30,000 emails from German citizens expressing their opposition to its nuclear plans
given that Poland's own decarbonisation plan is significantly based on nuclear. Poland keenly feels the opposition from across the border: it has received 30,000 emails from German citizens expressing their opposition to its nuclear plans, and Germany deposited a formal complaint over its nuclear program to the Commission. The Commission rejected the Germancomplaint, noting that under the Treaty of Lisbon, Member States have sovereignty over their energy mixes. The French decision to ban domestic shale gas exploration likewise sent an unwelcome message to the Poles.
At the same time, Poland's hard-line negotiation stance on energy and climate policy has irritated other Member States as well asthe Commission. Poland was the only country to veto the Commission's Climate Roadmap in June 2011, which cast uncertainty over the development of climate policy beyond 2020 and had an immediate negative impact on carbon prices. Poland has likewise indicated its reluctance to consider the policy implications of the Commission's 2050 Energy Roadmap, such as the establishment of post 2020 policy measures for low-carbon energy and emissions reductions. The
Environment Council
(i.e. the Council of EU Ministers of the Environment) is debating this on the 9th of March, and Poland has threatened again to exercise its veto. Poland is also strongly opposed to short-term moves to strengthen climate policy, such as the withdrawal of surplus allowances from the emissions trading scheme (ETS), recently voted for by the environment and industry committees of the European parliament. A lingering impasse on climate policy at the European level would raise uncertainty in European and national energy policy,and deter investment in Member States' energy sectors.
Real risks
However, Poland can ill afford to play only an obstructionist role in EU energy and climate policy. The country has a vital interest in ensuring a credible, visible and long-term regulatory framework to guide and stimulate investments. Whatever pathway Poland chooses, it will need to attract significant investment, including from abroad. The National Program for Low Emissions Development, an advisory board established under the Ministry of Economy, estimates that between €90 and €100 billion will need to be invested in the electricity sector by 2030. Their analysis suggests that this will be beyond the balance sheet capacities of Polish firms. For example, the nuclear program, as laid out in the "Energy Policy of Poland until 2030",envisages a 50% foreign stake.

At the same time, the government is pursuing a privatisation and liberalisation program in the energy sector. The four major utilities are still majority state-owned, although major stakes were sold under the Polish Privatisation Programme 2008-2011, and further sales are envisaged. The share of electricity sold on the Polish Power Exchange is low, but experiencing rapid growth: 41% year-on-year in 2011. Competitive electricity and gas markets are a central policy priority of the "Energy Policy of Poland until 2030". These developments will encourage the introduction of commercial fiduciary standards with regard to new investments, and lead to an increased appreciation of regulatory risks by market actors.

Therefore, in the absence of a credible and long-term European and Polishpolicy framework, Poland faces real risks ofinvestment shortfalls, misallocated capital, and eventually stranded assets in the future. Polish Minister of the Treasury MikołajBudzanowski said in a recent speech that the European
Poland can ill afford to play only an obstructionist role in EU energy and climate policy. The country has a vital interest in ensuring a credible regulatory framework to guide and stimulate investments
and Polish regulatory environment must be improved, so as to ensure that "…the word 'delay' is deleted from the investment vocabulary of energy companies" and that the enormous investments required are optimally allocated. Budzanowskiraised concern in particular over uncertainty in European climate and infrastructure policy, and Polish electricity and gas market regulation. A clear policy framework and a diversified strategy can help reduce such risks, and leverage and guide investment. Indeed, this was a central conclusion of the study commissioned in 2011by the Polish Ministry of Economy on Poland's decarbonisation trajectory, as part of the policy-making process on Poland's long-term energy strategy (see
here
, in Polish).
Conversely, the EU's energy and climate policy cannot succeed without cooperation from Poland. Hence, the EU should try to help Poland make a successful energy transition. The EU should first of all help Poland manage the short-term inflexibility it faces. Improving the security of gas by diversifying import sources away from Russia and developing domestic resources is vital to increasing its attractiveness to Poland as a bridging fuel, and as a balancing technology to facilitate a more rapid uptake of renewables. The Commission has proposedan energy infrastructure package and a co-financing facility ("Connecting Europe Facility") in order to support the development of European infrastructure networks, including in energy. The project list will be decided on in 2013, and will likely include the so-called North-South Gas Corridor in Eastern Europe, passing through Poland. However, some Member States, particularly from Western Europe, are reluctant to see European financing of infrastructure. This is short-sighted, as an integrated European energy grid is essential to ensuring the coherence of the three headline goals of European energy policy: competitiveness, sustainability and security. It is also essential to ensure the acceptance of climate policy by Eastern European Member States, for whom "energy solidarity" and security of energy supply is a central concern.
Both for the EU and Poland, then, there is a lot at stake. Both sides should better understand each other's interests, and search for common ground rather than magnifying areas of conflict. The upcoming discussions on the Commission's Energy and Climate Roadmaps and the Energy Infrastructure Package offer the opportunity for a more productive and conciliatory relationship between the EU and Poland. To let this opportunity go to waste would be a costly failure indeed.
About the author
Thomas Spencer (thomas.spencer@iddri.org) is Research Fellow in Climate and Energy Economics at the French think tank IDDRI (Institut du Déeveloppement durable et des relations internationals). He has been following energy and climate policies in Eastern Europe for several years at various European think-tanks, including the Finnish Institute of International Affairs in Helsinki and Climate Strategies in Cambridge. He wrote his MSc thesis on investment incentives in the Polish power sector as a part of a Master's Program in Carbon Management at the University of Edinburgh.