It's futile to try and list the kits combining a µC card and plug-in sensors. Like the Mafia, they're everywhere…. And whatever their origin (often Chinese) they have all a close cousin of Italian origin, whose name begins with "Ar" and finishes with "duino".
The impression you get from these marvellous boxes depends on many factors; the price you're willing to pay, how and where you discovered them, the dreams they inspire in you, the time you have to devote to them, and your own experience with the technology. That's where Elektor can help, with our "Test Bench".
I have in front of me two  products offering initiation and experimentation, even play:  the
Grove Starter Kit for Arduino
, and the
mCookie 301 expert kit
offered by
Microduino
.  The pedigree of these two products is confirmed by their names rhyming with "–uino" but they both have slanted eyes…  As I only have room to look at one here, it's eeny, meeny, miny, mo…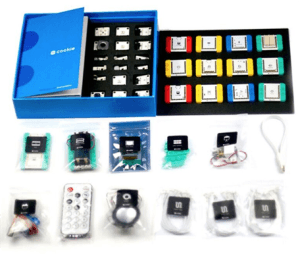 Here's a picture of the one that won: 
OK, we'll go with
mCookie
today.  You may already know that it's not that new; on the crowdfunding site
Kickstarter
this project had great success in 2014-2015.  The box I have before me is already a year old, but it's no antique.  The first impression (good) starts well:
mCookie expert kit
is presented in a good-looking sturdy box of thick cardboard which also acts as a storage drawer and will stand up to a lot of use – this places it in the rare category of products which are both well packed and easy to re-pack.  Good to know if one considers that this product is intended to be used again and again.