. We had the chance to take the Zero for a short spin in the evironment were it belongs, the dirt.
Due to the difference in performance between regular gas powered engines and electrical engines, the dirt might actually be one of the best places to ride an electrical bike because an electric engine produces maximum torque even at zero rpm. And the torque on this machine was quite impressive, a stunning 67 Nm, which is slightly more than a brand new
KTM 690 Enduro
, which in turn produces a maximum torque of 64 Nm, only achieved when revving it up to 6000 rpm. This high torque resulted in a very good accelaration, even when driving in muddy conditions. However, the top speed on the bike was a less impressive 95 km/h but this should be more than enough on most dirt tracks and sure enough it put a big smile on my face.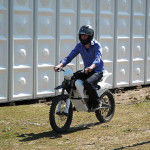 The fact that it accelareates like speedy gonzales also has it downsides, the bike can become a little hard to handle when making short turns, and due to the lack of a clutch it is also more difficult to put in 'feeling' when driving. I do believe this is something one could get used to, but when driving electric the first few times it could become a little uncomfortable. The weight makes up for this a little, only 126 kg and of course you don't need to put in any fuel or other liquids so the weight will always remain as it is.
The Zero DS is produced in the US by Zero Motorcycles and is sold around the world by different dealers. There is also a road legal version of this bike which is almost identical only for a diffenrent front suspension.
Tech the Future tested this bike on the
Good! Lelystad
event, and was invited to come over to the Dutch importer of this bike,
The Good Bike Company
, to test this bike and other vehicles more thoroughly. To be continued...