The German startup
TobyRich
brings video gaming to drones. With real drones and virtual weapons players can battle and race each other in augmented reality.
The airplane-shaped (fixed-wing) gaming drones are controlled with a smartphone. At the start of the game the TobyRich RED (Races E-Sports Dogfights) app allocates weapons and defense systems to the player randomly. Bombs, rockets, flares and armor each have their own level of impact, range, speed, and number of shots.
Players can battle each other in the air with dogfights or races. If only one person has a TobyRich drone others can join the game with the RED app as ground forces with anti-aircraft shooters. The app's augmented reality overlays give the video gaming feel.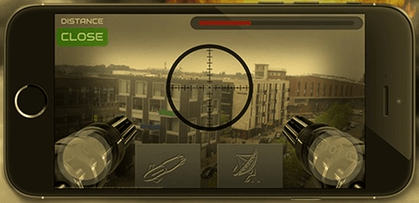 The Bremen-based startup offers two types of drones, the tobyrich.vegas and the more feature-rich tobyrich.tokyo. Both drones have Bluetooth Low Energy controller, a 9-axes Inertial Measure Unit and pressure sensor. The tobyrich.tokyo additionally has GPS, a HD camera and Follow Me mode. The data of the onboard sensors, GPS of phones and planes and weather information is integrated in the app to get the exact position of all the players in the game.
The battery allows for about 20 minutes of flight time and the drones can operate both indoors and outdoors.
Crowdfunding
TobyRich is now running a
crowdfunding campaign on Kickstarter
to raise €100.000. So far, 60% of the goal has been pledged with 37 days to go. Backers can pick up the drones with significant discount, a €89 pledge is rewarded with a tobyrich.vegas drone, which will cost €179 once TobyRich goes to market.
There is also a hacker package consisting of the components to build your own drone and app and an SDK to create new applications. Eventually the SDK will be released to the world but a specific time has yet to be determined.
The Kickstarter video gives a good impression of what it is all about.