Dealing with noise and interference in electronic instrumentation circuits:
SHIELDING, FILTERING AND USING LOW NOISE AMPLIFIERS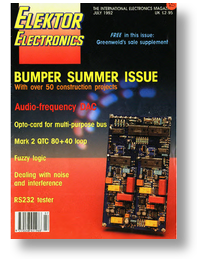 Many electronic instrumentation and data acquisition circuits must deal with low-Ievel signals in the presence of strong interfering signals. If the signal level is small enough, even the noise produced by amplifiers and passive components can obscure the desired siqnal. In this article we will look at several strategies for solving problems with low signal level amplifier systems. These techniques include use of a low noise amplifier (LNA), filtering, circuit shielding, input leads shielding (including professional guard shielding techniques) and isolation of the circuit from the power mains.
Downloading of this magazine article is reserved for registered users only.
Login
|
Register now!