Simple copybit killer:
enables limitless digital copying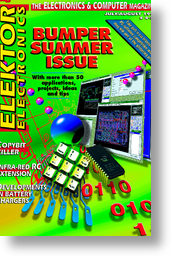 The Serial Copy Management System (SCMS) prevents digital copying of audio material from the second generation onwards. Unfortunately, this protection also works on home recordings and so prevents home recordists from digitally copying their own musical work more than once without degradation by the SCMS. This problem has been highlighted before in this magazine, but it has not gone away – reason enough to describe a simple and inexpensive circuit for permanently removing the copy-prohibit-bit from the S/PDIF audio signal.
Downloading of this magazine article is reserved for registered users only.
Login
|
Register now!