Canon EOS Cameras go Wireless
Using 433-MHz SRD modules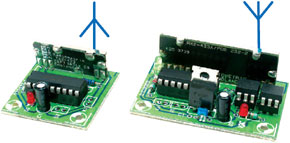 Sure, RF Remote control is desirable if you're into aerial, wildlife, candid or physically dangerous photography, but prepare for a shock if you shop around for commercially available remote controls.Our homebrew alternative is inexpensive and designed for popular Canon models like the EOS88, EOS66, EOS300D, EOS500N, EOS3 and in fact any other model having a 2.5-mm jack socket for external triggering (find the connection details of the 'remote control' socket). Most cameras use the double-action click principle where the first half click is for the aperture measurement and auto-focus, and the second half click for the release shutter.
Downloading of this magazine article is reserved for registered users only.
Login
|
Register now!
CAM/CAD data for the PCB referred to in this article is available as a Gerber file. Elektor GREEN and GOLD members can exclusively download these files for free as part of their membership. Gerber files allow a PCB to be produced on an appropriate device available locally, or through an online PCB manufacturing service.

Elektor recommends its business partner Eurocircuits as the company of choice for its own prototypes and volume production in selected cases.
A 9-V battery is shown in the circuit diagram of the transmitter. This should be a pack of three AAA batteries (4.5 V). The parts list should be amended to read: BT1 = 4.5 V, 3 AAA batteries with holder.
In the transmitter circuit diagram, pushbutton S1 should be a normally closed (NC) type.
Transmitter
Resistors:
R1 = 10kOhm
R2 = 470Ohm
R3 = 976kOhm 1%
Capacitors:
C1 = 10µF 25V radial
Semiconductors:
D1 = 1N4148
D2 = LED, red
IC1 = HT12E (Holtek) (Maplin Electronics)
Miscellaneous:
ANT1 = stiff wire, length approx. 15.5cm
BT1 = 9V battery connection
MOD1 = TX2 433MHz SRD radio module (Radiometrix). Equivalents from LPRS (www.lprs.co.uk)
S1 = pushbutton, 1 make contact (see also inset)
S2 = on/off switch
Receiver
Resistors:
R1 = 51kOhm1 1%
R2,R3 = 220Ohm
R4,R5 = 150Ohm
Capacitors:
C1 = 100nF
C2 = 10µF 25V radial
Semiconductors:
D1 = LED, green
D2 = LED, red
IC1 = HT12D (Holtek) (Maplin Electronics)
IC2 = 7805
IC3,IC4 = CNY17-2
Miscellaneous:
ANT1 = stiff wire, length approx. 15.5cm
BT1 = 9V battery connection
K1 = mini jack plug (2.5mm) with 3-wire cable
MOD1 = RX2 433MHz SRD receiver module (Radiometrix) ). Equivalents from LPRS (www.lprs.co.uk)
S1 = on/off switch