Battery Monitor
Everything under control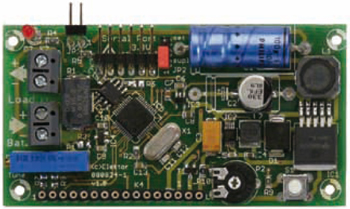 This circuit was originally designed for monitoring the charge status of the batteries in a solar-powered water feature. However, it can be used in any application where batteries are charged and discharged. The circuit uses an LPC2103 microcontroller connected to a 22-bit analogue-to-digital (A/D) converter to measure charge and discharge currents, battery voltage, charge status (or available capacity) and the instantaneous power being supplied to or drawn from the battery.
Downloading of this magazine article is reserved for registered users only.
Login
|
Register now!
CAM/CAD data for the PCB referred to in this article is available as a Gerber file. Elektor GREEN and GOLD members can exclusively download these files for free as part of their membership. Gerber files allow a PCB to be produced on an appropriate device available locally, or through an online PCB manufacturing service.

Elektor recommends its business partner Eurocircuits as the company of choice for its own prototypes and volume production in selected cases.
Features
- Display of current (in mA or A), voltage (mV), capacity (Ah) and power (mW or W)
- Suitable for monitoring all types of rechargeable battery
- Suitable for battery voltages from 6 V to 42 V
- Maximum measured current: ±6 A
- High precision: voltage resolution 76 mV, current resolution 12 µA (internal), 1 mA (displayed)
- Low power consumption due to use of high-efficiency step-down converters: <200 mW (backlight off), <300 mW (backlight on)
- Module takes into account its own power consumption in calculating current and capacity
- Display update rate 1 Hz
- Over- and under-voltage fault LED
- Backlit 2-by-16-character LCD
- Compact construction
- Serial interface for outputting measured values
- Firmware available for free download from Elektor website

Resistors:
(SMD0805, 0.125W, 1% unless otherwise indicated)
R1 = 0O05 2W 1% (SMD shunt resistor, 5mm x 0.3mm, e.g. Vishay/Dale)
R2,R5,R6,R7 = 10k
R3 = 100kO (see text)
R4 = 1k
R8 = 8kO25 (see text)
R9,R10 = 0Ohm (or 1Ohm, R10 also 220Ohm, see text)
P1 = 10kO multiturn preset, 19mm (see text)
P2 = 100kO preset, horizontal mounting, 10mm
Capacitors
C1 = 100µF 63V 20%, aluminium, SMD (G) or axial wired
C2 = 330µF 25V 20%, aluminium, SMD (F) or axial wired
C3 = 100µF 16V 10%, tantalum SMD (7343-31)
C4 = 10µF 16V 10%, X5R, multilayer SMD 1210
C5,C6,C9,C10,C13–C17 = 100nF 50V 10 %, XR7, multilayer SMD 0805
C7 = 10nF 50V, 10%, XR7, multilayer SMD 0805
C8 = 1µF 16V 10 %, XR7, multilayer SMD 0805
C11,C12 = 22pF 50V 5%, multilayer SMD 0805
Inductors
L1 = 330µH, 590mA, 20%, SMD 10mm x 10mm (e.g. EPCOS)
L2 = 22µH, 925 mA, 30%, 5mm x 35mm (e.g. WE-TPC, Würth)
Semiconductors
D1 = 3A Schottky diode, 100V, 620mV, SMC case, e.g. 30BQ100TRPBF (Vishay, IRF)
D2 = LED, red, low current (2mA)
T1 = 2N7002 (N-channel MOSFET, 60V 115mA, Fairchild, SOT-323)
IC1 = TL2575HV-05 (5V 1A step-down switch-mode regulator, TI, TO263)
IC2 = TPS62007 (step-down switch-mode regulator, TI, MSOP10)
IC3 = TPS79118 (LDO regulator, 1.8V 100 mA, TI, SOT-23-5)
IC4 = MAX6520 (1.2V voltage reference, Maxim, SOT23-39
IC5 = LPC2103FBD48 (70MHz ARM7, 16KB Flash, 8KB RAM, NXP, LQFP48)
IC6 = MCP3550-50 (22-bit delta-sigma ADC, Microchip, SOIC08)
Miscellaneous
X1 = 14.7456MHz quartz crystal, 18pF load capacitance, 30ppm
S1 = SPNO pushbutton, PCB mount (e.g. Omron B3W-1000)
K1,K2 = PCB screw terminals, 16A, pitch 5mm
K3 = SIL 6-way right-angled pinheader
K4 = SIL 16-way socket strip, for LCD mounting
JP1 = 2-way pinheader for jumper
JP2 = 3-way pinheader for jumper
LC display, 2 lines of 16 characters, with backlight; see text (e.g. Elektor Shop # 030451-72)
2 jumpers, pitch 2.54 mm
4 standoffs M2.5, l = 15mm
PCB no. 080824-1 from the Elektor Shop
Features
Display of current (in mA or A), voltage (mV), capacity (Ah) and power (mW or W)
Suitable for monitoring all types of rechargeable battery
Suitable for battery voltages from 6 V to 42 V
Maximum measured current: ±6 A
High precision: voltage resolution 76 mV, current resolution 12 µA (internal), 1 mA (displayed)
Low power consumption due to use of high-efficiency step-down converters: <200 mW (backlight off), <300 mW (backlight on)
Module takes into account its own power consumption in calculating current and capacity
Display update rate 1 Hz
Over- and under-voltage fault LED
Backlit 2-by-16-character LCD
Compact construction
Serial interface for outputting measured values
Firmware available for free download from Elektor website