OBD2 Mini Simulator
Virtual car supports PWM/ISO/KWP2000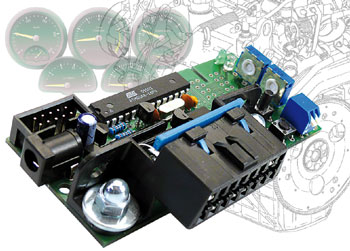 A full sized car parked next to your bench may technically be a good solution but in most cases just isn't not possible. You don't need to resort to expensive professional equipment to do the job. The MiniSim OBD simulator device described here is a low-cost and efficient unit which simulates communication from a vehicle's OBD port and can communicate using four of the most popular OBD protocols.
Downloading of this magazine article is reserved for Elektor Members only.
Already a member? click
here
to log in.
Quick specifications
Predefined protocols
KWP2000 Fast init
KWP2000 Slow Init (5-baud init)
ISO 9141-2
PWMJ-1850
Protocol selection on DIP switches
Four predefined error codes
Up to 15 configurable error codes
Vehicle speed and engine speed sensor data adjustable using potentiometer
MIL trigger by pushbutton
Connect and MIL-active indicators
Freezeframes store selected sensor data when MIL triggered
Various assembly options
Resistors
R1,R2 = 1kOhm
R3 = 2.2kOhm
R4 = 1.5kOhm
RN1, RN2 = 5-way SIL 10kOhm resistor array, 10-pin (SIL 10-5, see text)
P1,P2 = 100kOhm trimpot with spindle, vertical mounting
or
P5,P6 = 100kOhm trimpot with spindle, horizontal mounting (see text)
Capacitors
C5,C6 = 22pF
C2..C4,C7 = 100nF
C1 = 47µF 25V
Semiconductors
T1 = BS250
T2,T3 = BS170
IC1 = 78L05
IC3 = ATMega8-16PU, programmed *)
IC5 = LM393
D1,D2 = LED, 3mm
D3 = 1N4004
Miscellaneous
Q1 = 6MHz quartz crystal
BU1 = low voltage DC adapter socket, PCB mount
TA1,TA2 = miniature pushbutton, 1 pole, PCB mount
BU2 = OBD socket
PCB * # 080804-1 (contained in kit)
Kit of parts with PCB and all components, order code 080804-71