The 5532 OpAmplifier, part 2
Construction, bridged operation and test results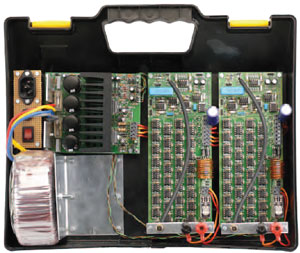 In this second and closing instalment we get real with two times 32 NE5532 opamps paralleled to form a high-end audio power amplifier with eminent specifications in terms of distortion and general sonic performance. There are also challenges for you: bridged operation for higher output power, and modifying the amplifier for 4-ohm operation.
Downloading of this magazine article is reserved for Elektor Members only.
Already a member? click
here
to log in.
Specification — per channel, 8 ohm load
Supply voltage: ±18.3 V
Input sensitivity
- unbalanced: 840 mV (16 W, 1 % THD)
- balanced: 833 mV (16 W, 1 % THD)
Input impedance
- unbalanced: 38.8 kOhm
- balanced: 93.6 kOhm
Output power, sinewave
- 0.1 % THD: 16 W
- 1 % THD: 16.8 W
Output power bandwidth: 1.5 Hz – 275 kHz
Slew rate: 5 V/µs
Rise time: 4 µs
Signal/noise ratio: (1 W ref.): 110 dBA
- 108 dB (B = 22 Hz – 22 kHz linear/unweighted)
Harmonic distortion + noise: 0.00055 % 0.0005% (B = 22 kHz, 1 kHz, 1 W)
- 0.0015 % 0.0009% (B = 80 kHz, 1 kHz, 1 W)
- 0.0006 % 0.0004% (B = 22 kHz, 1 kHz, 8 W)
- 0.0008 % 0.0005% (B = 80 kHz, 1 kHz, 8 W)
- 0.003 % (B = 80 kHz, 20 kHz, 8 W)
Intermodulation distortion: 0.0022 % 0.0012% (1 W)
- (50 Hz : 7 kHz = 4 : 1): 0,005 % 0.0015% (8 W)
Dynamic IM distortion: 0.0014 % 0.0011% (1 W)
- (3.15 kHz square wave + 15 kHz sine wave): 0.0035 % 0.0035% (8 W)
Damping factor: 194 (1 kHz)
- 111 (20 kHz)
DC-protection: ±1.5 V
Quiescent current : 300 mA
Amplifier board (one channel)
Resistors
5%, 0.25W, Farnell/Multicomp MCF series, unless otherwise indicated.
R1,R14,R17 = 47Ohm
R2 = 220kOhm
R3 = 47kOhm
R4,R6 = 910Ohm 1% 0.25W, Multicomp type MF25 910R
R5,R7,R10,R11,R15,R16 = 2.2kOhm
R8,R9,R32,R33 = 10Ohm
R12 = 1kOhm
R13 = 2.00kOhm 1% 0.25W, Multicomp type MF25 2K
R18,R21 = 150kOhm
R19,R22 = 100Ohm
R20,R23 = 68kOhm
R24-R31 = 820Ohm
R34,R35 = 10MOhm
R36 = 100kOhm
R37,R38,R71,R72 = 22kOhm
R39-R70,R73-R104 = 1Ohm
R105 = 10kOhm
R106 = 10Ohm 5% 3W, Tyco Electronics type ROX3SJ10R
Capacitors
C1,C12,C14,C16-C19 = 100pF, 2.5%, 160V, polystyrene, axial (LCR Components)
C2 = 2.2µF 5% 250V, polypropylene, Evox Rifa type PHE426HF7220JR06L2
C3,C4,C6,C8,C9 = 33pF ±1pF 160V, axial, polystyrene (LCR Components)
C5,C7,C10,C15,C20,C23,C28-C59 = 100nF 10% 100V, lead pitch 7.5mm, Epcos type B32560J1104K
C11,C13 = 47µF 20% 35V non polarised, Multicomp type NP35V476M8X11.5 (Farnell # 1236671)
C21 = 22nF 10%, 400V, lead pitch 7.5mm, Epcos type B32560J6223K (Farnell # 9752366)
C22 = 1µF, 10%, 10V, lead pitch 7.5mm, Epcos type B32560J1105K (Farnell # 9752382)
C24-C27 = not fitted, see text
Inductors
L1 = 1.7µH; 10 turns 1 mm (18AWG) ECW, diameter 20mm, effective length approx. 20mm
Semiconductors
D1,D2 = 1N5402
D3 = 1N4148
IC1-IC5,IC7-IC38 = NE5532 (see text for notes on device selection)
IC6 = OP177 (Analog Devices)
Miscellaneous
K1,K5-K12,K14,K15 = 2-pin SIL pinheader, lead pitch 0.1 inch
K2,K3,K4,K13 = 3-pin SIL pinheader, lead pitch 0.1 inch
K16-K19,LS1 = 2-way PCB terminal block, lead pitch 5mm
JP1 = 3-pin SIL pinheader and jumper, lead pitch 0.1 inch
RE1 = PCB mount relay, PCB, DPCO, 24VDC/1100Ohm/5A, Omron type G2R-2 24DC
Phono socket, chassis mount, black, Neutrik type NYS367-0
XLR socket, chassis mount, 3-way, Pro Signal type PSG01588
PCB # 100124-1, Elektor Shop

Power supply board
Resistors
5%, 0.25W, Farnell/Multicomp MCF series, unless otherwise indicated.
R1,R5 = 100Ohm
R2,R6 = 1.30kOhm 1% 0.25W, Multicomp MF25 1K3
R3,R7 = 39Ohm
R4,R8 = 1.5kOhm 5% 1W, Multicomp MCF 1W 1K5
R9,R11,R16,R20-R22 = 2.2kOhm
R10,R12-R15,R19 = 47kOhm
R17 = 150kOhm
R18 = 470kOhm
Capacitors
C1,C3,C24 = 47µF 20% 25V, lead pitch 2.5mm, Rubycon type 25ZLG47M6.3X7
C2,C4 = 100µF 20% 25V, lead pitch 2.5mm, 1.43A AC, Nichicon type UPM1E101MED
C5,C8 = 100nF 10% 100V, lead pitch 7.5mm, Epcos type B32560J1104K
C6,C7,C9,C10 = 4700µF 20% 35V, lead pitch 10mm, snap in, Panasonic type ECOS1VP472BA (25mm max. diameter)
C11-C18 = 47nF 10% 50V ceramic, lead pitch 5mm
C19,C20 = 47nF 20%, 630VDC X2, lead pitch 15mm, Vishay BCcomponents BFC233620473
C21 = 4.7µF 20% 63V, lead pitch 2.5mm
C22,C23 = 22µF 20% 35V, non polarised, lead pitch 2.5mm, Multicomp NP35V226M6.3X11
Semiconductors
D1-D4,D7 = 1N4002
D5,D8-D16 = 1N4148
D6,D17 = LED, green, 3mm
T1,T3,T4,T6 = BC337
T2,T5,T7 = BC327
IC1,IC2 = LT1083 (Linear Technology)
B1,B2 = GSIB1520 (15A/200V bridge rectifier) (Vishay General Semiconductor)
K1,K2,K4 = 2-way PCB terminal block, lead pitch 5mm
K3 = 3-way PCB terminal block, lead pitch 5mm
D6,D17,S1 = 2-pin SIL pinheader, lead pitch 0.1 inch
K5,K6 = 3-pin SIL pinheader, lead pitch 0.1 inch
F1,F2 = fuse, 6.3A antisurge (time lag), with 20x5mm PCB mount fuseholder and cover
Heatsink, Fischer Elektronik type SK92/75SA 1.6 K/W, size: 100x40mm, Farnell # 4621578, Reichelt # V7331G
Miscellaneous
M3 screws, nuts and washers for mounting IC1 and IC2 to heatsink (see text)
TO-3P thermal pad, (Bergquist type K6-104)
M4x10 screws for mounting heatsink to PCB
PCB # 100124-2, Elektor Shop