RGB – YPbPr (or YUV) Converter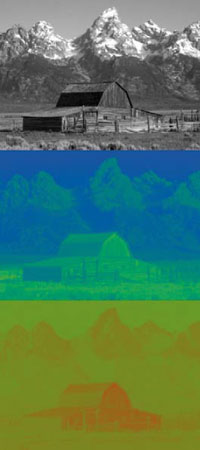 Even though the advent of high-definition (HD) is sounding the death-knell for the various analogue formats in favour of all-digital signals via the HDMI socket, there are still a number of situations where we need to manipulate such signals.
Downloading of this magazine article is reserved for registered users only.
Login
|
Register now!
Resistors (metal film 1%)
R1 = 80.6Ohm
R2 = 86.6Ohm
R3 = 76.8Ohm
R4 = 1.07kOhm
R5 = 549Ohm
R6 = 2.94kOhm
R7 = 324Ohm
R8 = 150Ohm
R9,R10,R13,R14,R15 = 301Ohm
R11 = 133Ohm
R12 = 174Ohm
R16 = 75Ohm
R17 = 105Ohm
R18 = 261Ohm
R19 = 330Ohm
Capacitors
C1,C3 = 1000µF 25V radial electrolytic
C2,C4 = 100µF 25V radial electrolytic
C5,C6,C7,C8 = 1nF ceramic
Semiconductors
IC1 = LT1398CS
IC2 = LT1399CS
IC3 = 7805
IC4 = 7905
B1 = bridge rectififier, 100V piv, 1A
D1 = LED, size and colour to requirement
Miscellaneous
TR1 = power transformer, secondary 2 x 9V, 3.2VA
F1 = fuse, 100mA, slow, with PCB holder