Economic Longwave Receiver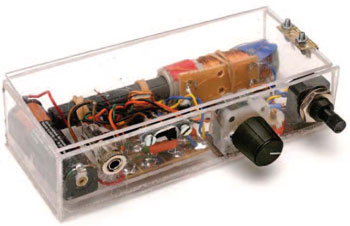 Even today in 2012, radio is still one of the most dramatic ways to enter the world of electronics. Long Wave (LW) still offers an experimental ground with enough stations to satisfy all tastes: BBC Radio 4, France Inter, Europe 1, RTL and other even more exotic ones, depending on where you are in the world.
Downloading of this magazine article is reserved for registered users only.
Login
|
Register now!
Resistors
R1, R3 = 2.2kOhm
R2 = 150Ohm
P1 = 10kOhm linear potentiometer
P2 = 4.7kOhm trimpot
Capacitors
C1, C5 = 10nF
C2, C4 =100µF electrolytic
C3 = 22nF
C6 = 200pF tuning capacitor (see text)
C7 = twisted wire (pigtail) capacitor (see text)
C8 = =80pF trimmer
Inductors
L1–L5 = see text
Semiconductors
D1 = germanium diode like OA91, AA112, AA119, etc.
T1, T2 = BC547B
T3 = BC557B
Miscellaneous
K1 = 3.5 mm stereo jack socket