on Audio/Video/Photography
Published in issue 6/2012 on page 20
Preamplifier 2012 (3)
Part 3: level indicator, source selector, power supply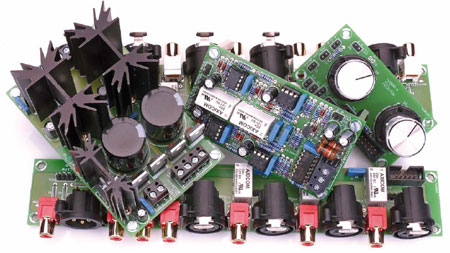 This month we close off the discussions of the individual boards that make up the preamplifier, both in terms of theory of operation and construction: LLLL board, PSU board, input board, and PSU board.
Downloading of this magazine article is reserved for Elektor Members only.
Already a member? click
here
to log in.
LLLL board (# 110650-6)
Resistors
(0.25W, 1%)
R1,R2,R3,R5,R11,R12,R13,R15 = 20kOhm
R4,R6,R7,R14,R16,R17 = 10kOhm
R8,R9,R18,R19 = 1kOhm
R10,R20 = 100kOhm
R21 = 910Ohm
R22,R23,R25 = 22kOhm
R24 = 100Ohm
R26,R27 = 220Ohm
Capacitors
C1-C4 = 2.2?F 20% 100V, diam. 6.3mm, 2.5mm pitch
C5-C9 = 100nF 10% 100V, 7.5mm pitch
C10,C11= 100µF 20% 25V, diam. 6.3mm, 2.5mm pitch
C12,C13 = 220nF 10%, 100V, 7.5mm pitch
Inductors
L1,L2 = 1mH 3.6Ohm 370mA, axial
Semiconductors
D1-D14 = 1N4148
T1 = BC557B
IC1-IC4 = NE5532
IC5 = LM339
Miscellaneous
K1-K4,K6 = 2-pin pinheader, 0.1'' pitch (2.54mm)
Socket headers for K1-K4,K6
K5 = 3-pin pinheader, 0.1'' pitch (2.54mm)
Socket header for K5
K7 = 3-way PCB terminal block, 5mm pitch
RE1,RE2 = V23105-A5003-A201, 12V/960Ohm, 230V/3A, DPDT
PCB # 110650-6
Input board (# 110650-3)
Resistors
R1,R2 = 0Ohm
Capacitors
C1-C4 = 220nF 10% 100V, 7.5mm lead pitch
Miscellaneous
K1,K3,K5,K7 = XLR socket, PCB mount, horizontal, 3-way
K11 = XLR plug, PCB mount, horizontal, 3-way
K2,K4,K6,K8-K10,K12 = RCA/Phono socket, PCB mount, Pro Signal type PSG01545 (red) ® or PSG01546 (white) (L)
K13,JP1-JP4 = 2-pin pinheader, 0.1'' pitch (2.54mm)
Socket header for K13
K14,K15,K16 = 4-pin pinheader, 0.1'' pitch (2.54mm)
Socket headers for K14,K15,K16
K17 = 10-way boxheader, straight, 0.1'' pitch (2.54mm)
S1-S4 = 3-pin pinheader, 0.1'' pitch (2.54mm)
Jumpers for S1-S4,JP1-JP4
RE1-RE4 = V23105-A5003-A201, 12V/960Ohm, 230V/3A, DPDT
PCB # 110650-3; 2 pcs required

Front panel board (# 110650-4)
Resistors
(0.25W, 1%)
R1 = 220Ohm
R2 = 3.3kOhm
Semiconductors
D1 = LED, green, 3mm, through hole
D2 = LED, red, 3mm, through hole
Miscellaneous
K1 = 10-way boxheader, straight, 0.1'' pitch (2.54mm)
K2,K5,D1,S1-S3 = 2-pin pinheader, 0.1'' pitch (2.54mm)
Socket headers for K2,K5,D1,S1-S3
K3,K4 = 3-pin pinheader, 0.1'' pitch (2.54mm)
Socket headers for K3,K4
K6 = 2-way PCB terminal block, 5mm pitch
S1,S2,S3 = switch, SPDT (On-On)
S4,S5 = 2-pole, 6-position rotary switch, PCB mount, e.g. Lorlin type CK1050
PCB # 110650-4

Power supply board (# 110650-5)
Resistors
(0.25W, 1%)
R1,R3 = 100Ohm
R2,R4 = 1.3kOhm
R5 = 1Ohm
R6,R7 = 12kOhm
Capacitors
C1,C3,C7,C9,C11,C13 = 100nF 10% 100V, 7.5mm pitch
C2,C4 = 100µF 20% 25V, 6.3mm diam., 2.5 mm pitch
C5,C6, = 47µF 20%, 25V, 6.3 mm diam., 2.5 mm pitch
C8,C10 = 4700µF 20% 35V, 22mm diam., 10mm pitch
C12 = 10µF 20% 63V, 6.3mm diam., 2.5mm pitch
C14-C17 = 47nF 50V, ceramic, 5mm pitch
Semiconductors
D1,D2 = 1N4004
D3-D6 = MBR1045
D7 = LED, red, 3mm, through hole
D8 = LED, green, 3mm, through hole
IC1 = LM317
IC2 = LM337
IC3 = 7815
Miscellaneous
K1,K2,K3 = 3-way PCB terminal block, 5mm pitch
K4,K5,K6 = 2-way PCB terminal block, 5mm pitch
HS1,HS2 = heatsink, 50.8 mm, Fischer Elektronik type SK 129 50,8 STS
HS3 = heatsink, 50.8 mm, Fischer Elektronik type SK 104 50,8 STS
PCB # 110650-5 (www.elektorpcbservice.com)
Not on PCB:
Tr1 = AC power transformer, 115/230V primary, 2x18V/50VA secondary, e.g. Multicomp # MCTA050/18, Farnell (Newark) # 9530380
F1 (230VAC) = fuse, 0.315A antisurge, 5x20mm, panel mount
F1 (115VAC) = fuse, 0.63A antisurge, 5x20mm, panel mount
S1 = 115/230V AC line voltage selector, e.g. Arcolectric Switches type T22205BAAC
S2 = AC power switch