Bat DetectorPLUS
Combines frequency division with amplitude recovery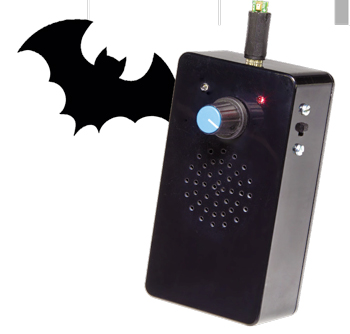 Having an apartment in Cyprus, each evening I can see bats fly past my balcony on the way to their feeding grounds. I decided that it would be a good idea to 'tune in' to the bats as they flew past. The idea culminated in a bat detector that's possibly the most refined of its kind published in Elektor.
Downloading of this magazine article is reserved for Elektor Members only.
Already a member? click
here
to log in.
Main Features & Specifications - Hybrid analog and digital circuitry - Low current consumption: less than 5 mA in standby - Selectable division ratio: 16, 17, 23 and 31 - Selectable low frequency cut-off: 8 kHz, 15 kHz, 18 kHz 25 kHz - Selectable sensitivity verses battery saving - Improved amplitude recovery - Audio sinewave output - Audio amplifier muted and in standby mode when there is no input signal - 'Muted' and 'signal detected' LEDs - Hardware and software test mode - MEMS or electret microphone - 1 (one) SMD device
Component List
Main Board

Resistors
R1,R2,R24,R29,R34 = 47kΩ 5%, 0.25W, 250V
R3,R30,R32 = 4.7 kΩ 5%, 0.25W, 250V
R4,R7,R10 = 7.5kΩ 1%, 0.6W, 350V
R5,R8,R11,R13,R14,R16-R18,R20,R21,R25-R28,R33 = 10kΩ 5%, 0.25W, 250V
RR6,R9,R22 = 100kΩ, 5%, 0.25W, 250V
R12 = 82kΩ 5%, 0.25W, 250V
R15 = 30kΩ 5 %, 0.33W, 250V
R19 = 36kΩ 5 %, 0.33W, 250V
R23 = 1MΩ 5%, 0.25W, 250V
R31 = 39kΩ 5%, 0.25W, 250V
R35 = 100Ω 5%, 0.25W, 250V
P1 = 50kΩ 10%, 0.5W, trimmer, 23-turn
P2 = 100kΩ 10%, 0.5W, trimmer, 23-turn
P3 = 10kΩ 20%, 0.2W, rotary potentiometer, logarithmic law, with switch, single

Capacitors
C1 = 220µF 20%, 50V, 5mm pitch, 10x16 mm
C2,C3,C6,C7,C8,C11,C22,C23 = 100nF 10%, 50V, X7R, 0.2'' pitch
C4 = 100µF, 20%, 50V, 3.5mm pitch, 8x11 mm
C5,C9,C10,C24 = 10µF 20%, 50V, 2mm pitch, 5x11 mm
C12,C14,C16,C21 = 1nF 5%, 100V, C0G/NP0, 0.2'' pitch
C13,C15,C17 = 4.7pF ±2.5pF, 500V, NP0, 5.08mm pitch
C18 = 470pF 5%, 100V, C0G/NP0, 0.2'' pitch
C19,C20,C25,C26,C28 = 10nF, 10%, 100V, X7R, 0.2'' pitch
C27 = 47µF, 50V, 2.5mm pitch, 6.3x11 mm

Semiconductors
D1,D2 = BAT43, DO-35
D3 = BZX79-C3V0, 3V zener diode, 0.5W, DO-35
LED1 = blue, 3mm, high intensity
LED2 = red, 3mm, high intensity
T1,T2,T4,T5 = BC548B
T3 = BC558B
IC1 = TL061CP, DIP-8
IC2,IC3,IC4 = TL062CP, DIP-8
IC5 = LP2950ACZ-5.0, LDO, 5V, 0.1A, TO-92
IC6 = PIC16F1827-I/P, DIP-18, programmed, Elektor Store # 150346-41
IC7 = TDA8541T/N1, SMD SOIC-8, Newark/Farnell # 1854043

Miscellaneous
K1 = 4-pin pinheader, vertical, 0.1'' pitch
K2,LED1,LED2,LS1 = Pin header, 1x2, vertical, 0.1'' pitch
BT1 = 2-way PCB screw terminal block 0.2'' mm, 630V
TP1,TP2,TP3 = 1 pin from pinheader
S1 = 8-way DIP switch block
BT1 = battery retainer clip (for battery PP3, 9V) with wires
Enclosure, ABS, 40x65x120mm, Camdenboss BIM2004/14-BLK/BLK, Newark/Farnell # 2445837
LS1 = miniature loudspeaker, 8Ω, >0.5W
MIC. = phone audio connector, socket, 3.5mm, 3 contacts, panel mount
PCB, Elektor Store # 150346-1
Kit of parts, includes PCB, case and MEMS board 150346-91. Elektor Store # 150346-71

Component List
MEMS Microphone Board

Capacitor
C1 = 100nF 5%, 25V, C0G/NP0, SMD 1206, optional

Miscellaneous
MIC1 = MEMS Microphone SPU0410HR5H-PB (Knowles), Mouser # 721-SPU0410HR5H-PB
K1 = connections for wires or pinheader
Phone Audio Connector, Plug, 3.5mm, 3 contacts, Cable Mount
PCB, Elektor Store # 150346-2
Ready assembled MEMS microphone board, Elektor Store # 150346-91