Wireless Power Converter
Convey 50 watts through the air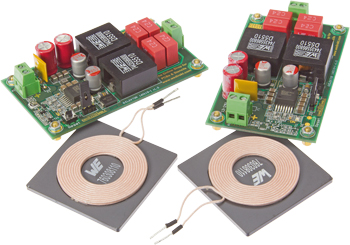 In cooperation with Würth Elektronik, in this article we present a pair of modules for high-efficiency wireless power transfer with a maximum capacity of 50 watts over distances up to a few centimeters. This set is available at a special price to enable Elektor community members to try out this highly promising technology.
Downloading of this magazine article is reserved for Elektor Members only.
Already a member? click
here
to log in.
* Maximum power: 50 W * Recommended continuous power: 0–40 W * Supply voltage: 12.5–24 VDC / 3 A min. * Recommended supply voltage: 19.5 V (laptop adapter) * Distance between coils: 1 cm maximum for optimal power transfer * Efficiency: 88% at 40 W with 0.5 cm coil separation
Component List
Covers 1 transmitter / receiver board
Resistors
R1,R2,R5,R6,R12 = 4.7kOhm 1%, 0.25W, SMD 1206
R3,R4 = 4.7Ohm 1%, 0.25W, SMD 1206
R7,R8 = 1kOhm, 1 %, 0.25W, SMD 1206
R9 = 100kOhm, 1 %, 0.125W, SMD 0805
R10 = 180kOhm, 1 %, 0.125W, SMD 0805
R11 = 33kOhm, 1 %, 0.125W, SMD 0805
R13 = 11kOhm, 1 %, 0.125W, SMD 0805
R14,R17 = 3kOhm, 1 %, 0.125W, SMD 0805
R15,R16 = 100kOhm, 1 %, 0.25 W, SMD 1206
R18 = 0.022Ohm 5%, 0.5 W, SMD 1206
Capacitors
C1,C18 = 100nF 50V, 10%, X7R, SMD 0805
C2,C3 = 330µF 35V, 20%, 0Ohm15, 10x16 mm, radiaal
C4,C5,C12-C15,C17,C25,C26 = 4.7µF 50V, 10%, X7R, SMD 1210
C6,C7 = 68µF 25V, 0.015Ohm, 8x12 mm, radial, Can - SMD
C8,C9,C10,C11 = 100nF 310 VAC, 10%, polypropylene, 10mm pitch
C16 = 22nF 50V, 10%, X7R, SMD 0805
C19,C20,C24 = 4.7nF 50V, 5%, NP0, SMD 0805
C21,C22,C23,C27 = 22µF 16V, 20%, X5R, SMD 1210
Inductors
L1,L2 = 68µH 20%, 7.5A, 0.0273Ohm, SMD (Würth 74435586800)
L3 = 10µH, 20%, 1.2A, 0.322Ohm, SMD (Würth 74438336100)
L4 (not on PCB) = 24µH 10%, 6A, 0.1Ohm (Würth Wireless Power Charging Coil)
Semiconductors
D1,D2 = BYM12-200, DO-213AB (MELF)
D3,D4,D5 = BYM13-40, DO-213AB (MELF)
D6 = WE-TVSP (15V 1500W), DO-214AB
D7 = LED, blue, SMD 0805
T1,T2,T3,T4 = DZT5551, SMD SOT-223
T5,T6 = FDD86250, SMD TO252
T7,T8,T9,T10 = PBHV9115Z, SMD SOT-223
IC1 = WE_VDRM_Power-Module SMD TO263-7 (Würth type 171032401)
Miscellaneous
K1,K2 = 2-way PCB screw terminal block, 5mm pitch
J1 = 3-pin pinheader, 0.1'' pitch
F1 = PTC resettable fuse, 0.048Ohm, Ihold 2.5A/30V (MF-R250-0-10)
J1 = jumper, 0.1'' pitch
PCB # 160119-1
Additional parts on Transmitter Board
R19 = 1kOhm 1%, 0.125W, SMD 0805
R20 = 11kOhm 1%, 0.125W, SMD 0805
R21 = 2.2kOhm, 1%, 0.125W, SMD 0805
R22 = 47kOhm, 1 %, 0.125W, SMD 0805
R23,R25 = 470kOhm, 1 %, 125 mW, SMD 0805
R24 = 1MOhm 1%, 0.125W, SMD 0805
R26 = 33kOhm, 1%, 0.125W, SMD 0805
R27 = 100Ohm 1%, 0.125W, SMD 0805
P1 = 2kOhm 25%, 0.2W, SMD trim pot (e.g. Bourns 3364W-1-202E)
C28 = 10pF 50V, 5%, C0G/NP0, SMD 0805
C29 = 100nF 50V, 10 %, X7R, SMD 0805
D8 = BAT54, SMD SOT-23
T11 = BC850C, SMD SOT-23
T12 = BC860C, SMD SOT-23
IC2 = ZXCT1107SA-7, SMD SOT-23
S1 = pushbutton with make contact, SPST-NO (FSM4JRT)
Kit of parts with all components and boards for 1 transmitter and 1 receiver: Elektor Store # 160119-71