Interview: Jean-François Conil-Lacoste, CEO of Epex Spot
"We are confident that we will continue to play a key role in integrating European electricity markets"
Epex Spot, the joint venture that was set up in 2008 between the German and French power exchanges EEX and PowerNext, is now pursuing cooperation with the Nordic power exchange Nord Pool. The overriding goal of the Paris-based power exchange is to be the prime mover in the creation of a single EU-wide integrated electricity market, says Jean-François Conil-Lacoste, CEO of Epex Spot in an interview with European Energy Review. Conil-Lacoste is confident that the investigation the EU antitrust authorities have started into the Epex-Nord Pool joint venture, will not affect this plan. In the ongoing process of European energy market integration, "one exchange will emerge as the best one", he says.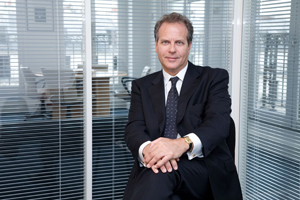 Jean-François Conil-Lacoste, CEO of Epex Spot
The EU is headed full steam for a fully integrated and liberalized energy market. In future, an electricity producer in, say, France, must be able to sell its power in Germany or in any other EU country on the same terms as domestic producers. At the same time a French refinery should be able to buy its electricity from any domestic or foreign supplier it chooses. The idea behind the single energy market is that it will stimulate efficiency and innovation across the European economy.

To achieve the goal of a single electricity market, Transmission System Operators (TSOs) have been expanding cross-border interconnections. Regulators have been working to harmonise regulations and have introduced regimes to facilitate cross-border flows. In addition various "national" power exchanges that were started up in the wake of the liberalisation have been busy coupling their trading platforms so as to facilitate cross-border trading in electricity.

The Nordic power exchanges were the first to establish a single trading platform, Nord Pool, in 1996. France, Belgium and the Netherlands coupled their markets ("trilateral market coupling") in 2006. Four years later, in 2010, this was extended into a Central West European (CWE) "pentalateral coupling" with Germany and Luxemburg included.

At the same time, in 2010 a so-called "interim tight volume coupling" was established between the CWE region and the Nordic countries. "Volume coupling" calculates the cross-border flows separately from the prices. This means that under some circumstances there might be flows in the wrong direction, such as exports from a high price area to a low price area.Therefore, it is less efficient than "price coupling" where flows and prices are calculated simultaneously.

The next step in the integration process will be "price coupling" between Central West Europe and the Nordic region, and then coupling with the South European countries (Spain, Portugal, Italy). This great "Price Coupling of Regions", as the process is called, is expected to be realized by 2014.It will result in a single electricity trading market for over 80% of the EU (in terms of consumption), thus bringing the ideal of a single EU market close to reality.

Naturally, the continuing market integration also has consequences for the various "national" power exchanges which are the main drivers behind this process. Although integration of markets does not necessarily have to be accompanied by consolidation of the exchanges, it does make sense for exchanges that need to closely cooperate to look at possibilities for merging their activities. This consolidation process has in fact already started: in 2008, the French exchange Powernext and the German exchange EEX merged their power spot activities into the power exchange Epex Spot. This is now one of the two biggest spot electricity marketsin Europe, with over 310 TWh a year being traded at the exchange, similar in volume to Nord Pool Spot.

Then, in September of last year, Epex Spot announced that it was taking steps to establish a joint venture with Nord Pool Spot. The goal of the two exchanges is to create common trading platforms for their day-ahead and intraday markets, which should ultimately be operated together. Epex and Nord Pool have said they do not intend to fully merge with each other.

Clearly, the Epex-Nord Pool joint venture would set up by far the biggest platform for power trading in Europe. However, its fate has become uncertain after officials from the European antitrust authorities on 7 February raided the offices of Nord Pool Spot and Epex Spot looking for evidence of "collusion". This action came as a total surprise to most market watchers. It is not clear at this moment how it will affect the consolidation process of the power exchanges in Europe.

European Energy Review spoke to Jean-François Conil-Lacoste, CEO of Epex Spot, in his modest office on the Boulevard Montmartre in Paris, about his ambitions for his company and his views on the development of the European electricity market.

What is the idea behind the joint venture with Nord Pool?

In June 2007, when the Central West Europe price coupling project was launched, it became evident that we faced a fast growing complexity in terms of systems, interfaces and operations. We realized it was logical to consolidate the exchanges operating in these areas, and thus Epex Spot was born. The
'To my mind there is no doubt that by integrating markets you make the whole market more efficient'
same thinking lies behind our project with Nord Pool Spot, but we will stop short of taking things to their logical conclusion. We will not merge the two exchanges to form a single company, but will as far as legally possible set up a joint venture based in London, which will be designed to harmonize our systems for the two spot exchanges – the day-ahead auction, which is the larger spot market and the short-term intraday market, in which prices are fixed in continuous trading. The idea is that we will operate our markets with a joint team, whose members will remain based in Paris, Leipzig and Oslo, but will be employed by this joint venture, again if this is possible.
Why aren't you pursuing a full merger, if that is the logical thing to do?

We are not ruling out a merger at a later stage, if all shareholders share the same vision for a single "North West Europe" spot exchange, notably in terms of governance. The enlarged exchange will deal about 700 TWh a year, making it by far the largest electricity spot exchange in the world, a clear European blueprint, whose expertise could be used in cooperations outside Europe. But above all, this exchange would facilitate the daily operation of an integrated European electricity market alongside with a few other large exchanges.
How does the investigation of the EU antitrust authorities affect the plans for your joint-venture?
We can't tell at the moment, as the investigation is ongoing. But we are confident that we will further work on the integration of European power markets one way or the other.This will not slow down the process of integrating the market and our role in the process.
In view of the fact that the EU wants to see one single market created, do you think it makes sense for the EU to prohibit market concentration among power exchanges?
We were quite surprised by the action from the competition authorities. The European Commission, namely the Directorate-General for Energy, has set ambitious goals for the integration of the European power market – the so-called Target Models. We are fully dedicated to these goals. Market coupling needs efficient pools of liquidity. This is the first mission of any exchange. We have been asked by the European Commission, by DG Energy, to cooperate. The investigation of the Directorate-General for Competition is an inspection to prevent actions that do not respect the Competition rules. Apparently it is focused on certain questions of market sharing, of dividing markets between exchanges. We don't really know. Was there a complaint? Again we don't know. But naturally, we are cooperating fully with the authorities in this process. We will make sure the joint venture complies with the rules.
So how do you see the exchanges develop in relation to one another?
You need very strong cooperation between exchanges in the market coupling process. If you want to have an efficient market process, what you need is a pooling of liquidity. It doesn't make sense to divide liquidity. The first economical mission of an exchange is to produce reliable reference prices. This
In the end everbyody will join
means there must be a meeting of supply and demand across the largest possible group of buyers and sellers. This way you will get one pool of liquidity. That's what the members want – they want access to a large pool of liquidity. That is much more relevant to them than to have competition between exchanges on fees. The way I see it is that you need competition between exchanges initially. But one exchange will emerge as the best one. By the way in many countries competition between exchanges is not even possible. They have a legal monopoly, e.g. in Spain, Italy, Poland.
In between Epex and Nord Pool there is the Dutch exchange APX Endex, which includes Belpex in Belgium. Shouldn't they join the club?

Yes, it makes sense for us to cooperate with them. They have much the same philosophy as we do. They would be a natural partner. What is holding us back? Well, ask the shareholders. I think it will happen some day.
Do you have plans to involve markets in Southern and Eastern Europe?
As the power exchange in the heart of Europe, we are also working closely with the bourses in Southern Europe, through the concept of Price Coupling of Regions, which we believe will be ready by 2014. For Italy you have to have Switzerland on board too. By the way, the Spanish and Italian exchanges are both bound by tight legislation and heavy regulation. By contrast, we believe in the virtues of a for-profit organization, lean and flexible to maintain the best talents at the heart of small, dynamic teams with a capacity for innovation. We think this model is indispensable in this ever-changing business. As to Eastern Europe, we are already sowing the seeds for integration there. For example, Epex Spot is present as a service provider in countries in Eastern Europe. The Hungarian Power exchange HUPX has run on the EPEX Trading System since July 2010 and coupling services for OTE (Czech Republic), OKTE (Slovakia) and HUPX are planned for 2012, although no precise date is known. This helps integrating Central East Europe. But it may take a little longer here since some of these markets do not have much liquidity yet. We could first see regional price coupling, e.g. between the Czech Republic, Slovakia and Hungaria. But in the end, everbody will join.
Do you believe it is possible to have a single competitive EU electricity market by 2014, as the European leaders want?
2014 is a political target. It will need very tight planning.A clear obstacle for market integration is that many EU member states still take a nationalistic rather than European approach to energy. Our markets
Our markets are coupled and electrons don't respect national borders. Deciding on your own in energy matters is increasingly counterproductive
are coupled and electrons don't respect national borders. Deciding on your own in energy matters is increasingly counterproductive. The process to change this mindset is slow, as demonstrated by the fact that the EU is currently running infringement procedures against 18 of the 27 member states, because they have not yet implemented the Third Energy package and so are not open enough to competition.
Some critics say that liberalisation and market integration has not brought any benefits to end users. According to a recent study by the Institut Français des Relations Internationales (IFRI) the liberalisation of electricity markets in the EU 'has not had a major effect on prices'. They also claim that opening up and connecting markets does not necessarily lead to a more efficient system.

To my mind there is no doubt that by integrating markets you make the whole market more efficient. You can make better use of your existing assets. You also reduce risks of shortages and blackouts. Take the nuclear phase-out in Germany. It was very important that we had an integrated market and price coupling when that happened. This greatly benefited the whole transition in Germany, as they could make use of power imported from neighbouring countries. For the integration of intermittent renewable energies such as solar power and wind power market coupling is also tremendously important. We had calculations made before we started the process and what came out of this is that market coupling leads to social welfare gains in the region of several tens of millions of euros per year.
But creating interconnections also requires large investments.
That is precisely the advantage of market coupling. It reduces the need for investment in new cross-border connections. In the past interconnections were not used very much. They were reserved for some long-term contracts and for emergencies. Then the European Commission introduced congestion management rules which created market mechanisms to allocate cross-border interconnections, e.g. auctions. Still with auctions there can be a mismatch between the available cross-border capacity and the energy sold. To be able to use the capacity fully, you need to integrate the energy flows into the order books of the exchange. That is what price coupling accomplishes.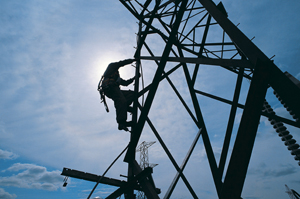 Conil-Lacoste: 'Market coupling is the next best thing'

So how has the Central West European market developed since the coupling in November 2010?
CWE started on 10 November 2010. Before that, there was practically no price convergence. Now we have had 66% price convergence. So two-thirds of the time you had the same price in France, Germany and the Benelux. In that sense market coupling is the Euro of the electricity market.
How has trading volume developed?
Trading volumes on our exchange increased from 203 TWh in 2009 to 314 TWh in 2011. That's roughly a quarter of the total power consumption. Germany and Austria grew much more strongly than France, though. In Germany trading volume represented 36% of consumption, in France 13%. So there is still a big potential in France.
And how do you see the market develop in future. If as you say market coupling is the Euro of the electricity market, it could still run into headwinds! Is it conceivable that national interests will come to dominate again?


I believe the integration of energy markets is irreversible. It makes so much sense. We have to overcome national interests. And since we don't have a European energy policy that says to one country you should do this and to another you should do that, market coupling is the next best thing.
What do you see as the biggest challenge in this process?
On the one hand all stakeholders need to cooperate more extensively. That goes for everyone – TSO's, exchanges, regulators and so on. Such cooperation leads to some rigidity, to rules and regulations. At the same time we need to retain flexibility – the ability to adapt to fast-changing environments. There is a paradox in there that we have to solve. The world is changing fast. There will be more renewables. There will be game-changers. There will be innovations such as 15-minute pricing. We have to deal with those. As an exchange we are a key element in this chain. We have only 60 people here, but they have a tremendously positive impact on the market.
Who is Jean-François Conil-Lacoste?
Jean-François Conil-Lacoste has been CEO of the French energy exchange Powernext SA since its creation in July 2001. On September 2008, he was also named CEO of the new Paris-based European exchange Epex Spot SE, the company that resulted from the merger of Powernext and Germany's EEX spot power market. Epex Spot organises and daily operates the French, German/Austrian and Swiss spot power markets as well as the Hungarian market for the HUPX exchange.
In September 2009, Conil-Lacoste was elected Chairman of Europex, the European association of energy exchanges for a two-year term. He co-chaired the CWE price coupling project from July 2007 to its delivery in November 2010.
Graduated from ESSEC in 1976, Mr.Conil-Lacoste spent ten years as a commodity trader at Louis-Dreyfus in Paris and Buenos-Aires until 1986 before he went on to manage the stockbroker Ferri's fixed income department. He joined Euronext in 1997 to create and manage the London office as well as the French derivatives activities.
Thanks to Yves Saint Jacob, who contributed to this interview.