Interview: Azerbaijan's top negotiator Elshad Nassirov
'We do not want to depend on only one pipeline'
'We do not consider the idea of Nabucco merely transporting our gas from Baku to Baumgarten. We demand from the Nabucco consortium access to the nearby markets as well.' In an exclusive interview with EER in Baku, Azerbaijan's top negotiator Elshad Nassirov, sets out quite clearly what his country wants in return for supplying the EU-backed Nabucco pipeline with gas: not just competitive tariffs, but access to downstream markets as well. Azerbaijan is Europe's main hope to source gas from the Caspian region and reduce its dependency on Russia. Its huge gas reserves could easily fill one or more of the competing projected pipelines through Turkey to the EU. The country is willing to supply Europe, but the question is with how much and under what conditions. As Elshad Nassirov, Vice-President of national energy company Socar, tells EER's reporter Rudolf ten Hoedt in his office in Baku, Azerbaijan's main concerns are revenues and independence. Azerbaijan does not want to supply more than 10 billion cubic metres (bcm) annually to the 31 bcm Nabucco pipeline, and only against very sharp tariffs and conditions. 'We are not going to pay for the empty capacity of Nabucco', says Nassirov. Azerbaijan wants to keep all doors open to alternative sources of transportation. 'We will not put all our eggs in one basket, however attractive and beautiful it may seem.'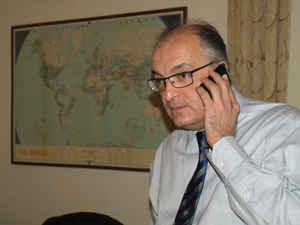 'We tell Nabucco: quote your tariff' says Azerbaijan's top negotiator Elshad Nassirov
At the negotiating table he is tough and shrewd. His foreign partners regard him as highly smart and professional. He is also charming and knows how to impress Western diplomats and oil managers. Behind the doors of conference rooms in London, Vienna and other European capitals, Elshad Nassirov is the face of Azerbaijan in the tense negotiations going on over the future gas flows that are so important to Europe.
Nassirov is Vice-President of Azerbaijan's emerging national oil company Socar – a company that is ambitious to spread its wings and eager for international recognition, a factor that may be underestimated in Brussels and other European capitals. Nassirov reports directly to the country's president Illham Aliyev who took over in 2003. Aliyev was Socar's Vice-President for more than 6 years and was succeeded by Nassirov when he changed the oil company for the presidency.
Azerbaijan, which is rapidly developing its gas reserves in the Caspian region, plays a key role in the ongoing battle for Caspian gas between Russia, China and Europe – and within Europe between competing pipelines such as Nabucco, ITGI (Italy-Turkey-Greece Interconnector) and TAP (Transadriatic Pipeline).
In a way there is nothing new about this. During its long history as an oil producer that started way back in the 19th century, landlocked Azerbaijan has always struggled with evacuation routes to foreign markets. 'Along with Kazakhstan and Turkmenistan we are the only serious oil and gas producing country worldwide that does not have access to open sea', says Nassirov, whose world revolves around
As a landlocked country we realize, the more pipelines the better
transport lines and sales opportunities. During the interview, he repeatedly receives documents from his aide that urgently need to be inspected. 'Ukraine is interested in the delivery of LNG', he excuses himself at one point. 'They understand that sooner or later, Gazprom will forget about using Ukraine as a transit country so they need additional supplies. That makes the demand for LNG in the Black Sea all the more attractive for us.'
Our meeting takes place in the headquarters of Socar (State Oil Company of Azerbaijan Republic), a former mansion of a 19th century oil baron, which still has a strong smell of the past about it. The ceiling is decorated with plaster cupids. A glance out the window shows traffic jams on Baku's charming main boulevard.
But appearances deceive. Socar is currently going through a veritable metamorphosis. The company is being modernised, its executives are being professionalized. President Aliyev seems bent on positioning Socar as a major player in the international energy market. Construction is already underway on a new headquarters in what promises to become the tallest skyscraper in Baku. And the company seems poised to take control of Azerbaijan's rich oil and gas reserves from the international oil companies (IOC's) that have been in charge here for many years. Socar is increasingly setting the agenda and taking the lead in discussions with oil companies and pipeline consortia. Statoil, the Norwegian lead operator of the Shah Deniz oil and gas field, has already had to transfer negotiations with potential buyers and transporters of future gas flows to Socar. Nassirov, then, is a man to watch in the international energy world.
Socar seems to be exuding ambition at the moment. How do you see the future of the company developing?
Our aim is to create an international company, an important player in the energy market, by the time the oil production in Azerbaijan will be diminishing. We want Socar to be involved in the global energy trade. We created several trading companies in Geneva, Nigeria, Singapore and Vietnam. Half of their trading volume consists of Azerbaijan crude and derivative products. The other half comes from trade with third parties. We trade oil and products from Egypt, Turkmenistan, Kazachstan and other countries.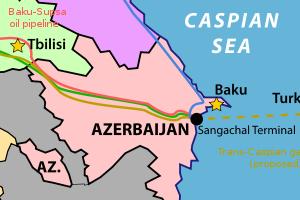 South Causasus pipeline (click for large image) Source: Wikipedia

The acquisition of important refinery assets in Turkey and your downstream expansion in Georgia and Ukraine also seem to indicate that Socar wants to become an important regional oil company. Is this also a means to increase the political leverage of Azerbaijan in the region?
We are pursuing commercial profits, not political ones. History has taught us that for a small country squeezed between Russia and Iran, it is very dangerous to mix politics with the commercial values of the oil and gas industry. Azerbaijan was Sovietized after two years of full independence from the Russian Empire between 1918 and 1920. After regaining independence in 1991, Azerbaijan has become the only country between Russia and Iran that does not belong to a political bloc and where you can transit oil and gas from Kazakhstan, Turkmenistan and Uzbekistan. Our peculiar and delicate location dictates that we act accordingly, cautiously, never adventuring, never acting without giving full and serious consideration to the consequences.
Is energy a means to secure your security and independence?
We in Socar do not consider our neighbours as enemies or competitors. We find that every neighbour is a valuable partner in our energy chain. We do not see any reason why we should not cooperate with Russia in energy issues. We transport crude oil and gas to Russia, despite the fact that we have a huge export partner (i.e. Turkey, ed.) that connects us to the Mediterranean, and despite our pipeline to the Georgian port of Supsa on the Black Sea. We have never shut down any of the pipelines, despite the proposals of foreign oil companies that the oil pipelines to Novorossiysk (Russia) and to Supsa were no longer needed as soon as the BTC oil pipeline (the western-backed Baku-Tiblisi-Ceyhan pipeline to Turkey, ed.) was ready in 2006. As a landlocked country we realize, the more pipelines the better.
Oil production in Azerbaijan is near its peak. Gas is the new game. Your current gas production is approximately 24 billion cubic metres per year (bcm/a). It's understood that this will more than double after the second development of the Shah Deniz field.
That is correct. Shah Deniz II (SD2) wil produce 16.7 bcm/a out of which 6 will be exported additionally to Turkey. Approximately 10 bcm of SD2 gas is ready to be exported through Turkey to the EU. After the evacuation route to the EU market has been decided upon, SD2 will be followed by the development of other gas fields. We are talking then of the deeper layers in the Azeri-Chiraq-Gunashli (ACG) field with reserves of approximately 500 bcm and some other fields that we are currently developing ourselves without foreign private company involvement. The decision to develop ACG's gas reserves has not been taken yet and we are in the process of a final decision.
The negotiations for selling the gas that eventually will come out of Shah Deniz 2 have started. How are they going?
March 31, 2011 is our target to have reached agreements with potential buyers and to have signed all the necessary documentation for the transportation of gas across Georgia and Turkey. Everything has to be synchronized, everything has to be in place. Between $20 and $22 billion is needed for the development of SD2. The investors will not invest anything without guarantees that the state of Azerbaijan will reimburse all costs. If we sanction SD2 without any pipeline from Turkey or elsewhere,
History has taught us that for a small country squeezed between Russia and Iran, it is very dangerous to mix politics with the commercial values of the oil and gas industry
we will be cornered in the Turkish market. We are now conducting talks with different buyers divided in different clusters. Some of the buyers are ready to buy gas in the Nabucco line. Some are ready to buy here or in the ITGI or TAP pipeline. We are conducting these negotiations in order to find out which buyers are providing the most valuable commercial offers. And which of the three transportation routes through Turkey to Europe (Nabucco, ITGI or TAP) are providing the most efficient and viable transit and transportation tariffs and conditions.
Do you prefer any of these three evacuation routes for gas to Europe that are currently vying for your gas?
We keep all the doors open. Each of the three projected pipelines has its merits and disadvantages. Important to us is that whatever pipeline we choose, we want the right to sell our gas to the nearest markets. We do not consider the idea of Nabucco merely transporting our gas from Baku to Baumgarten. We demand from the Nabucco consortium access to the nearby markets. We are not limiting ourselves to the participating countries only. The benificiaries of Nabucco will not only be Botas, Bulgar Transgas, Romgas, MOL and OMV (shareholders of Nabucco, ed.). With a small upgrade, more Balkan countries can be linked to Nabucco. These countries have expressed their interest in getting small volumes of our gas. From Nabucco, we want to supply Greece as well. If we go ahead with the smaller pipelines like ITGI, we will also not limit ourselves to the supply zones Greece and Italy only. From Greece we can supply Bulgaria, Macedonia, Albania and Serbia too.
Nabucco claims to be the only secure evacuation route for Azeri gas for several reasons. With Nabucco, you will have a dedicated pipeline through Turkey. It will be your big gas highway to the huge, rich and transparent European market. Does that sound attractive to you?
We appreciate that. The other pipelines claim the same. The state of Azerbaijan, Socar and the main partners in Shah Deniz will decide on commercial principles. It is not geopolitics but a combination of profit and reliability of the pipeline and reliability and competition in the market. Therefore we have delivered our message that first of all we are not going to pay for the empty capacity of Nabucco. We will pay transport costs for our 10 bcm as if the pipeline is full. The EU is supporting Nabucco but is not supporting Nabucco financially in the case of a half empty pipeline. Somebody has to take that risk and it will definitely not be us. If we agree on a half empty pipeline, Nabucco will lose the stimulus for finding a second source. If we have to pay elevated tariffs for transport through a very expensive Nabucco pipeline, we cannot sell our gas to European consumers against a higher price, because the level of the market is the same in the EU. The costs will be reimbursed at the expense of the producers and in the long run at the expense of Azerbaijan as the host country. And we are not willing to do that.
So where do we go from here?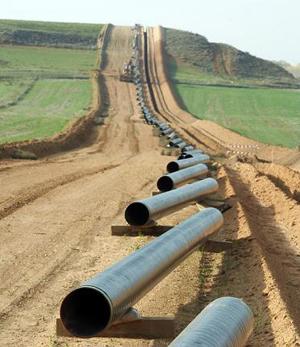 'For now, all these pipelines only exist on paper'
W
e have to agree once and for all on an inflationary corrected fixed transport tariff based on a Nabucco that is used at full capacity. And we are still waiting for a serious proposal from Nabucco in order to compare them with the other proposals and to find out which route is more efficient. But for now, all these pipelines only exist on paper. Without dedication of gas, none of these projects can be implemented. Once a decision will be made in favour of one of these pipelines, all the support and financial dedication will end up there.
Nabucco claims all of the 10 bcm out of SD2. If it does not get all the gas, there will be no Nabucco and you will have to deal with TAP and ITGI only. What is your view on that?
We can guarantee 10 bcm to Nabucco now in order for them to agree on tariffs and to have the project sanctioned. Without a second source of gas, Nabucco is still uncertain.
German gas trader and Nabucco shareholder RWE seems pretty convinced they can secure gas from Iraq as a second supplier to Nabucco. How do you assess that?
We don't care. Our principle is we are willing to provide 10 bcm. But we do not want to depend on only one pipeline. What if the Americans leave Iraq? What if a civil war breaks out? What if the Kurdish government cannot come to an agreement with Baghdad? We tell Nabucco: quote your tariff. We do not want our tariff to depend on the availability of gas from Iraq or Turkmenistan. If something goes wrong in Iraq, should we pay for that?
What about Turkmenistan? European energy companies and the EU seem to do everything they can

We in Socar do not consider our neighbours as enemies or competitors. We do not see any reason why we should not cooperate with Russia in energy issues

to get Turkmeni gas flowing through the Caspian Sea to Azerbaijan and further on to Europe. It might be the solution to Nabucco's sourcing problem as well. But Turkmeni gas supplies are still in the air. How cooperative is Azerbaijan in this respect?
For several reasons, we are very much willing to transport gas from Turkmenistan. Turkmenistani gas can facilitate Nabucco, even if we do not choose Nabucco as our main source of supply to Europe because ITGI and TAP turn out to be more attractive. So it will help the diversification of the means of evacuation.
You have a long-standing disagreement with Turkmenistan with regard to the national boundaries in the Caspian Sea. That will not hinder the construction of a pipeline over the sea bottom?
That is not an obstacle for the transport of gas across the Caspian Sea. The environmental arguments against a pipeline because the Caspian Sea is a delicate environment with sturgeon and so on are made up by somebody.
Was this environmental argument invented in Moscow?
(laughs) Well you know where it was invented. Anyhow. There are more than 5,000 oil and gas pipelines in our sector of the Caspian Sea alone. Another gas pipeline will definitely not do any harm. The distance between the two shores is 200 kilometres. But we can also connect off shore gas fields and then there is a distance of less than 120 kilometres to be bridged.
Are you willing to step up the already planned expansion of the South Caucusus gas pipeline (SCP) to enable Turkmeni gas to be fit in? (Editor's note: the SCP runs from Baku through Georgia to Erzurum in Turkey. If Nabucco gets built, the SCP will have to be upgraded, as Nabucco will connect up with the SCP. If SCP is to be accommodated for gas from Turkmenistan as well, further upgrades would be necessary.)
It is possible. But it is not our decision. Turkmenistan has to agree on a tariff for the transport of their gas through Azerbaijan. We have offered several times at several levels average European transport tariffs, flexible, transparent, fixed for thirty years or longer, in order for the producers in Turkmenistan to make their calculations. Again, it is their decision. But they have to make it now. It has to be
We are still waiting for a serious proposal from Nabucco in order to compare them with the other proposals
synchronized with our own plans. If we expand our SCP pipeline and later Turkmenistan comes with its offer to deliver gas, then adaptations will be much more expensive. But we do not need Turkmenistani gas to make the evacuation of our gas possible. We still have more than three options of evacuation of our gas through Turkey or across the Black Sea or to other markets in Russia. And as you know, Russia is ready to buy all of our gas. Of course we consider the Russian offer as very interesting.
But you know very well that the price the Russians are willing to pay for your gas will drop as soon as they manage to get Nabucco off the table.
We understand that without access to the open markets of the European Union, our gas prices with Gazprom are not guaranteed.
There is much more gas in Azerbaijan being devloped than just Shah Deniz. What is your potential capacity?
In the best case scenario, if everything is El Dorado, an additional 30 bcm/a plus of gas could become available for the EU in addition to Shah Deniz. At a certain point we could produce 50 or even 70 bcm of gas. The question is, do we need that? Do we need to deliver 40 bcm/a to Europe when we have an overheated supply already?
Some say the EU is betting on these additional resources to make a second source of gas for Nabucco superfluous. Is this a realistic bet?
We are not limiting ourselves to one field, Shah Deniz. If a pipeline is efficient, we can add additional gas from other fields. But if it comes to guarantees, we can guarantee Shah Deniz only. We do not promise additional gas. Everything depends on the price. May be we can offer more at a later stage, if Nabucco or whatever other pipeline provides better evacuation conditions. If they do not, we will still dedicate 10 bcm to one of these pipelines and we will evacuate additional volumes through other sources. We will not put all our eggs in one basket, however attractive and beautiful it may seem.