An article (in French) in
France Info
announcing a project in France which aims to create 1000 km of roads surfaced with solar panels is arousing interest....of big public works companies. A tender has been launched.
Previously Colas, a subsidiary of Bouygues, had announced the development of
Wattway
, a patented paving containing polycrystalline solar cells.
The main questions that spring to mind, in no particular order, concern wear, expansion, lifetime, costs and grip for vehicle tires. These seem not to affect the optimism of the news releases. The fragile solar cells themselves are protected by a multilayer composite which compensates for thermal expansion of the road, and resists vehicular loads. The solution is touted as durable and safe.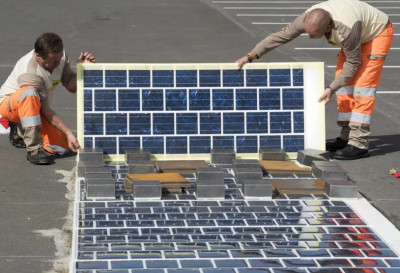 If successful, a town of 5000 inhabitants could be powered by a stretch of one kilometre. To supply an average household (without heating) only needs around 20 m² of this paving. installation of this photovoltaic paving is as promising as its other characteristics; no need to destroy existing road surfaces,
Wattway
can be installed directly on existing roads, without civil works.
Solar roads are paved with good intentions. A couple in Idaho launched a similar project in 2014 and obtained financing of more than two million dollars after an Indiegogo campaign. Which got them a
two-year contract
for $750.000 from the federal highway administration. The solar ways of the Lord don't seems as unattainable as we'd believe...
In November,
a similar project
although a lot less ambitious, was launched in the Netherlands: