A French rethink of the free gas market?
The French government is looking into the possibility of creating a gas purchasing consortium. French experts like the idea, which would go totally against the EU's commitment to a liberalised gas market.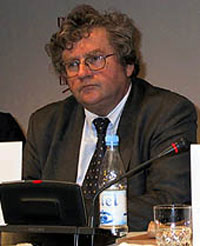 Christian Stoffaës
While the European Commission and the gas industry differ in their view of what "the European gas market" should look like, the French government may decide to reject the idea of a competitive gas market altogether.
At a conference in Brussels last week about "the challenges of security of gas supply" (see this report), Christian Stoffaës, who works for the French network company RTE, gave a presentation on a highly sensitive report which will soon be published by the Centre d'Analyse Stratégique, an office attached to the French prime minister. In this report a committee of experts belonging to all relevant French ministries has investigated the possibility of creating a "Gas Purchasing Group" to buy gas collectively for the European market.
The French experts, led by Stoffaës, argue that European gas companies should be authorised to cooperate with each other when they buy gas from the big gas suppliers in the world, which generally are state monopolies, such as Gazprom. Such cooperation would give them a stronger negotiating position than they have now, say the authors of the report. At the conference in Brussels, Stoffaës conceded that this recommendation flies in the face of the EU's market mechanisms, which forbid such concentrations in the market, but he noted that in the modified Lisbon Treaty, France has already managed to eliminate competition as an objective of the European Union in article 3. It is now regarded as just one tool whose effectiveness has to be evaluated against other tools, said Stoffaës. The French government has not committed itself yet to the recommendations in the report.
Ironically, although Brussels is supposed to be uphold the idea of competitive markets, the European Commission itself is investigating the possibility of setting up a buying consortium, called the Caspian Development Corporation, for the collective buying of gas from countries in Central Asia. The energy consultancy CERA is carrying out this investigation for the Commission.